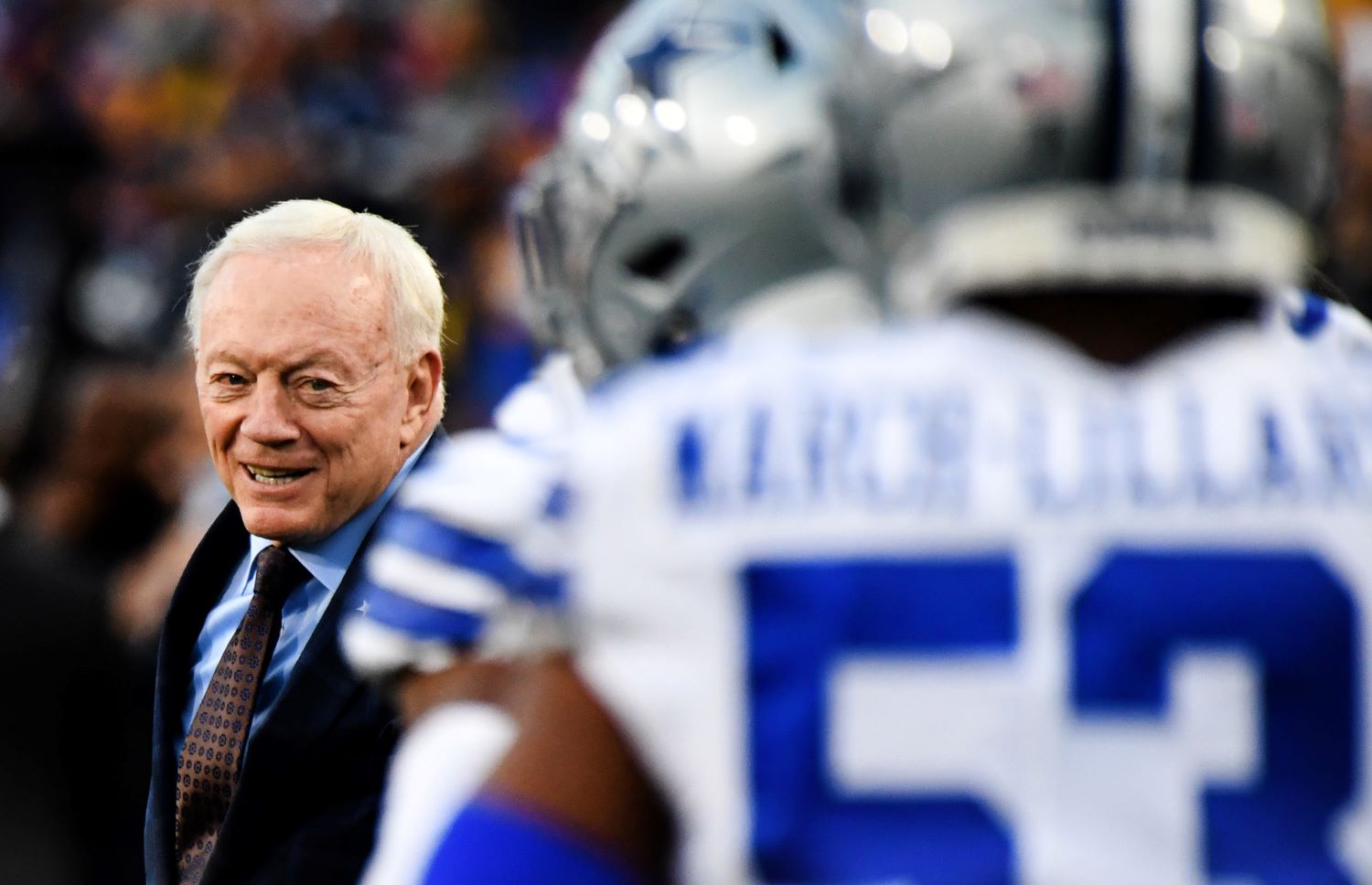 Jerry Jones Just Confirmed Cowboys Fans' Worst Nightmare
Jerry Jones just confirmed Dallas Cowboys fans' worst nightmare with his latest comments about defensive coordinator Mike Nolan.
It has not been an easy year to be a Dallas Cowboys fan. Entering the season, Jerry Jones' team looked like a top Super Bowl contender. However, injuries have derailed one of the most talented rosters in the NFL.
While the 2-4 Cowboys may be in first place in the NFC East, they have the worst defense in the NFL. But despite their struggles on that side of the ball, Jones just confirmed Cowboys fans' worst nightmare the day after his team surrendered 38 points in a lopsided loss to the Arizona Cardinals.
Dallas has been a nightmare on defense
Due in large part to injuries, the Cowboys have been flat-out awful on defense this season. Losing Gerald McCoy to a ruptured quadriceps tendon represented the first major blow to a unit teeming with potential.
In addition, Leighton Vander Esch has missed time with a fractured collarbone. Fellow linebacker Sean Lee landed on injured reserve with a sports hernia. Plus, the Cowboys have dealt with issues in the secondary, as cornerbacks Anthony Brown and Chidobe Awuzie suffered injuries of their own.
Still, nobody expected Dallas to be this bad on defense. Mike Nolan's first year at the helm has been a downright disaster. The Cowboys rank dead-last in points allowed (36.3 per game) and have shown no marked improvement on that side of the ball.
Coming off a three-point loss to the New York Giants, Nolan's defense got embarrassed on Monday Night Football. Kyler Murray may have only completed 9-of-24 attempts, but he threw two touchdowns and added 74 yards and another score on the ground. Kenyan Drake shredded Dallas' defense to the tune of 164 rushing yards and 2 TD. Once again, the Cowboys failed to stop anyone in their fourth loss of the season.
Jerry Jones just confirmed Cowboys fans' worst nightmare
Coming off a 28-point loss, it would have been reasonable for Jerry Jones to be upset about how Mike Nolan's defense played on Monday night. Yet, he just confirmed Cowboys fans' worst nightmare with his comments about the 61-year-old coach.
During Tuesday's appearance on 105.3 The Fan, Jones delivered a message that should have Dallas fans shaking their heads in disbelief and disappointment.
"I like the way we came out defensively. I thought we had a good plan for the skills of Murray and what the Cardinals presented us," Jones said. "These aren't excuses, but his defense has had a very difficult time with field position, where we've gotten the ball early. I don't care what the skill level of a team is. When they get up on you, they're gonna tee off on you."
He concluded with, "I'm okay with Mike Nolan. I am."
How can Jones take away anything positive when the Cowboys allowed the Cardinals to score 38 points on just over 26 minutes of possession? Why is he "OK" with employing a defensive coordinator whose unit has forced just three turnovers all season? What part of Nolan's "plan" includes Dallas ranking 31st against the run and totaling only 11 sacks through six games?
Ultimately, Cowboys fans once again have to suffer through another season of poor coaching and even worse management from up top. It seems as though Jones will just continue to make excuses for a staff that clearly has not prepared its players to execute on game day. And for now, at least, it does not appear as though Nolan's job is in jeopardy.
Will Mike Nolan survive the season?
Jerry Jones may not think Mike Nolan is a problem, but will his feelings remain the same if the Cowboys continue to struggle on defense? We may find out the answer to that question sooner than later if Dallas fails to slow down its next two opponents.
This week, the Cowboys will take on a Washington Football Team that ranks 30th in scoring. If Nolan's unit can't contain Kyle Allen, that will be yet another nail in the coffin for the Dallas DC.
The following week, the Philadelphia Eagles host the Cowboys on Sunday Night Football. Like their NFC East foe, the Eagles have also dealt with a number of significant injuries, particularly on offense.
Philadelphia has averaged just 23.5 points per game, which ranks 22nd in the league. If Carson Wentz manages to carve up the Cowboys, will Jones still keep Nolan employed?
Ultimately, if Dallas can't manage to shut down two divisional opponents who do not feature strong offenses, that should be a clear sign that a change needs to be made. But will Jerry Jones pull the plug on his new defensive coordinator halfway through the season? Or will Cowboys fans be forced to watch their team surrender 30-plus points on a weekly basis?
The ball is in Jones' court. Let's see if he keeps letting poor performances slide, or whether he finally takes decisive action before it's too late.
All statistics courtesy of Pro Football Reference.