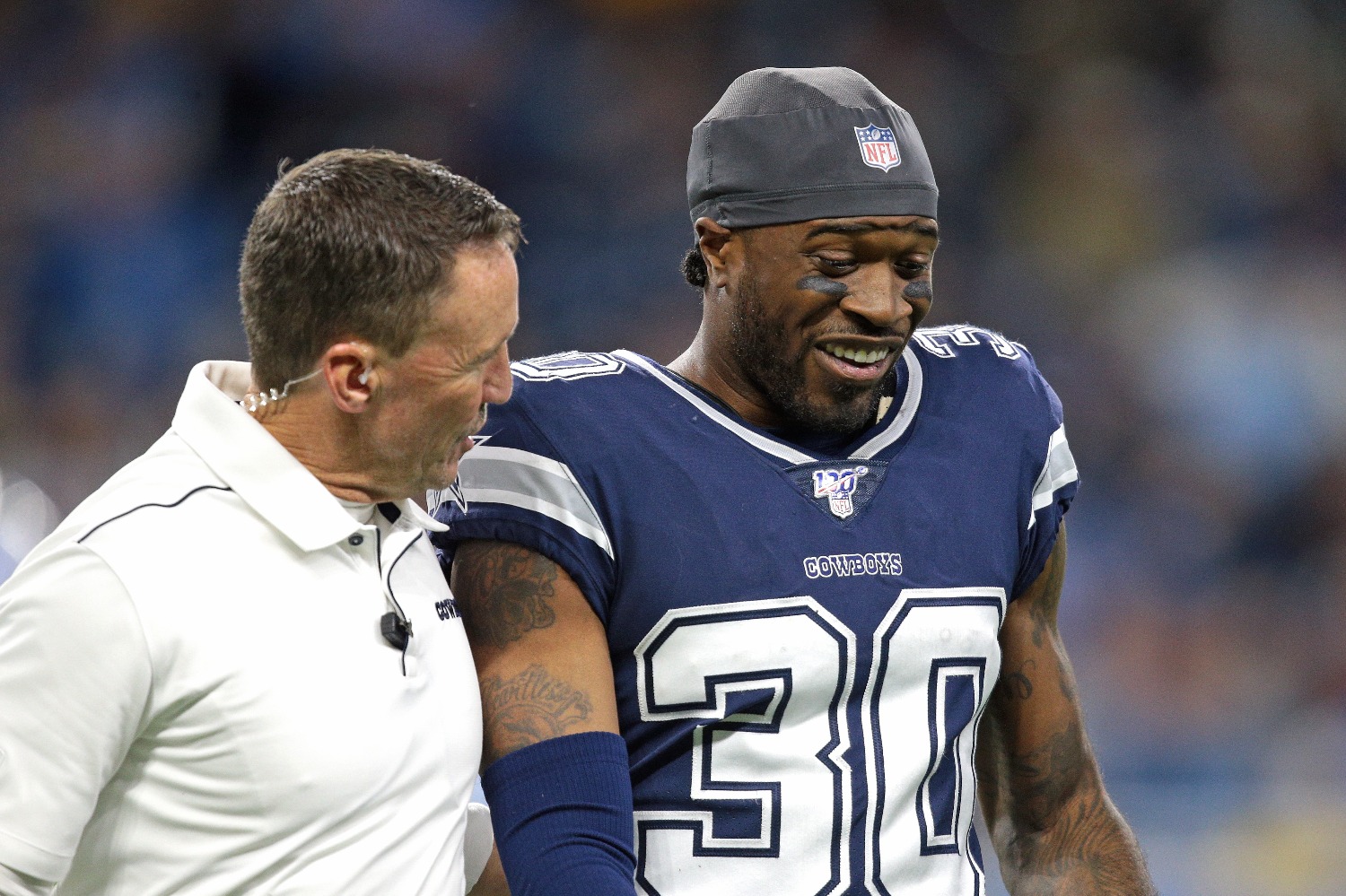 The Dallas Cowboys Just Lost a $15 Million Piece of Their Defense
The Dallas Cowboys just suffered a $15 million blow to their defense with starting cornerback Anthony Brown landing on injured reserve.
Whether it's just bad luck or a result of an offseason dramatically impacted by the COVID-19 pandemic, the Dallas Cowboys just can't seem to catch a break when it comes to staying healthy. Heading into their Week 2 matchup with the Atlanta Falcons, Mike McCarthy's team already has to deal with several critical injuries. And on Friday, the Cowboys suffered a $15 million blow to their defense that seriously threatens their chances of winning Sunday's home opener.
Cowboys can't seem to stay healthy
Jerry Jones' mission to hoist the Lombardi Trophy for the first time since 1996 has become much more difficult due to injuries. Last month, Dallas suffered a huge loss on defense when Gerald McCoy ruptured his quadriceps tendon. Expected to start at defensive tackle, the six-time Pro Bowler ended up getting released following his season-ending injury.
That represented just the first domino to fall. In Week 1, Dallas lost two key starters on both sides of the ball. Tight end Blake Jarwin will miss the rest of the season after tearing his ACL. Promising linebacker Leighton Vander Esch landed on injured reserve after breaking his collarbone. Fellow linebacker Sean Lee won't be back anytime soon after undergoing hernia surgery.
To make matters worse, the Cowboys' offensive line has also been ravaged by injuries. La'el Collins cannot return to the team until at least Week 4 after he landed on IR with a hip issue. Backup Cameron Erving, who also got placed on IR, cannot return until the following week. Tyron Smith may not play on Sunday due to a neck ailment.
Dallas suffers a $15 million blow to its defense
As if the Cowboys' injury luck could not get any worse, Dallas suffered another devastating blow to its defense on Saturday. The team announced that starting cornerback Anthony Brown has been placed on IR due to a rib issue. He cannot practice or play for at least 21 days.
The Cowboys drafted Brown in the sixth round of the 2016 NFL draft. Despite his late-round pedigree, the former Purdue defensive back played significant snaps as a rookie. In fact, Brown started nine games for a 13-3 Dallas team.
From 2017-2018, Brown started 20 games and recorded three interceptions and 19 passes defended. However, he played just nine games last season after tearing his triceps in Week 11.
Still, given his early-career success, the Cowboys just signed Anthony Brown to a three-year, $15.5 million contract six months ago. Now, though, the recently-paid corner will spend at least the next few weeks on the sidelines. And considering their next three opponents, the Cowboys could be in serious trouble.
The timing couldn't be worse for Mike McCarthy's team
With Anthony Brown out of the lineup, the Cowboys will have to find another way to stop the Atlanta Falcons' potent passing attack. Matt Ryan threw for 450 yards and two touchdowns in Atlanta's 38-25 loss to Seattle in Week 1. Julio Jones and Calvin Ridley form a tremendously talented receiver tandem that can take advantage of a depleted Dallas defense.
It does not get any easier next week. The Cowboys will face a Seahawks offense that looks incredibly potent with Russell Wilson leading the way. D.K. Metcalf and Tyler Lockett could not be more different from a stylistic standpoint, but both players can inflict major damage on deep passes.
The following week, Dallas will host a Cleveland Browns team that just showcased terrifying potential on offense. Can the Cowboys slow down Baker Mayfield, Odell Beckham Jr., and Jarvis Landry without Anthony Brown?
Ultimately, the pressure just rose for Chidobe Awuzie, who should see even more playing time with Brown out. The 2017 second-round pick brings excellent athleticism to the position. Awuzie has started 37 games for the Cowboys, including all 16 a year ago. With Brown out, he and rookie Trevon Diggs will have to step up as Dallas faces three potent passing offenses.
Let's see if Jerry Jones' duo of second-round defensive backs can rise to the occasion.
If not, it will be a rough start to the Mike McCarthy era.
All statistics courtesy of Pro Football Reference.