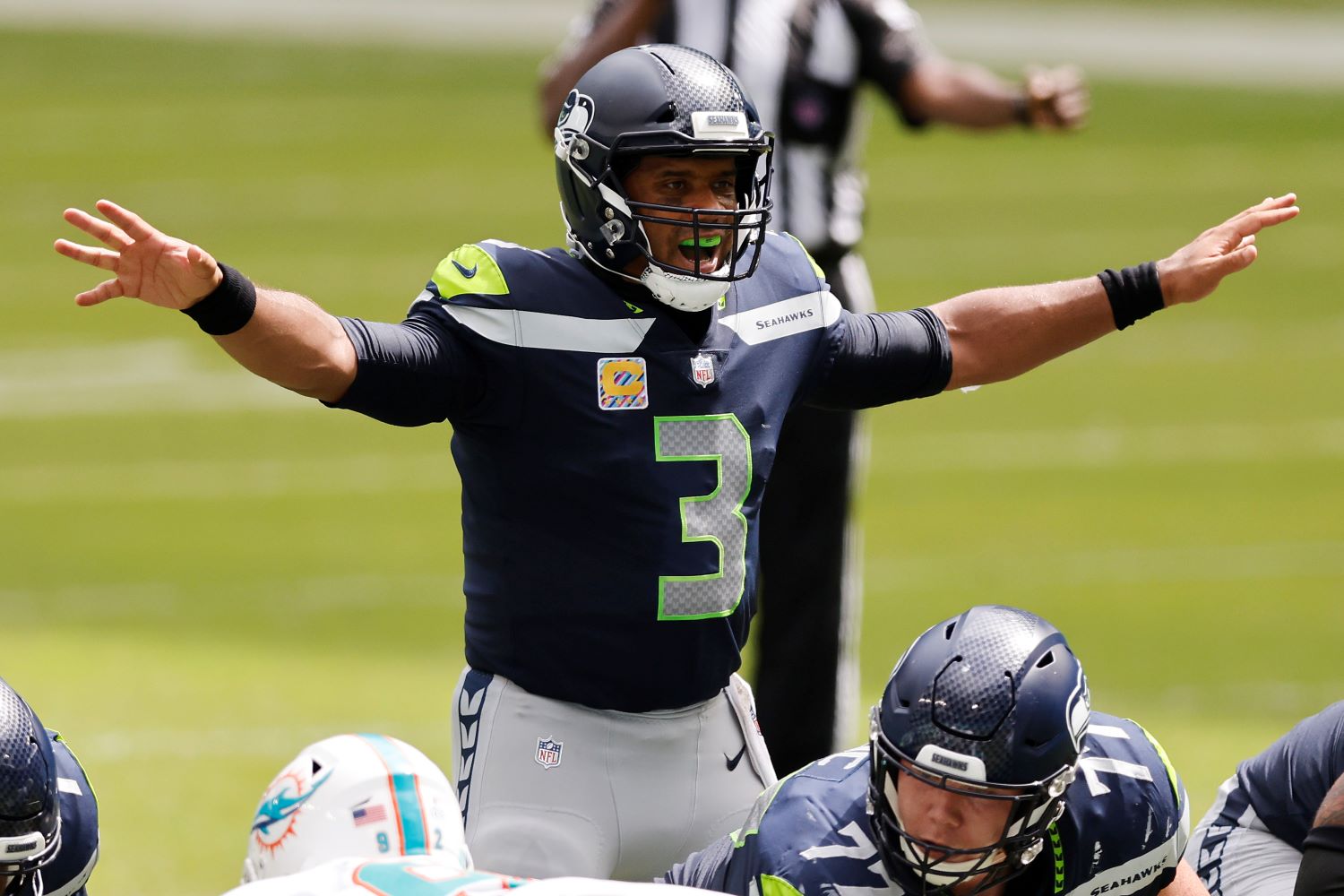 Russell Wilson Just Delivered a Powerful Statement About Antonio Brown
Russell Wilson just delivered a powerful statement about Antonio Brown. Will the Seattle Seahawks pull the trigger and sign the talented WR?
In the midst of another MVP-caliber campaign, Russell Wilson has the Seattle Seahawks looking like a top Super Bowl contender. But even with DK Metcalf and Tyler Lockett torching defensive backs, the team could still add another elite receiver to the mix in the form of Antonio Brown.
And based on Wilson's powerful statement about the All-Pro wideout, it seems like Seattle would be an ideal fit for AB.
Antonio Brown is free to sign with any NFL team
Antonio Brown has essentially spent a year away from football. Following brief stints with the Las Vegas Raiders and the New England Patriots, he remained in the headlines due to several off-field incidents. Ultimately, the NFL suspended Brown for eight games for multiple violations of the league's personal conduct policy.
Still, the former Pittsburgh Steelers star should get another chance to contribute on Sundays. And with his suspension nearing its end, that has put the focus on Brown's next stop.
On one hand, every NFL team could use a player of his caliber. However, the 32-year-old's tumultuous 2019 campaign and subsequent off-field issues could give coaches and ownership hesitation about signing the seven-time Pro Bowler.
Luckily for Brown, Russell Wilson is in his corner. And that could play a major factor in his NFL future.
Russell Wilson delivers a powerful statement about Brown
Seattle certainly doesn't need Antonio Brown. After all, with Metcalf (22 catches for 496 yards and five touchdowns) and Lockett (30/342/4) entrenched as their top two weapons, the Seahawks have plenty of offensive firepower.
Still, the opportunity to add an elite player like Antonio Brown has to be enticing for a team with legitimate Super Bowl aspirations. During his media availability on Thursday, Russell Wilson delivered a powerful statement about Brown.
"I think the reality about Antonio is he is one of the best players to play this game obviously," Wilson said. "I think that he has always been a special player in terms of [on] the field. The reality with Antonio is, he's had some tough moments in his life, especially as of late. I think he's gone through a lot of things he wishes he could take back and do, and just not say, whatever it might be."
The Seahawks star shares a close relationship with Brown. And for Wilson, Seattle's strong culture would be a great fit for the star receiver.
"I think with Coach Carroll, I think with the teammates that we have, the men that we have and the growth, I think if he does play football, I think this is a great place if he does play again," Wilson said. "I think this is a place where he'll grow a lot as a man too, as well. And I think that we're going to continue to try to help anybody who walks in this locker room as you guys know. That's just part of our culture is trying to help people."
The Seahawks shouldn't hesitate to sign the All-Pro receiver
As the only undefeated team in the NFC, the Seahawks look like the favorites to represent the conference in Super Bowl 55. But Seattle can further cement its case as the team to beat in the NFC by signing Antonio Brown.
Sure, Seattle already boasts the league's No. 1 offense. But the potential upside of adding Brown is simply too great to pass up.
Defenses would have a nightmare trying to match up against a three-receiver set featuring Metcalf, Lockett, and AB. Plus, if teams elect to play only five or six players in the box in order to respect the pass, Seattle can simply hand the ball to Chris Carson and let the physical running back go to work.
The marriage may only last half a season (and the playoffs), but the Seahawks can put themselves in a position to win their first Super Bowl title since 2013 by bringing in Antonio Brown. Let's see if John Schneider pulls the trigger and makes the NFL's best offense even better.
All statistics courtesy of Pro Football Reference.