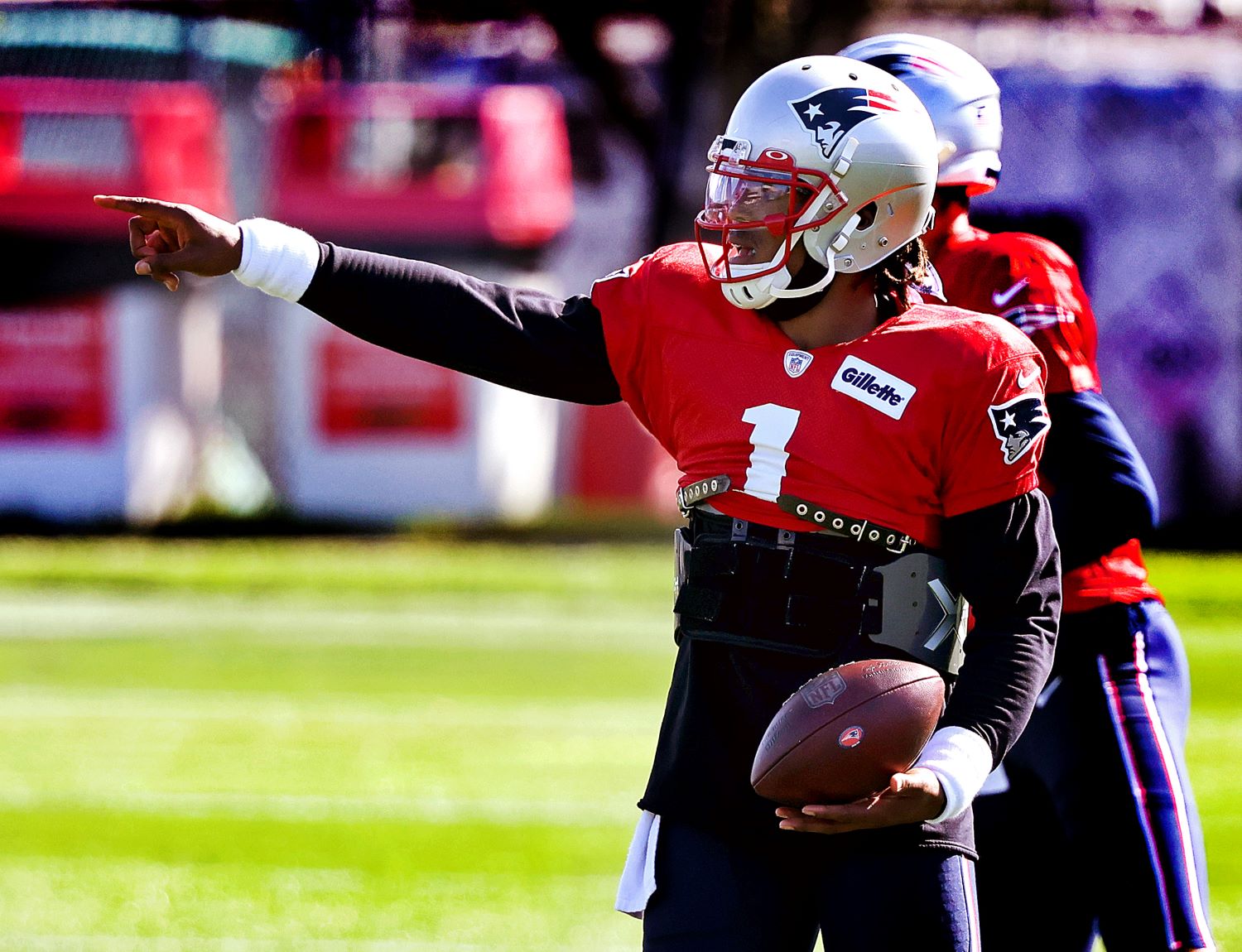 Cam Newton Sends Stern Message That Should Put Patriots Fans at Ease
Cam Newton sent a stern message that should put Patriots fans at ease. Can New England get back on track against the San Francisco 49ers?
For Cam Newton, the 2020 season has not gone quite as planned. Sure, he looked fantastic in his first two games with the New England Patriots. However, in his first appearance since suffering the scary reality of COVID-19, the 31-year-old delivered a disappointing performance against the Denver Broncos.
While Patriots fans rightfully have concerns about the team's lackluster offense, they should feel at ease based on Newton's recent stern message.
New England continues to struggle on offense
While Tom Brady and the Patriots struggled to score points in 2019, it hasn't been much different with Cam Newton under center. Currently, New England ranks just 25th in scoring at 21.8 points per game. That actually represents a fairly significant decline from last year's average of 26.3.
Newton showcased dynamic running ability in his debut as a Patriot. In Week 2, he looked terrific throwing the ball against a Seattle Seahawks defense that has been shredded in the passing game.
However, Bill Belichick's latest bargain signing has failed to impress in his last two appearances.
In the Patriots' Week 3 win against the Las Vegas Raiders, Newton completed 17-of-28 attempts for only 162 yards. He threw one touchdown but also threw an interception for the second straight week.
Last Sunday, the former league MVP looked incredibly rusty, which shouldn't have come as a total surprise given New England's reduced practice time due to multiple COVID-19 cases. Still, his two-interception outing against the Broncos certainly did little to put Patriots fans at ease about the team's early-season struggles on offense.
Cam Newton sends stern message that should put Patriots fans at ease
While Cam Newton deserves some of the blame for the team's struggles through the air, he doesn't exactly have a great cast of weapons. Julian Edelman has totaled just seven receptions for 66 yards in his last three games. N'Keal Harry continues to look like a draft miss by Belichick. The 2019 first-round pick has averaged only 9.2 yards per catch on 18 receptions.
Meanwhile, the tight end position has provided next to nothing in the passing game. Starter Ryan Izzo leads the group with six catches for 82 yards. Rookies Devin Asiasi and Dalton Keene have failed to contribute much after arriving as third-round picks back in April. The former hasn't received a single target on 81 offensive snaps. Keene has been a healthy scratch for most of the season despite getting selected 101st overall back in April.
Yet, it certainly sounds like Newton isn't worried about the team's underwhelming offense. In a recent appearance on The Greg Hill Show on the WEEI radio network, he sent a stern message that should put Patriots fans at ease.
"There's no need to press the panic button," Newton said. "There's no need to start reinventing the wheel. We have the answers, and I'll say it again, we have the answers in that locker room."
He further added, "And we'll get guys back hopefully and some guys need to mend and heal up. But yet through it all, it is our jobs as players to produce. I know looking at eyeballs in that locker room and competitors as people who just seize the moment and make the most of every opportunity, we will get that job done."
Can the Patriots get back on track against the 49ers?
For Cam Newton and the Patriots, their next job is figuring out a way to beat a San Francisco 49ers team that has also struggled to score points this season. Due in large part to injuries, Kyle Shanahan's squad ranks 20th in the NFL in scoring at 24.7 points per game. Of course, Jimmy Garoppolo's return to Foxborough will be an interesting storyline to watch on Sunday.
Brady's former backup enjoyed an excellent Week 6 outing against the LA Rams. Garoppolo completed 23-of-33 attempts for 268 yards and three touchdowns in the 24-16 victory. However, San Francisco lost star running back Raheem Mostert to an ankle injury that will likely keep him out on Sunday.
New England counters with a defense that has played well considering it lost Dont'a Hightower and Pat Chung before the season started. The veterans elected to opt-out of playing this year, which has given younger players an opportunity to get on the field. A star-studded secondary will have to contend with Deebo Samuel and Brandon Aiyuk, who both excel after the catch.
Ultimately, though, the pressure once again falls on the Patriots and their underwhelming offense to step up. Getting the running game going will help open up play-action opportunities for Newton and his receivers. Plus, New England should have David Andrews and Shaq Mason back along the offensive line. That should help shore up any pass-protection issues and generate better movement on rushing plays.
The Patriots have to start building some positive momentum on offense quickly. If not, expect more losses to pile up in the first (and maybe only) year with Cam Newton at quarterback.
All statistics courtesy of Pro Football Reference.