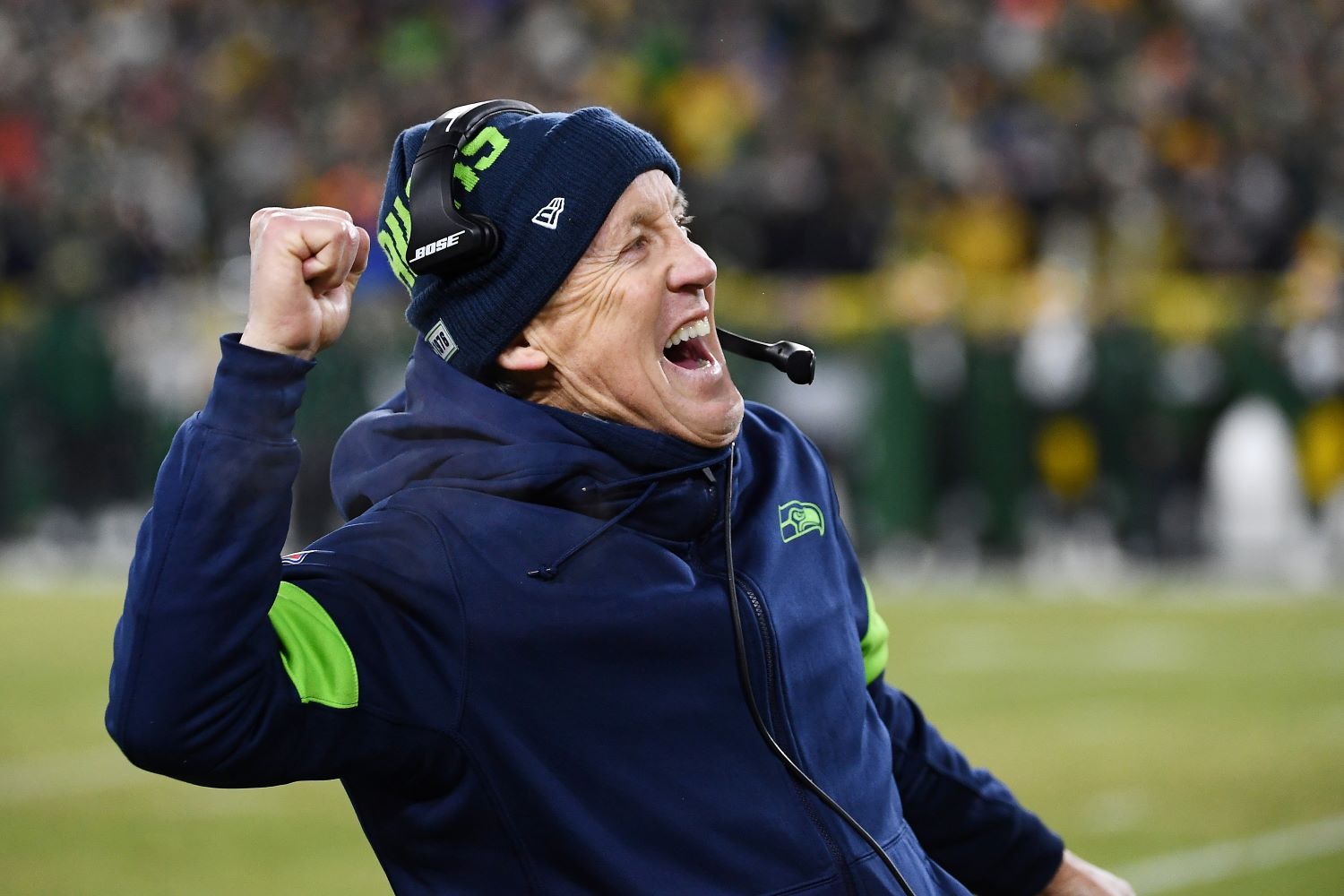 Pete Carroll Just Sent a Clear Message About the Seahawks' Interest in Antonio Brown
Pete Carroll just sent a clear message about the Seahawks' interest in Antonio Brown. Will Seattle pair the star WR with Russell Wilson?
With Antonio Brown nearing the end of his suspension, speculation has swirled about which NFL team will take a flyer on the All-Pro wideout. While it's probably safe to say the New England Patriots and Pittsburgh Steelers won't be calling AB's agent, the electrifying receiver could join forces with the Seattle Seahawks.
In fact, based on Pete Carroll's clear message about his team's interest in Brown, it wouldn't be surprising to see the 32-year-old catching passes from Russell Wilson once his suspension concludes. And if general manager John Schneider does pull the trigger and sign the future Hall of Fame candidate, that would make the Seahawks the team to beat in the NFC.
Antonio Brown is inching closer to an NFL comeback
Antonio Brown last suited up in an NFL game more than a year ago. Since then, he has been mired in personal and legal drama that eventually led the NFL to suspend him for eight games.
Still, that hasn't quieted talks about potential landing spots for the seven-time Pro Bowler. After all, nobody can question Brown's ability to contribute on the field.
The 5-foot-10, 185-pound wideout racked up more than 11,000 receiving yards in nine seasons with the Steelers. However, his attitude issues and questionable decision-making off the field have rendered him a high-risk signing.
NFL teams may not want to bring in a player who went from being the best receiver in football to being out of a job because of his own doing. Of course, if a team has a strong locker room, that could change the equation. And apparently, there's one team that fits that bill that could have its sights set on signing the most productive receiver of the last decade.
Pete Carroll sends a clear message about the Seahawks' interest in AB
Over the years, Pete Carroll and the Seahawks have shown a willingness to take chances on talented players who come with baggage. In 2010, Seattle traded for Marshawn Lynch, who had worn out his welcome in Buffalo. He became one of the most productive and beloved players in franchise history.
In 2013, Seattle acquired Percy Harvin from the Minnesota Vikings. Though he didn't exactly live up to expectations, the former first-round pick did return a kickoff for a touchdown in Super Bowl 48.
Fast forward to 2020 and it appears as though the Seahawks could be on the verge of bringing in another talented playmaker with some baggage.
On Wednesday, Pete Carroll appeared on SiriusXM NFL Radio and sent a clear message about his team's interest in Antonio Brown.
"The thing I can tell you about it, competitively, [G.M. John Schneider] is in on everything. He knows everybody in the league. He knows what's going on. He's kept us involved and has made marvelous moves over the years," Carroll said. "You know, we're there, we're in it, and we know what's happening. It isn't settled yet and we don't know where it is going to go, but we're always on the ready to compete to get guys, and so this is one of those chances and we'll see what happens."
Signing Brown would make Seattle the team to beat in the NFC
Based on Pete Carroll's comments, it certainly won't be surprising to see Antonio Brown join forces with the Seahawks. And if Seattle sways the former Steelers star to sign on the dotted line, it would be a massive boost to the team's chances of winning Super Bowl 55. In fact, if Schneider manages to ink the explosive wideout to a contract, it will make the Seahawks the team to beat in the NFC.
Seattle already boasts the league's No. 1 scoring offense. Tyler Lockett (30 catches for 342 yards and four touchdowns) and D.K. Metcalf (22/496/5) form one of the most dominant receiver duos in the NFL. Adding Brown would give Wilson yet another elite weapon to target in the passing game.
That would force defensive coordinators to figure out a way to stop three receivers who possess varying skillsets. Metcalf's rare combination of size and speed makes him one of the most difficult matchups in the league. Lockett and Brown sacrifice size for quickness, and both bring excellent route-running and sure hands to the equation.
Considering they've averaged nearly 34 points per game without him, the Seahawks don't need to sign Brown. But adding a Hall of Fame-caliber player for half the season would be a worthwhile gamble for a franchise that hasn't tasted Super Bowl glory since 2013.
All statistics courtesy of Pro Football Reference.