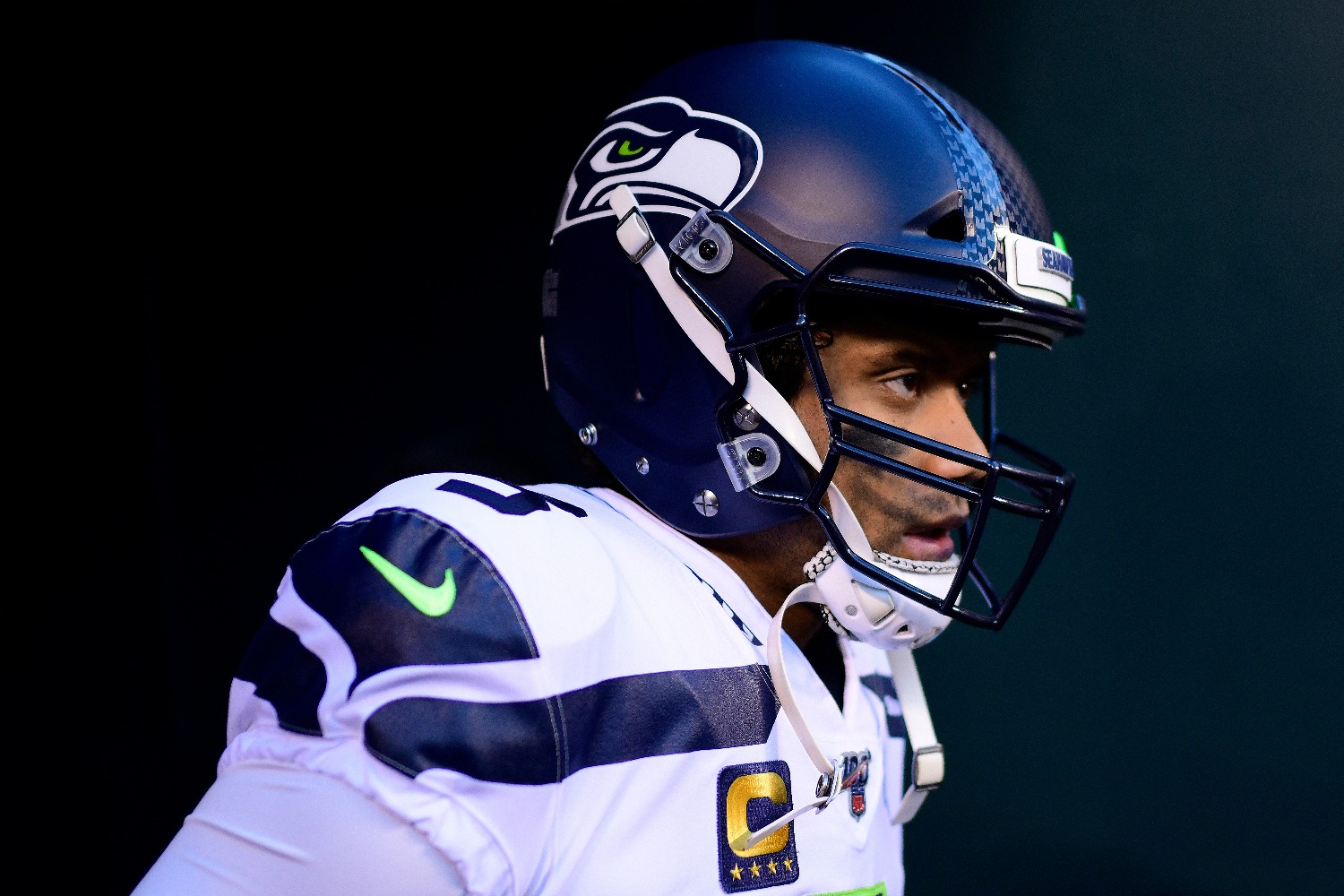 Russell Wilson Sends Heartfelt Message About The Tragic Death of James White's Father
Russell Wilson sent a heartfelt message to former college teammate James White, whose father tragically died in a car accident.
For James White, the 2020 NFL season started off on a positive note with the New England Patriots earning a Week 1 victory. Set to face Russell Wilson and the Seattle Seahawks on Sunday Night Football, the veteran running back suffered an unexpected loss after his father tragically died in a car accident before the game. After Wilson led his team to a close victory, he sent a heartfelt message to his former college teammate.
Russell Wilson and James White starred at Wisconsin
After starring at North Carolina State for three years, Russell Wilson transferred to Wisconsin for his senior season. The dual-threat quarterback took his game to another level in his lone year with the Badgers. After failing to complete 60 percent of his passes in each of his three years at NC State, Wilson connected on 72.8% of his attempts in 2011.
Of course, the future NFL star had a strong supporting cast that included James White. Like Wilson, the Florida native made an immediate impact in his first year on campus. White earned 2010 Big Ten Freshman of the Year honors after posting 1,052 rushing yards and 14 touchdowns.
As a sophomore, his numbers dipped slightly. However, the Badgers enjoyed tremendous team success due in large part to Wilson's presence. After going 11-3, Bret Bielema's team finished the year ranked 10th in the AP poll. Wisconsin averaged 44.1 points—good for sixth in the nation.
The Seahawks snagged Russell Wilson with the 75th overall pick of the 2012 NFL draft. Two years later, the Patriots made James White the 130th overall pick.
White missed Week 2 matchup due to his father's tragic death
Since Bill Belichick selected him in the fourth round in 2014, James White has been one of the Patriots' most consistent players. An excellent receiver out of the backfield, he played a significant role in New England's historic comeback against the Atlanta Falcons in Super Bowl 51.
Despite many changes on offense, White still remains one of the few constants and earned a role as a team captain this season. In Week 1, the veteran running back caught all three of his targets for 30 yards. He also chipped in 22 rushing yards on five carries in the Patriots' 21-11 victory.
Heading into their Week 2 matchup with the Seahawks, the Patriots surely needed White to counter a speedy defense. However, when the team announced its inactive list for the game, many were surprised to see White's name listed. Unfortunately for the Patriots RB, the reason behind his inactive status had to do with a death in the family.
Radio host Andy Slater reported via Twitter that Tyrone White, James' father, died in a car crash on Sunday. White's mother, who was also in the car, was reported to be in critical condition. Tyrone White had been a captain with the Miami-Dade Police Department.
Ultimately, James White did not play on Sunday, but he did elect to fly home with his teammates.
Wilson sends a heartfelt message to his former teammate
Without James White in the lineup, the Patriots had to adjust on offense. Despite an encouraging performance by Cam Newton, New England came painfully close to taking down the Seahawks on the road. However, thanks to Russell Wilson's five-touchdown night, Seattle moved to 2-0.
Even after pulling off an impressive win, the Seahawks star took the time to send a heartfelt message to his former teammate during his post-game interview with NBC.
"My heart's heavy because one of my teammates, James White, from Wisconsin, one of the nicest guys, one of the hardest workers, one of the best people I know, had a tough one losing his dad," Wilson said. "My heart has been heavy all day thinking about him. The game was the game. James, I'm praying for you."
In addition to his on-screen message, Wilson also expressed his condolences on social media. Prior to the game, he tweeted "Praying for you bro" followed by White's Twitter handle and three praying hand emojis.
Ultimately, Russell Wilson showed tremendous class and respect for James White, who must now deal with the emotional aftermath of losing his father in such tragic fashion.
It just goes to show that life is much bigger than football.
Like Sportscasting on Facebook. Follow us on Twitter @sportscasting19.