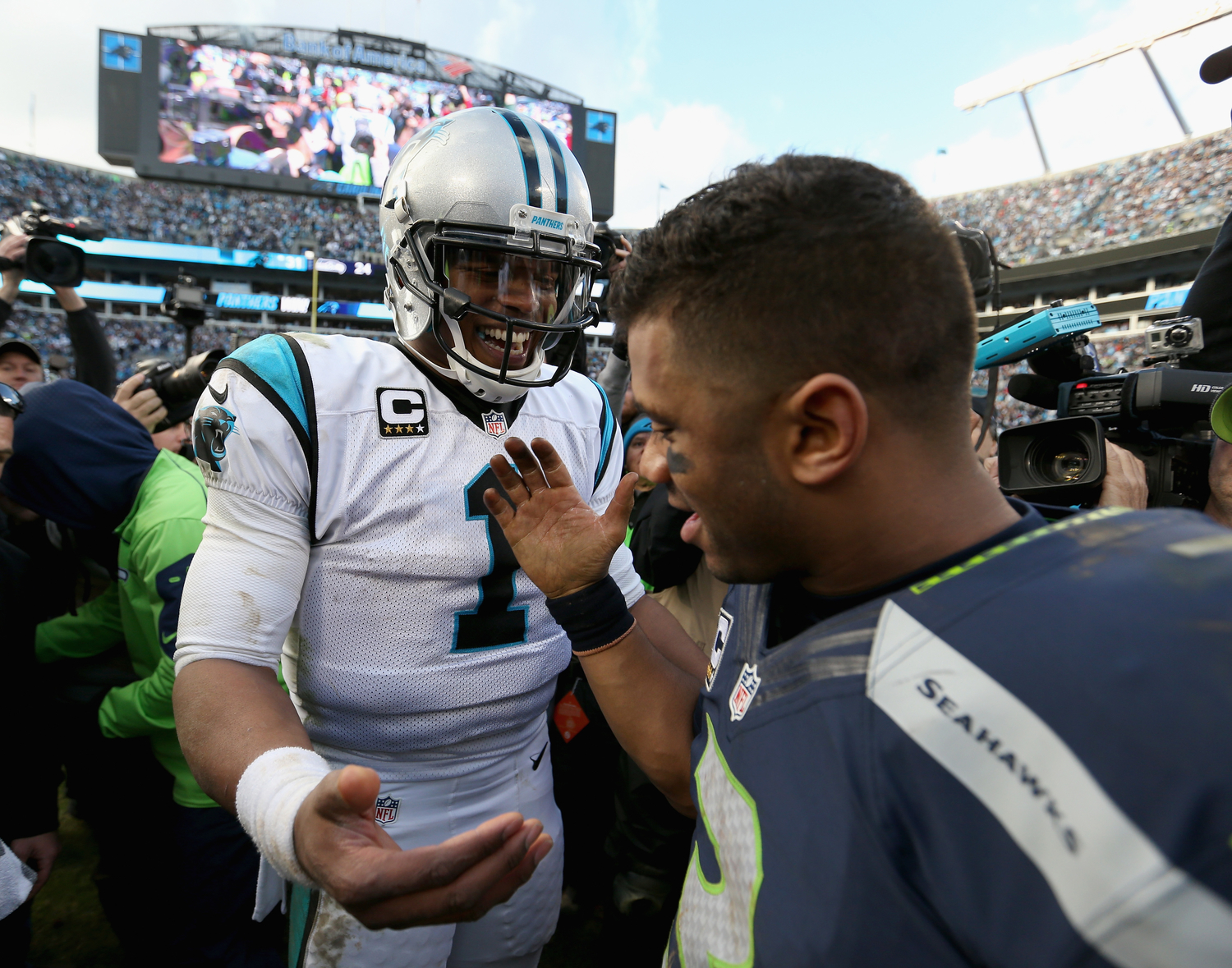 Cam Newton Possesses the 1 Valuable Item Missing From Russell Wilson's Resume
Cam Newton may have already earned the only achievement missing from Russell Wilson's resume, but the Seahawks QB still gets the last laugh.
Cam Newton and Russell Wilson entered the NFL with vastly different expectations. The former became the No. 1 overall pick after a sensational year at Auburn. The latter waited until the third round to hear his name called despite starring for two major programs. Ultimately, both dual-threat quarterbacks have enjoyed tremendous success in the NFL.
Yet, for all of Wilson's impressive achievements, he still has one major hole to fill. Ironically, Newton already accomplished the only feat missing from Wilson's $140 million resume.
Cam Newton and Russell Wilson quickly became stars
Cam Newton and Russell Wilson quickly became recognizable stars after entering the NFL in 2011 and 2012, respectively. In Carolina, Newton's size and athleticism made him a nightmare for defensive coordinators. The 6-foot-5, 245-pound signal-caller threw for 4,051 yards in his rookie year—a number he has never reached again. Of course, Newton's running ability separated him from every other quarterback.
The former Heisman Trophy winner earned a Pro Bowl selection and NFL Offensive Rookie of the Year honors for his outstanding first season. Newton earned his second Pro Bowl trip two years later after throwing for 3,379 yards and 24 touchdowns while adding another 585 yards and six scores on the ground.
Like his peer, Wilson wasted no time showcasing his dynamic skill set. Despite his third-round pedigree, the multi-sport star immediately earned the starting quarterback job. Wilson led the Seahawks to the playoffs as a rookie after throwing for 3,118 yards and 26 touchdowns. In addition, he ran for 489 yards and four scores.
Just as Newton did, Wilson also earned a trip to the Pro Bowl as a rookie. He followed up by leading the Seahawks to their first Super Bowl championship in franchise history. It became clear Seattle scored a draft-day steal by securing Wilson's services with the 75th overall pick.
Newton already earned the only achievement missing from Wilson's resume
It certainly did not take long for Cam Newton and Russell Wilson to prove their value to their respective teams. Both quarterbacks shined thanks to their dual-threat skills that made them extremely difficult to defend.
In 2015, we witnessed just how terrific Newton can be. And that year, he earned the only achievement missing from Wilson's resume.
Five years ago, Newton put together one of the most dominant campaigns in NFL history. In his age-26 season, Newton threw for 3,837 yards and a career-high 35 touchdowns. He added another 636 yards and 10 TD as a runner while leading the Panthers to a 15-1 record. Ultimately, Newton earned the NFL MVP award for his sensational season.
Meanwhile, since entering the NFL in 2012, Wilson has never earned a single MVP vote, let alone the award itself. Considering his resume and value to the Seahawks, that seems outrageous. Still, Wilson beats Newton where it matters most.
The Seahawks quarterback still beats the Patriots star where it matters most
Though Cam Newton may have accomplished the only achievement missing from Russell Wilson's resume, the seven-time Pro Bowler still gets the last laugh. Sure, an MVP trophy would fill the only remaining hole on Wilson's resume. However, he already has the two items Newton sorely lacks.
First, the Seahawks QB already won a Super Bowl title. Wilson came agonizingly close to winning back-to-back championships before Malcolm Butler intercepted him at the goal line to preserve the Patriots' victory. Still, earning a Super Bowl ring gives him a major advantage over Newton, who lost his only Super Bowl appearance, which coincidentally occurred during his MVP season.
Moreover, Wilson also has a lucrative long-term contract. The Seahawks signed their franchise quarterback to a four-year, $140 million deal in April 2019. While Patrick Mahomes has since surpassed that mark, the contract made Wilson the highest-paid player in NFL history at the time.
On the other hand, Newton had to settle for a one-year, incentive-laden deal with the Patriots after spending months on the free-agent market. This season, the former league MVP will make just over $1 million in base salary—a far cry from his paydays with the Panthers.
However, if Newton stays healthy and leads the Patriots to a playoff berth, he can hit free agency in the spring and cash in with a long-term deal of his own. But until he wins a Super Bowl ring, Russell Wilson will still have the last laugh.
All statistics courtesy of Pro Football Reference.