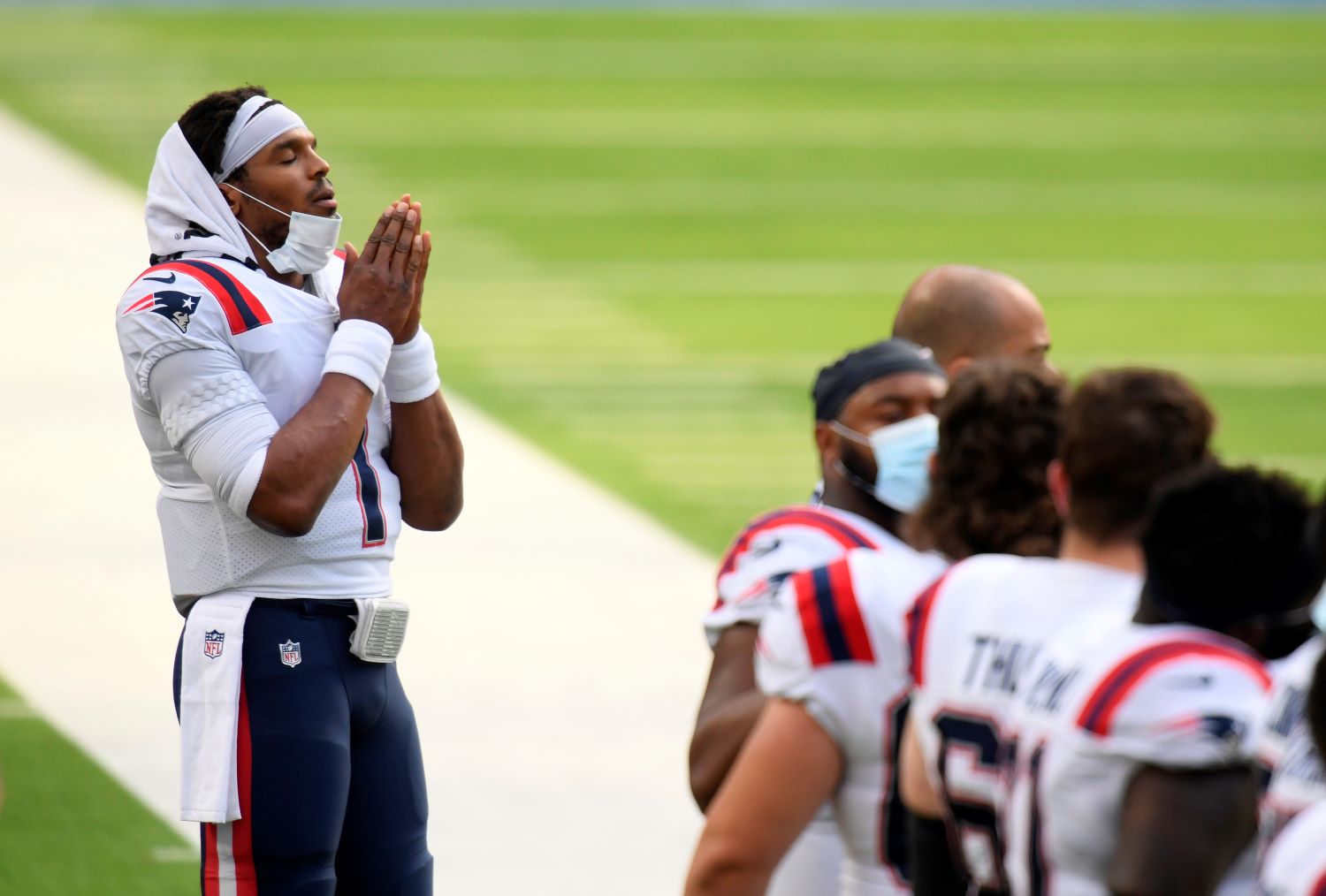 Bill Belichick Has Finally Given Cam Newton What He Desperately Needed
Cam Newton finally has a chance to succeed as a passer thanks to some recent roster moves made by Patriots head coach Bill Belichick.
It's certainly not a stretch to say that Cam Newton has struggled in his first season with the New England Patriots. However, it's not entirely his fault. After all, a quick glance at his supporting cast reveals an offense that severely lacks firepower at the skill positions.
Ultimately, that blame rests with Bill Belichick the general manager.
In recent weeks, though, New England's head coach has clearly embraced a new philosophy of letting the kids get on the field. The Patriots have won four of their last five games with plenty of first- and second-year players getting extended action.
And on Thursday, Belichick finally gave Newton what he needed all along by promoting a potential weapon to the active roster. And moving forward, the Patriots suddenly boast much more potential at a position that proved critical to Newton's success with the Carolina Panthers.
Ryan Izzo has provided little impact for the Patriots
With Matt LaCosse opting-out of the season, that left the Patriots razor-thin at the tight end position. Heading into the year, New England only had Ryan Izzo on the roster as a veteran option.
The 2018 seventh-round pick has gone from playing just 23% of the offensive snaps in 2019 to essentially never coming off the field this season.
Yet, the Florida State product has rarely made much of an impact. Izzo certainly deserves credit for gutting through injuries, but he has provided next to nothing in the passing game. Despite playing 626 snaps, the 6-foot-5, 255-pounder has only caught 13 passes for 199 yards. In 18 career games, Izzo has recorded just one touchdown reception.
And while nobody would knock Izzo for his effort, his blocking has also left much to be desired. Plus, his lack of athleticism makes him a non-threat to defenses.
Overall, tight end has continued to be a problem for the second straight season for the Patriots even after Bill Belichick tried to address the position in the draft.
Bill Belichick has finally given Cam Newton what he desperately needed
Ryan Izzo has held down the starting tight end spot all season. However, it appears he has played his final snap of 2020.
With the third-year pro dealing with multiple injuries, the Patriots announced on Thursday that Izzo will head to the injured reserve list.
New England will replace him on the active roster with Devin Asiasi. Selected 91st overall back in April, the 6-foot-3, 257-pounder brings intriguing athletic ability to the table. He recorded 44 catches for 641 yards and four touchdowns in his final season at UCLA. Asiasi became the highest-drafted tight end in the Belichick era since Rob Gronkowski arrived as the 42nd overall pick a decade ago.
By promoting Asiasi, the Patriots will officially move forward with a young tight end group that also includes rookie Dalton Keene and third-year pro Jordan Thomas.
While those three are largely unproven (Thomas does have 21 catches to his name), they all possess something Izzo did not: upside.
And by transitioning from the underwhelming starter to a three-headed group of young, athletic tight ends, Bill Belichick has finally given Cam Newton what he needed all along.
Sure, the Patriots could use an upgrade at wide receiver. But Damiere Byrd and Jakobi Meyers have gotten open fairly consistently throughout the season. Plus, N'Keal Harry is a former first-round pick with just 17 games under his belt.
However, what made Newton so successful in Carolina wasn't the presence of a dominant No. 1 WR.
Can Newton and his young crop of tight ends get clicking?
When Cam Newton won league MVP honors in 2015, the Panthers' most productive pass-catcher didn't even play the receiver position. That year, Greg Olsen led Carolina in catches (77) and yards (1,104).
While Ted Ginn Jr. did record 10 touchdown receptions, he only caught 44 total passes. In fact, he and Olsen were the only players on the entire offense to record at least 40 receptions.
In fact, you could argue that Olsen and Newton needed each other more than anything. Before he arrived in Carolina, Olsen had put up rather pedestrian numbers with the Chicago Bears. But in nine years with the Panthers (he joined the team in Newton's rookie season), the former University of Miami star racked up 6,463 yards and 39 touchdowns on 524 catches.
With the Patriots still fighting for a playoff spot, they have to expand their passing game down the stretch. Izzo never threatened defenses, but the trio of Asiasi, Keene, and Thomas has a chance to totally transform the offense moving forward.
Few play-callers can match Josh McDaniels in terms of creativity, so expect him to start incorporating more plays to get the ball in the hands of the team's young tight ends. Plus, Newton would do well to simply check the ball down to Asiasi or Keene and let either player use his athleticism in the open field to gain yards after the catch.
And if New England's young group of tight ends can start to make an impact on a consistent basis, perhaps Bill Belichick and Cam Newton will get a chance to make some playoff magic together after all.
No pressure, kids.
All statistics courtesy of Sports Reference and Pro Football Reference.