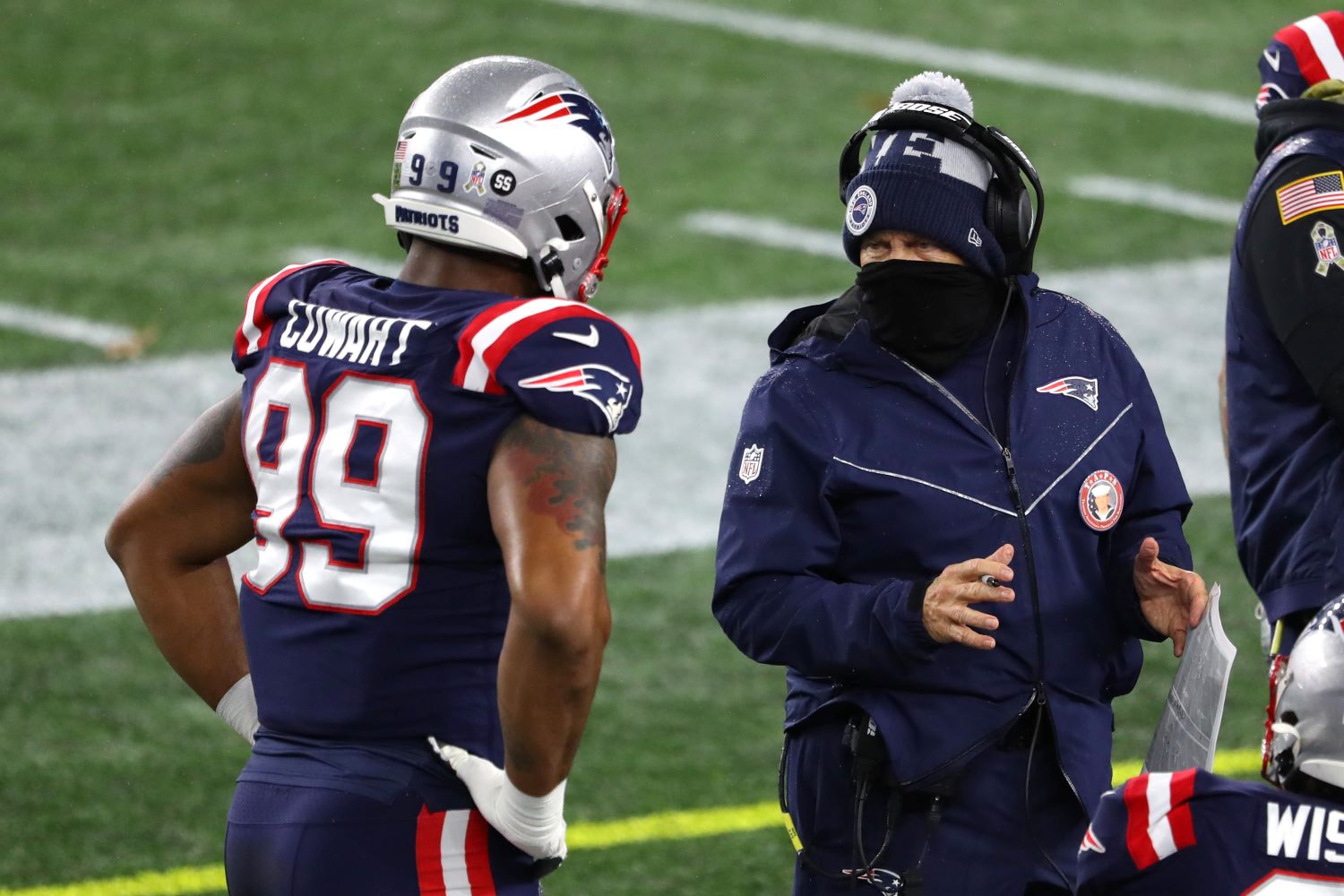 Bill Belichick is Finally Embracing a New Philosophy the Patriots Have Desperately Needed
In a year unlike any other, it looks like Bill Belichick is finally embracing a new philosophy that the Patriots desperately needed.
Two years ago, the New England Patriots won their sixth Super Bowl title with a roster full of established stars. From Tom Brady to Rob Gronkowski to Dont'a Hightower, Bill Belichick relied upon battle-tested veterans to carry the team.
While New England experienced tremendous success with that approach, it also resulted in a roster full of aging players who cost much more than those on rookie contracts.
But after losing key starters to free agency and COVID-19 opt-outs, Belichick is finally embracing a new philosophy the Patriots desperately needed. And if the greatest coach in NFL history continues with that approach, New England may just sneak into the playoffs after all.
Bill Belichick has gone with the veteran approach in recent years
Bill Belichick may be the greatest coach in NFL history, but his work as a general manager has been closer to average. While he has drafted a number of stars over the years, he hasn't selected a Pro Bowler since Jamie Collins in 2013.
Belichick's draft misses left the Patriots with a roster thin on young talent. As a result, he had to sign and trade for veterans who carry more expensive contracts.
Of course, New England experienced plenty of success with that approach. In 2016, the Patriots captured their fifth Super Bowl title thanks to clutch plays from Brady, Hightower, and Julian Edelman.
Two years later, the Patriots defeated the LA Rams in Super Bowl 53 with a dominant defense headlined by established stars like Hightower, Stephon Gilmore, Devin McCourty, Trey Flowers, and Kyle Van Noy.
Last season, the Patriots had the oldest roster in the league. And even after Brady left for the Tampa Bay Buccaneers, New England still entered the 2020 season with the fifth-oldest roster in the NFL.
Belichick is embracing a new philosophy the Patriots desperately needed
Bill Belichick wouldn't admit it publicly, but his draft failures have played a major role in the construction of the Patriots' roster over the last few years.
But after relying on veterans to carry the team for so long, he's finally embraced a new philosophy that New England has desperately needed: letting young players get on the field.
That showed up on Sunday, as the team's last two draft classes provided tremendous impact.
2019 first-round pick N'Keal Harry used his size and physicality to snag his second touchdown reception of the season. Third-rounder Damien Harris ran for 80 yards on 16 carries. Fellow third-rounder Chase Winovich recorded two quarterback hits and his first career interception.
Fifth-round pick Byron Cowart recorded a quarterback hit and a pass deflection on 26 snaps. Jake Bailey, who went four picks after Cowart, averaged nearly 50 yards per punt in New England's 45-0 win against the LA Chargers.
Plus, former fourth-round pick Jarrett Stidham completed two passes for 61 yards, including a 38-yard touchdown to Gunner Olszewski. The second-year undrafted free agent also racked up 145 yards on three punt returns. His 70-yard touchdown return sparked a 21-point second quarter by the Patriots.
In addition, New England's rookie class continued to make plays. Top pick Kyle Dugger recorded six tackles and rarely came off the field. Second-round linebacker Josh Uche recorded three quarterback hits and looks like a future star.
Sixth-round steal Michael Onwenu was the only Patriot to play every snap. Tight end Dalton Keene (34%), offensive tackle Justin Herron (42%), and linebacker Anfernee Jennings (61%) also saw plenty of action on Sunday.
Will the youth movement pay off with a playoff berth?
Based on the significant uptick in playing time for the Patriots' recent draft picks, it's clear that Bill Belichick is embracing the youth movement in New England. But will that result in a surprise playoff berth for a team that has made it an annual tradition to play in January?
In one respect, it's fair to question Belichick for waiting so long to put young players on the field. Considering all the opt-outs and COVID-19, it would have made sense for the Patriots to throw the rookies and second-year draft picks into the fire to see how they responded.
However, Belichick cut back Winovich's snaps for a multi-week stretch. Dugger and Jennings rarely got on the field early in the year.
Meanwhile, Keene and Devin Asiasi have been afterthoughts on offense despite arriving as third-round picks. Harris clearly has Pro Bowl potential, but he played just two games as a rookie and didn't take over the starting running back job until November.
At the same time, Belichick may not have been comfortable putting inexperienced players on the field after an offseason unlike any other. Still, he probably would have been better suited to let them play in order to gain experience in a season that has been drastically impacted by COVID-19.
Ultimately, New England's young core will have to continue to play well down the stretch if the team has any hope of continuing its streak of making the playoffs.
Let's see if the kids reward Belichick's faith.
All statistics courtesy of Pro Football Reference.