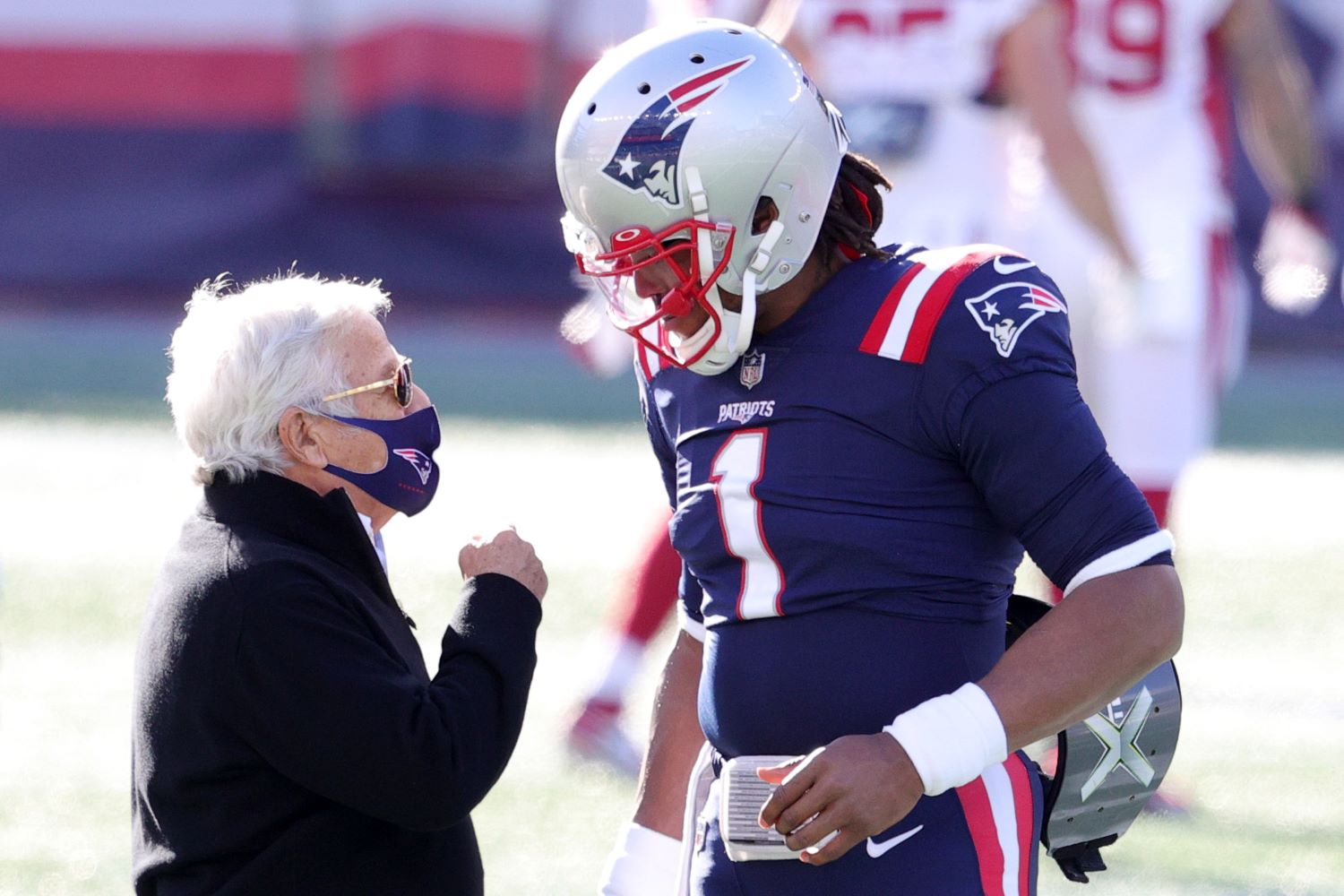 Cam Newton Has Forced Bill Belichick to Make a Franchise-Altering Decision
Cam Newton has forced Bill Belichick to make a franchise-altering decision. Will the Patriots make a change at the quarterback position?
The New England Patriots pulled off a narrow victory on Sunday against the Arizona Cardinals, but Cam Newton put up another dreadful performance that did nothing to inspire confidence in his ability to be the long-term answer at the quarterback position.
In fact, his play has now forced Bill Belichick to make a franchise-altering decision.
The Patriots face an uncertain future at the quarterback position
Once Tom Brady took his talents to the Tampa Bay Buccaneers, Bill Belichick had to decide how to approach the quarterback position. But instead of making a bold move in free agency or the 2020 NFL draft, he essentially did nothing.
As spring turned to summer, it looked like Brian Hoyer and Jarrett Stidham would battle it out for the starting quarterback spot. However, Belichick shook things up when he signed Cam Newton to a one-year contract.
The former No. 1 pick beat out Stidham and Hoyer in training camp, but he has been a massive disappointment with the Patriots.
Meanwhile, Stidham has thrown four interceptions on 27 career attempts. The former Auburn QB tossed two picks in relief of Hoyer in New England's Week 4 loss at Kansas City.
Between Newton's impending free agency and Stidham's failure to step up in limited opportunities, the Patriots face an uncertain future at the most important position in football.
Cam Newton failed to impress again on Sunday
Although Cam Newton is on pace to finish with the best completion percentage of his career, he has otherwise been a massive disappointment in his first (and perhaps only) season with the Patriots.
After completing 65% of his passes for 365 yards and a touchdown against the Houston Texans, the 31-year-old delivered one of the worst performances of his career on Sunday. Facing a Cardinals defense that most would describe as average, Newton looked thoroughly overmatched.
He completed just nine passes for 84 yards and got picked off twice to bring his season total to nine. The former Carolina Panthers star has thrown just four touchdowns in 10 starts.
While Newton ran for 46 yards, his inaccuracy, poor decision making, and lack of awareness resulted in another rough day at the office. And with the Patriots sitting at 5-6 largely because of Newton's erratic play, Bill Belichick must make a franchise-altering decision.
Newton has forced Bill Belichick to make a franchise-altering decision
Although Bill Belichick refused to directly answer whether the Patriots would consider replacing Cam Newton with Jarrett Stidham, he must seriously contemplate making that call. Because based on his first 10 games as a Patriot, there's no reason Newton should still be starting on Sundays.
But will Belichick be willing to admit defeat about his hand-picked replacement for Brady?
On one hand, it's easy to see why the legendary head coach has continued to stick with Newton. He at least offers a different dimension with his running ability. And it certainly seems like the former Panther has earned the respect of his teammates.
However, the fact remains that Newton has not provided the Patriots with an acceptable level of play from the quarterback position. He turns the ball over far too much and routinely overlooks open receivers.
Sure, he doesn't have the best weapons. But even disappointing first-round pick N'Keal Harry has missed out on some play-making opportunities because Newton either refused to pull the trigger or never looked his way in the first place.
Will Belichick make the switch to Stidham?
At this point, it's fair to wonder whether the Patriots would be better off giving Stidham a shot at starting. Could he really be much worse than Cam Newton? If the second-year pro shows flashes of ability, perhaps New England will consider building around him in 2021.
But if Stidham never gets a chance to be QB1 this year, the Patriots will enter the offseason with no clear direction at the most important position in football. After all, it's not like Newton has done anything to warrant a second contract.
Belichick holds the fate of the franchise in his hands. If he keeps trotting out Newton and he continues to struggle, it will only hurt the team in the long run. Making the switch to Stidham will provide the Patriots with a clear answer as to whether he is worth building around. If he fails to step up, New England can focus its offseason efforts on finding a franchise quarterback.
Because at this point, it's clear that Cam Newton is not that guy.
Let's see if Bill Belichick agrees.
All statistics courtesy of Pro Football Reference.