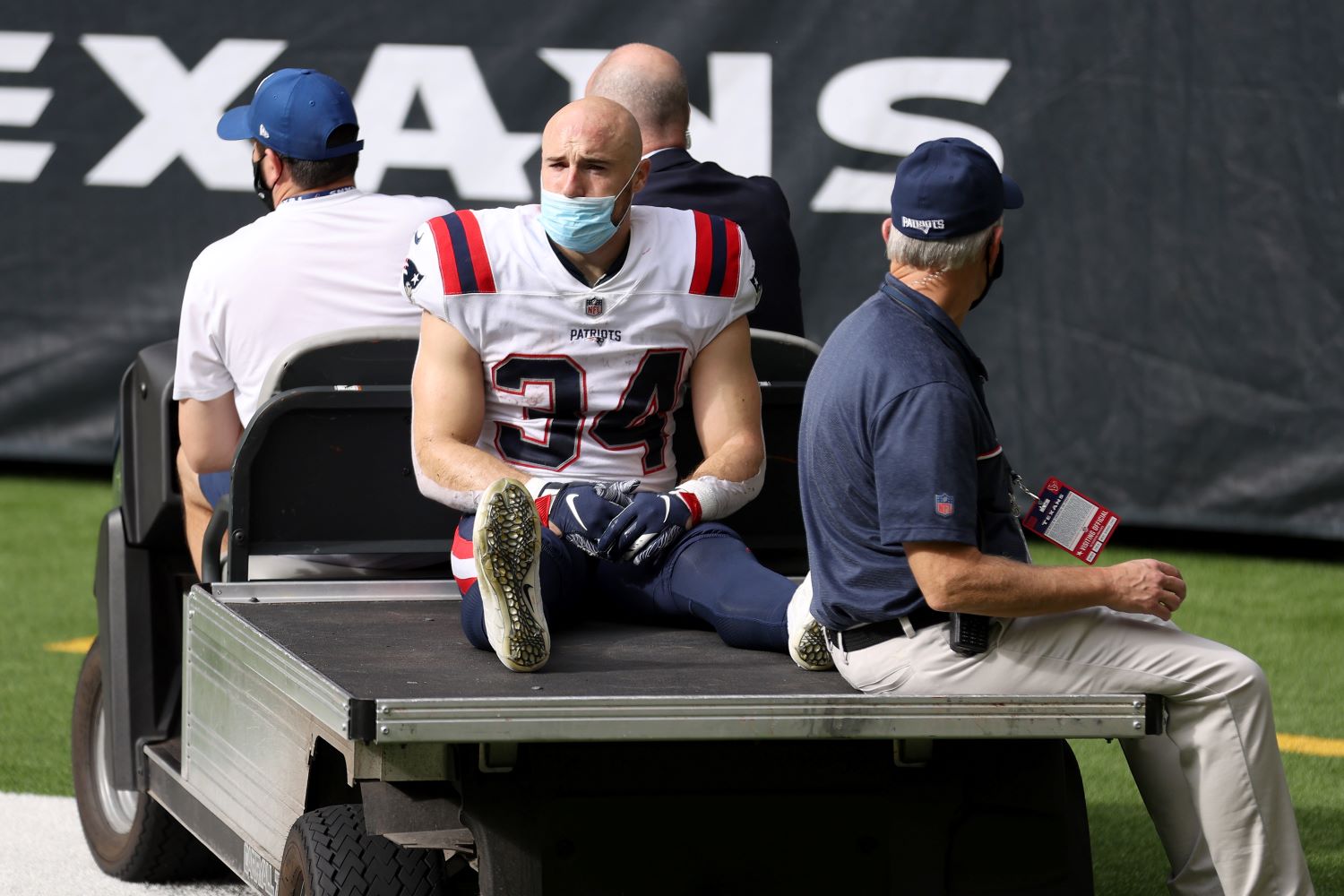 Rex Burkhead Has Played His Final Snap With the Patriots
After suffering a season-ending knee injury in a contract year, Rex Burkhead appears to have played his final snap with the Patriots.
In one fell swoop, Rex Burkhead watched his impressive season come to a painful end. And unless Bill Belichick surprises everyone this spring, the 30-year-old running back has officially played his final snap with the New England Patriots.
Rex Burkhead joined the Patriots in 2017
Rex Burkhead entered the NFL as a sixth-round pick in the 2013 NFL draft. The 5-foot-10, 215-pounder showed flashes of playmaking ability with the Cincinnati Bengals. However, the versatile offensive weapon also struggled to stay healthy.
After playing out his rookie contract, Burkhead signed a one-year deal with the Patriots during the 2017 offseason.
In his first year in a New England uniform, he showed dynamic ability as both a runner and as a receiver. However, injuries limited Burkhead to just 10 games.
Still, the Patriots brought him back on a three-year, $9.75 million contract that included $5.5 million guaranteed. Unfortunately for the talented multi-purpose back, he suffered a neck injury that landed him on injured reserve in late September. Burkhead ultimately got healthy, returned to the team, and played a valuable role in the Patriots' Super Bowl run.
In 2019, Burkhead contributed 302 rushing yards, 279 receiving yards, and three touchdowns. He entered the 2020 season as one of the team's few established weapons.
A knee injury will sideline him for the remainder of the season
Although the Patriots have struggled mightily on offense this season, Rex Burkhead had arguably been playing the best football of his career before he suffered a knee injury against the Houston Texans.
The veteran back torched the Las Vegas Raiders to the tune of 49 rushing yards, 49 receiving yards, and three touchdowns in a Week 3 win. Against the New York Jets, Burkhead ran for 56 yards, caught three passes, and scored another touchdown.
And in New England's impressive 23-17 win against the Baltimore Ravens, he turned two of his four receptions into scores.
However, Burkhead's productive season came to a swift, painful end on a failed third-down play in Houston. On Tuesday, he confirmed via social media that his knee injury will sideline him for the rest of the year.
Expect New England to move in a different direction at running back
Rex Burkhead isn't ready to call it a career. But while he should get an opportunity to play for another NFL team, his next carry won't come as a member of the Patriots.
Burkhead will be a free agent this offseason, and based on his injury history and the fact that he's on the wrong side of 30, New England has no reason to bring him back.
Bill Belichick is known for moving on from a player a year early rather than a year later. In reality, he probably shouldn't have re-signed Burkhead to a three-year deal back in 2018, but that's an entirely different conversation. Now, though, he shouldn't hesitate to let the aging, injury-prone back find another NFL home.
In fact, don't be surprised to see some major changes to New England's backfield.
James White will also become a free agent after the season. The former Super Bowl hero has seen his role reduced, especially with the Patriots employing a run-first approach. Set to turn 29 in February, it wouldn't be surprising if White latches on with a new team.
Plus, the Patriots have to make a decision about Sony Michel's future. The 2018 first-round pick has not lived up to expectations. Will he get moved in a trade? Will the team pick up his fifth-year option? Or will Belichick let the situation play out and let Michel walk after the 2021 season?
Ultimately, the only sure thing at running back is Damien Harris. New England needs to let him dominate the touches and make him an integral part of the offense. After having great continuity at the position with White and Burkhead in the fold, it's time for the Patriots to get younger (and cheaper) at running back.
All contract data courtesy of Spotrac. All statistics courtesy of Pro Football Reference.