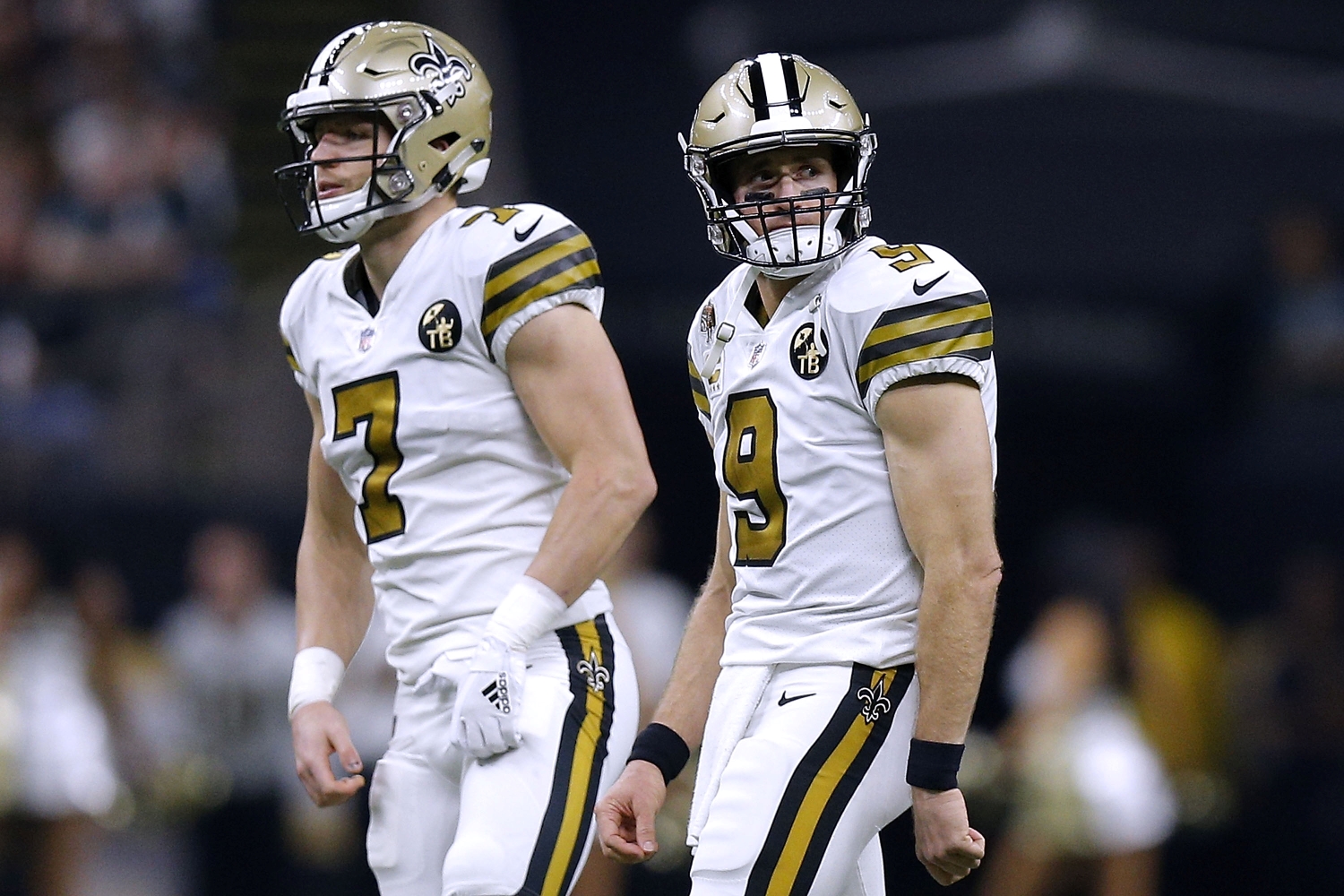 Drew Brees Just Made Saints Fans' Worst Nightmare Come True
With Drew Brees heading to injured reserve, New Orleans Saints fans will have to suffer through the nightmare of having another starting QB.
For more than a decade, Drew Brees has been the starting quarterback for the New Orleans Saints. However, the future Hall of Famer won't be in the lineup anytime soon. And by landing on injured reserve, the 41-year-old just made Saints fans' worst nightmare come true.
Because unless Taysom Hill suddenly becomes a legitimate passer over the next few weeks, New Orleans will no longer hold the No. 1 spot in the NFC South whenever Brees returns.
Durability has been a big key to Drew Brees' success
Drew Brees suffered a catastrophic shoulder injury early in his NFL career. However, he has been remarkably durable during his time with the Saints.
In fact, since taking his talents to New Orleans, Brees has played in all 16 games on a near-annual basis. He missed a total of three games before sitting out five contests in 2019 because of a thumb injury.
That continuity at the most important position in football has helped the Saints achieve tremendous success. New Orleans won a Super Bowl title in 2009 due in large part to Brees. That year, he led the NFL in completion percentage (70.6), touchdown passes (34), and quarterback rating (109.6).
Although the 13-time Pro Bowler has failed to win a second ring, he has continued to put up stellar numbers over the last decade.
And through the first eight games of the 2020 NFL season, Brees showed no signs of slowing down…until Week 10 hit.
Saints fans' worst nightmare about No. 9 just came true
As one of the most durable players in the NFL, Drew Brees has rarely given Saints fans a reason to worry about his availability. But that all changed last Sunday against the San Francisco 49ers.
Brees did not return after halftime, which fueled speculation about the severity of his injury. Initial reports suggested a rib ailment forced the star quarterback to leave the game early. It turns out the two-time NFL Offensive Player of the Year suffered much more serious damage.
ESPN's Ed Werder reported on Wednesday that Brees has not only multiple rib fractures on both sides of his chest but also a collapsed lung.
Two days later, Saints fans' worst nightmare about the franchise icon just came true.
On Friday, ESPN's Adam Schefter reported via Twitter that New Orleans has placed Brees on injured reserve. He will miss a minimum of three weeks.
For Saints fans, this news represents a brutal blow. After all, Brees has been the face of the franchise for more than a decade. He provided stability and star power at the most critical position on the field. Plus, his leadership and ability to make plays in the clutch make him irreplaceable.
Now, the team will have to turn to a "quarterback" who has never completed a touchdown pass before.
Will Taysom Hill keep the team atop the NFC South?
Sean Payton will reportedly start Taysom Hill at quarterback on Sunday against the Atlanta Falcons. While the Saints' NFC South rival does not present a particularly difficult matchup, it's safe to say nobody has a clue how Hill will perform.
The 30-year-old has carved out a unique role in New Orleans as a do-it-all weapon. However, while Hill does have a track record of production as a receiver, blocker, running back, and special-teamer, he has attempted just 18 passes in three NFL seasons. In fact, the former BYU standout has never completed a touchdown pass in his career.
His college numbers aren't inspiring, either. Hill completed just 58.2% of his passes and threw 31 career interceptions, including 11 in his final season with the Cougars.
To think that he will somehow fill in seamlessly for Drew Brees seems like a massive gamble. In reality, Jameis Winston may be a better option given his resume. While the former No. 1 pick certainly turned the ball over too much in Tampa, he has at least shown flashes of Pro Bowl ability.
Still, it seems like the Saints are prepared to move forward with Hill until Brees can return. But if defenses determine he can't beat them through the air, expect Alvin Kamara and Latavius Murray to see plenty of extra bodies in the box.
Ultimately, Hill faces long odds to keep New Orleans in contention for the NFC South crown. Unless Payton can work some magic from a schematic standpoint, it will be tough for the Saints to move the ball and put up points without No. 9 under center.
All statistics courtesy of Sports Reference and Pro Football Reference.