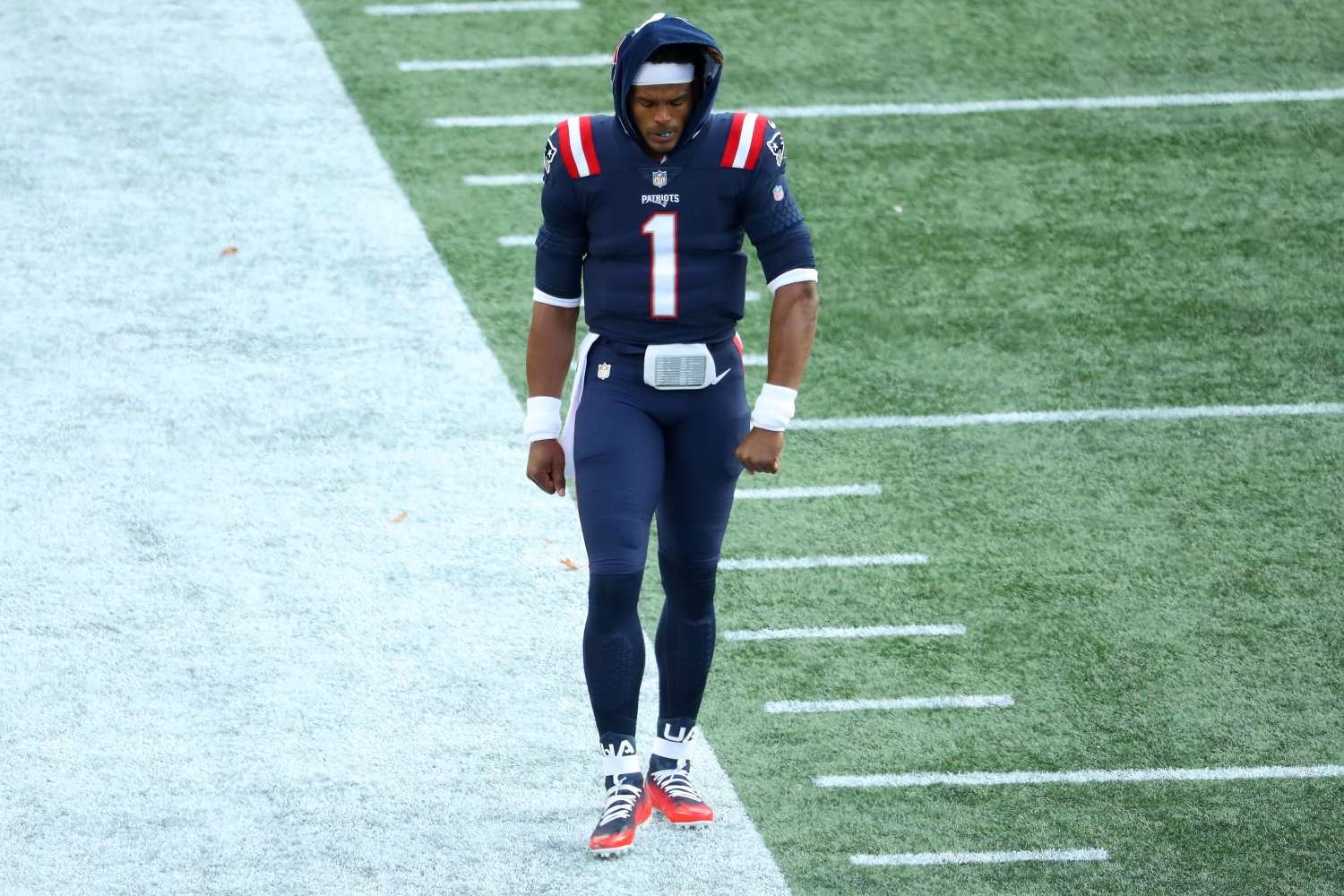 Cam Newton Just Admitted the Brutal Truth About His Future With the Patriots
Cam Newton delivered a brutally honest message about his future with the Patriots. Could New England move on from him sooner than later?
Through two games, it looked like the New England Patriots had scored a major steal by signing Cam Newton to a laughably cheap deal. However, the former NFL MVP has struggled mightily in his last three appearances.
To this point, Newton has done little to convince Patriots fans that Bill Belichick should sign the former No. 1 overall pick to a contract extension this offseason. In fact, the 31-year-old quarterback got brutally honest about his future in New England a day after the Patriots experienced their worst home loss in the Belichick era.
Cam Newton continues to struggle after a strong start
In his first game as a Patriot, Cam Newton reminded everyone why he won MVP honors just five years ago. The 6-foot-5, 245-pound signal-caller torched the Miami Dolphins on the ground with 75 rushing yards and two touchdowns.
He followed up with an excellent outing against the Seattle Seahawks that included 397 passing yards. However, since slicing up Pete Carroll's secondary on Sunday Night Football, Newton has struggled to find any semblance of consistency.
Though the Patriots beat the Las Vegas Raiders in Week 3, it wasn't because of their quarterback. Newton threw for just 162 yards and tossed an interception for the second straight week.
After overcoming a brief battle with COVID-19, he returned last Sunday to take on the Denver Broncos. Though he completed 68% of his passes, Newton tossed two more picks and looked incredibly rusty in his return to action.
It only got worse on Sunday against the San Francisco 49ers.
After completing just 9-of-15 attempts for 98 yards and three more interceptions, Newton found himself on the bench. He finished the afternoon with a quarterback rating of 39.7—the third-worst mark of his 10-year NFL career.
Newton gets brutally honest about his future with the Patriots
On the heels of another disappointing day at the office, Cam Newton didn't sugarcoat his performance. After all, the fact Belichick benched the veteran in favor of Jarrett Stidham certainly raised a few eyebrows around New England.
During Monday's appearance on The Greg Hill Show on the WEEI radio network, Newton got brutally honest about his future with the Patriots.
"The first thing I said to myself coming home, I said, 'You keep playing games like that, bro, and it's gonna be a permanent change,'" Newton explained. "Whatever type of way we have to motivate ourselves, I'm honest with myself, so that leaves no type of miscommunication with others."
On one hand, Newton deserves credit for his honest self-assessment. He could easily have made excuses for his poor play. After all, New England has arguably the worst group of skill position players in the league, and Newton also missed time due to COVID-19. But based on his comments, he certainly seems to understand the gravity of the situation and knows he must improve if he wants to remain QB1.
Plus, with Belichick calling the shots, there's no guarantee that any Patriots player will keep a starting spot from one week to the next. And based on Newton's uninspiring recent performances, Belichick may have to think long and hard about the future of the quarterback position.
Bill Belichick has a tough decision to make at quarterback
Despite being 2-4, the Patriots still have time to turn their season around. However, that will never happen without better play from the quarterback position.
If Cam Newton continues to fall short of expectations, however, will Bill Belichick make a major move at the most important position in football?
On one hand, you could argue that a healthy Newton gives the Patriots a much better chance at winning than either Stidham or Brian Hoyer. The former has turned the ball over way too much in limited action. The latter completely flopped against Kansas City and cost the team a potential victory. Still, if Newton can't put points on the board, the Patriots have little reason to stick with him moving forward.
On the other hand, New England could consider a drastic move and look to trade Newton to a quarterback-needy team. Could the Dallas Cowboys be a fit? In Dallas, Newton would have a tremendous set of weapons—something he does not possess in New England. Jerry Jones has never been afraid to make a bold move, so why not give the Patriots a call about trading for Newton, who is on a one-year deal anyway?
Either way, it's looking less and less likely that Cam Newton will convince New England to sign him to a long-term deal after the season. Unless he experiences a drastic turnaround, his days with the Patriots could be numbered.
All statistics courtesy of Pro Football Reference.