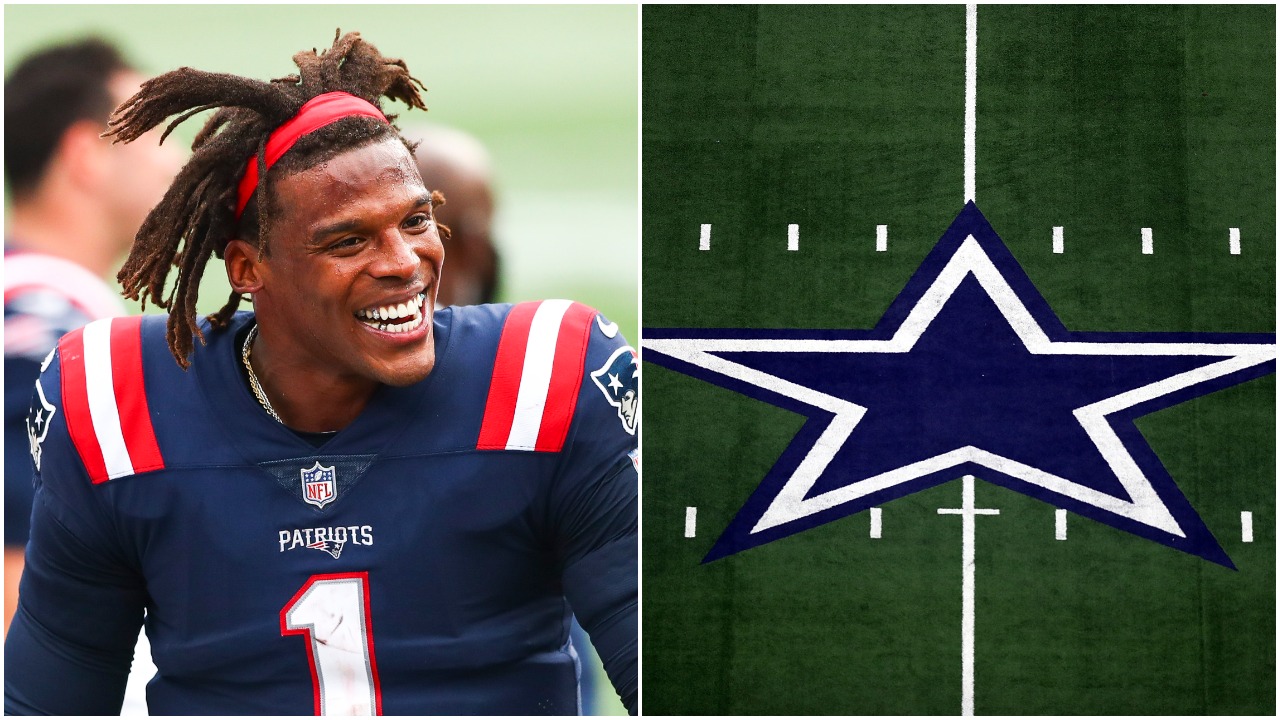 The Dallas Cowboys Trading for Cam Newton Makes All the Sense in the World
The Dallas Cowboys are having major quarterback problems in 2020 and bringing in Cam Newton could be the answer to saving their season.
Seven games into the 2020 NFL season, the Dallas Cowboys are an absolute train wreck. The defense has obviously been atrocious all season long but the offense, which was at least keeping the Cowboys competitive in games until Dak Prescott went down, is now a major concern as well. Dallas has scored just 13 points over the last two weeks in embarrassing losses to Arizona and Washington and the team suffered another major blow when Andy Dalton left Sunday's game after taking a nasty shot to the head on a dirty hit from Washington linebacker Jon Bostic, which brought in rookie backup Ben DiNucci.
Now, there's just not a big enough sample size on DiNucci to truly know whether or not he can get the job done. But if you really sit and think about it, there is a quarterback out there looking to prove himself this season that would seemingly thrive for the Dallas Cowboys: Cam Newton.
No, seriously, hear us out here.
Both the Dallas Cowboys' offense and Cam Newton are struggling right now
As mentioned, the Dallas Cowboys' offense has struggled since Dak Prescott went down with that gruesome ankle injury in Week 5 against the New York Giants. Over the last two weeks, Dallas has averaged 243 yards of offense and 6.5 points per game. Over the first five games of the season, the Cowboys averaged 488 yards of offense and 32.6 points per game. That's quite a significant dropoff.
As for Cam Newton, he certainly doesn't look like the player he once was. While his completion percentage is solid at 67.2%, more than seven and a half points above his career average, he's thrown just two touchdown passes against seven interceptions, three of those coming in the Patriots' 33-6 loss to the San Francisco 49ers on Sunday, which led to him being benched by Bill Belichick. However, his mobility is still there, as evidenced by his 244 rushing yards and five rushing touchdowns.
And that's one of the reasons that Cam Newton would be a great fit for the Dallas Cowboys.
Cam Newton to the Dallas Cowboys makes all the sense in the world
Some might be reading this and saying that it makes no sense for the Dallas Cowboys to bring in a struggling quarterback. But it makes so much more sense than you might think.
Cam Newton is struggling, right? But why is that happening? Perhaps it's because he has no real number one receiver to throw to in New England and no real number one tight end either. The Patriots are constantly switching out running backs, giving the team no real identity in the backfield, and Cam simply can't get comfortable.
Now picture Cam Newton with actual weapons. As mentioned, his completion percentage is solid and actually very close to the career-high mark he set two years ago. Give him guys like Amari Cooper, Michael Gallup, and CeeDee Lamb and watch what happens. Give him Ezekiel Elliott, who is a very good receiver out of the backfield, and watch him thrive.
And you know the offensive line troubles that the Cowboys are having? They don't become as much of an issue with a quarterback that can run. Sure, if the regular offensive line was still intact, Andy Dalton could sit in the pocket all day and put up big numbers. But Dalton is not a mobile guy, which is one of the reasons why he was struggling before his injury.
What makes this particular scenario even better for the Dallas Cowboys is the fact that Cam Newton is on a one-year deal and very cheap. Newton's base salary in 2020 is only $1.05 million and he's only guaranteed $550,000. So how could they convince Bill Belichick and the Patriots to give him up?
It shouldn't take much to bring him in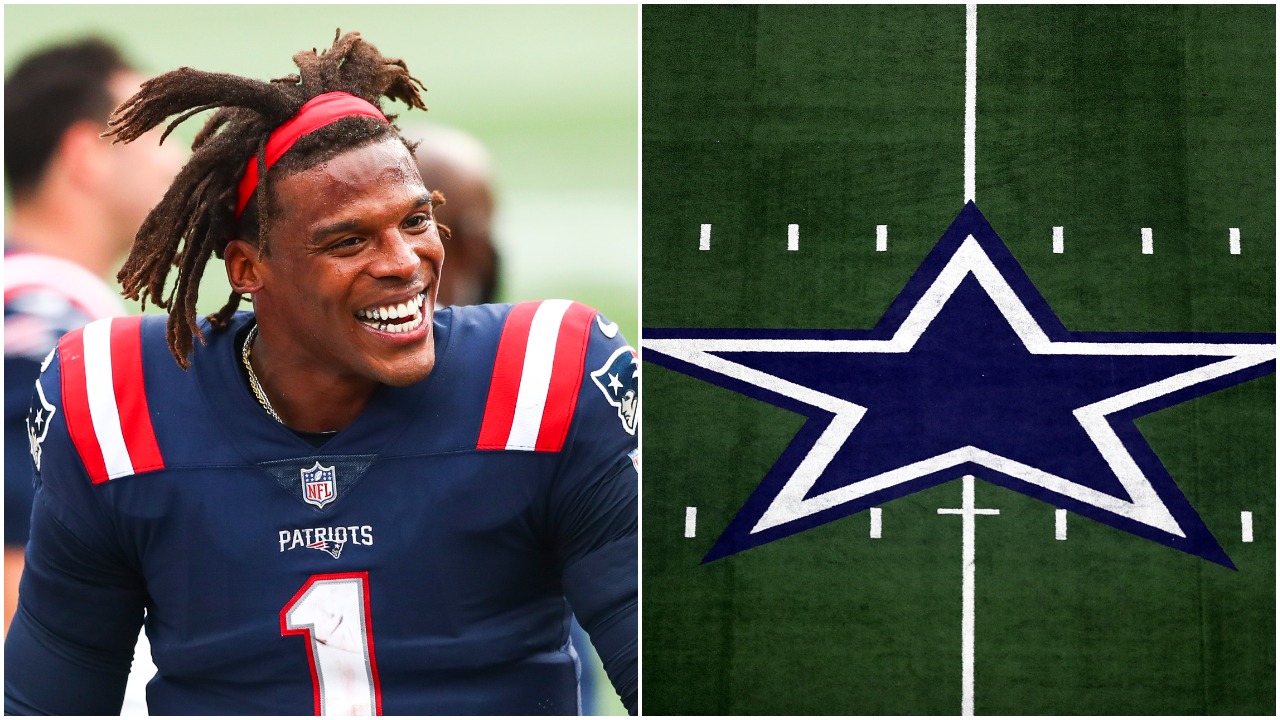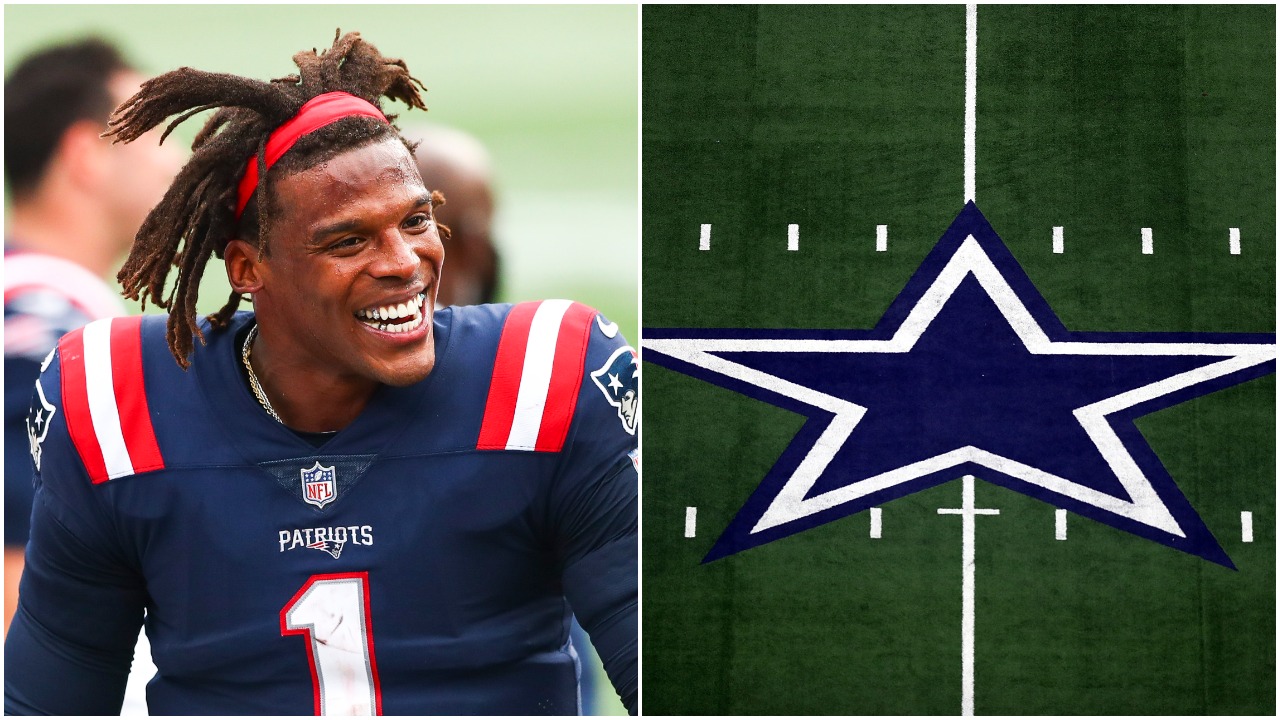 So the question becomes this: How do the Dallas Cowboys get Cam Newton? Honestly, it really shouldn't be that difficult. The Patriots aren't going to contend in the AFC. Sorry, Pats fans, but it's just not going to happen. Bill Belichick says that, despite the benching, Newton will still be the starter moving forward. But New England is 2-4 and showing no signs of getting any better. Wouldn't this be a good time to get Jarrett Stidham some reps? Belichick himself said that was the reason he benched Newton on Sunday anyway.
It's no secret that Belichick loves acquiring draft picks. So just send him one or two late-round or compensatory picks and be done with it. The Patriots gave up Jimmy Garoppolo for just one second-round pick from the 49ers, which Belichick turned into eight players, and Newton's current value certainly isn't what Garoppolo's was three years ago.
As for what happens to Andy Dalton when he returns, the Cowboys signed him to be a backup quarterback in 2020 and, given the state of the offense as a whole, that's all he needs to be right now.
Everybody wins here. The Cowboys give themselves a better chance to win the woeful NFC East and don't have to pay much or give up much to bring in Cam Newton for half a season. Cam finishes the year and then Dak is back next year on the tag or on his new deal. Newton gets a better chance to prove that he can still play, a chance he really isn't getting in New England given the personnel around him. And Bill Belichick gets a few more draft picks to help the Patriots become a better overall team in the post-Brady era.
See, it's not as far-fetched as it sounds, is it?
All stats courtesy of Pro Football Reference