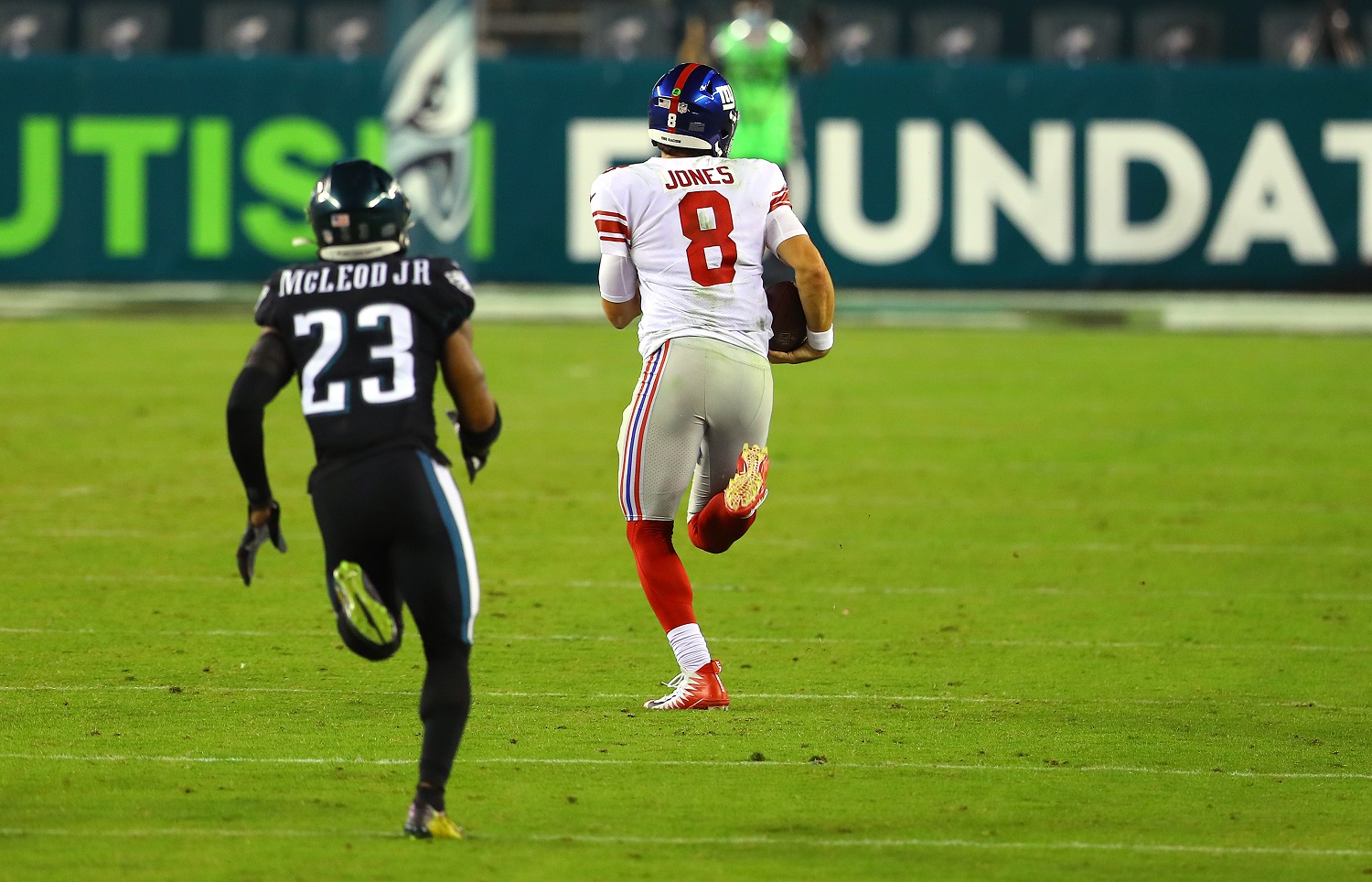 Patrick Mahomes Tried To Cheer up Daniel Jones, Who Actually Made NFL History When He Fell Down on Thursday Night
Giants QB Daniel Jones made some bad NFL history when he stumbled on his breakaway run against the Eagles but Patrick Mahomes tried to cheer him up.
It's no secret that the NFC East has easily been the worst division in the NFL in 2020. And in one play on Thursday night against the Philadelphia Eagles, New York Giants quarterback Daniel Jones perfectly summed up the division by falling flat on his face in the open field on what should have been one of the longest touchdown runs by a quarterback in the last 25 years.
But instead of making the good kind of NFL history, Daniel Jones went the other way. Naturally, social media exploded as soon as the play was over and Patrick Mahomes was one of many to chime in. But while others were dogging Jones, Mahomes at least tried to cheer him up.
Daniel Jones and the Giants have been having a rough year
Daniel Jones and the New York Giants haven't been having the greatest 2020 season. After throwing for two scores in the Giants' season-opening loss to the Pittsburgh Steelers, Jones went four straight games without a touchdown pass, all New York losses. He finally got back on the board last week when the Giants picked up their first win of the year, a 20-19 victory over Washington, but threw for just 112 yards.
On Thursday night against the Eagles, Daniel Jones threw two touchdown passes, bringing his season total to five, which ranks 29th in the NFL. His seven interceptions, however, are tied for the second-most in the league. The Giants are averaging just 17.4 points per game, the second-lowest average in the league in front of only the New York Jets.
Daniel Jones made some unfortunate NFL history when he tripped
So what happened on Thursday night with Daniel Jones? For those who haven't seen the play, which can't be that many football fans by now, here's what happened.
With 8:51 remaining in the third quarter, the Giants were own their own 12-yard line and trailing the Eagles, 10-7. Daniel Jones executed a perfect read option, ran around the right tackle, and took off to the most wide-open field one would ever see in an NFL game. The former Duke QB is very fast and the Fox broadcast said he hit 21.2 miles per hour at one point as he raced toward the end zone. But then it happened.
As Daniel Jones approached the Eagles' 20-yard line, his momentum got the better of him, which he says was his own fault as he was trying to run even faster than he already was, and he just fell down and rolled to about the eight-yard line. So what should have been an 88-yard touchdown run turned into an 80-yard run.
Yes, it's still impressive as it was the fourth-longest run by an NFL quarterback in the last 25 years. However, he made some unfortunate history when he tripped. According to Ian Rapoport, Daniel Jones' run was the longest run by a quarterback who didn't score since at least 1975.
Luckily for Jones, the Giants still ended up scoring a touchdown on the drive to take the lead. But, unfortunately for Jones and the Giants, they weren't able to hold that lead as Carson Wentz led the Eagles to a 22-21 comeback win.
Patrick Mahomes tried to make him feel better in a tweet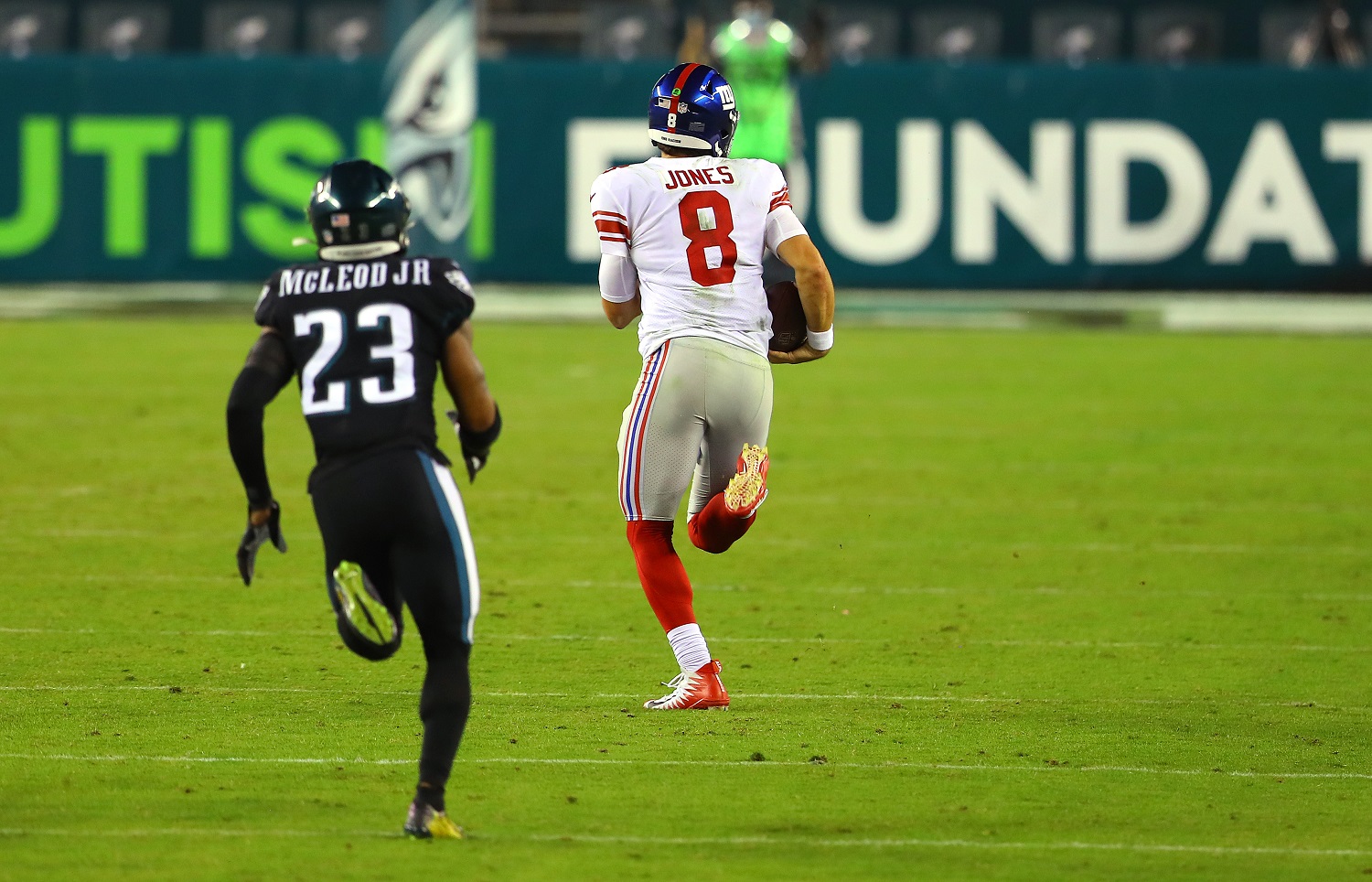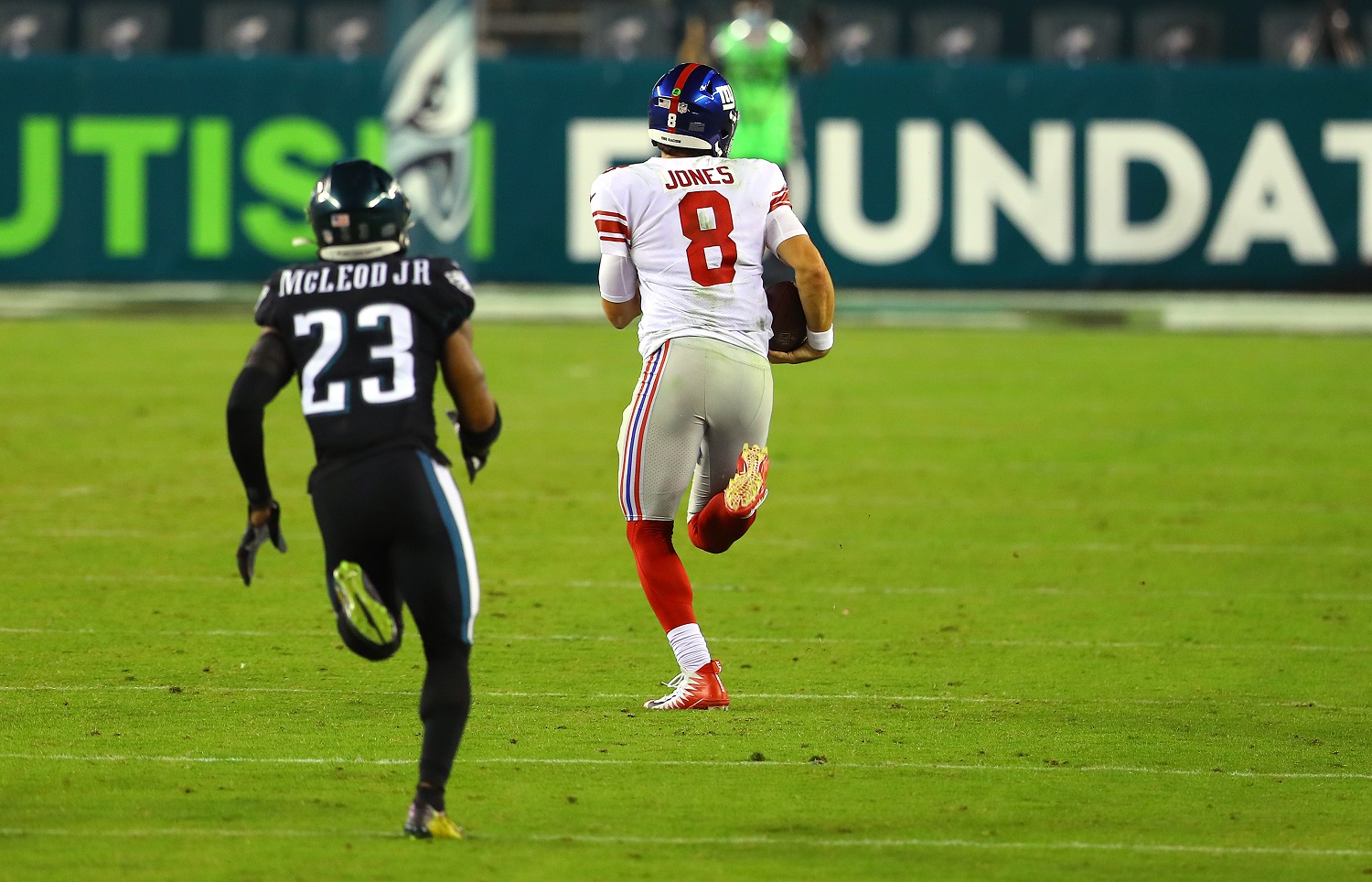 It didn't take long for the highlight of Daniel Jones' run to hit social media and fans naturally had a field day with it. Some said it was worse than the "butt fumble" from Mark Sanchez and the memes were just incredible. But Kansas City Chiefs quarterback Patrick Mahomes jumped in and at least tried to make Jones feel better.
So at least Daniel Jones has that going for him. He and the Giants certainly don't have too many other things to smile about these days.
All stats courtesy of Pro Football Reference