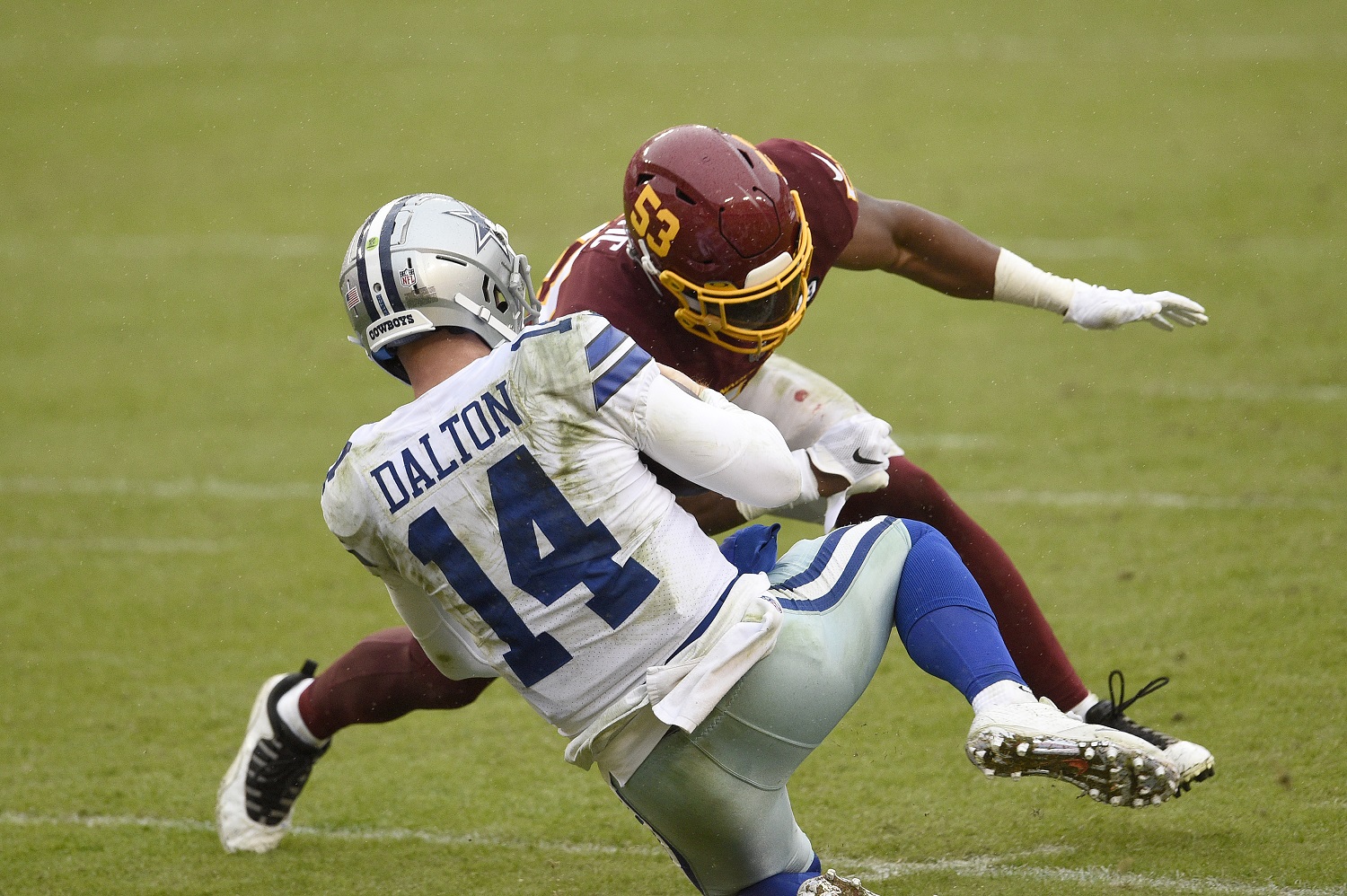 Things Have Gone From Bad To Worse for the Dallas Cowboys
The Dallas Cowboys were already having a number of issues heading into their Week 7 matchup with Washington but things haven't gotten even worse.
Coming into their Week 7 matchup with the Washington Football Team, the Dallas Cowboys were already having a horrible season and things somehow got even worse on Sunday.
Yes, at 2-4, the Cowboys were in first place coming into Sunday's game. But being in first place in the NFC East, which is on pace to be the worst division in NFL history, isn't really anything to be proud of. And that's not a problem they have to worry about anymore anyway.
Simply put, the Dallas Cowboys are in a state of disarray. Sure, the team has been hit hard by injuries, obviously none bigger than the gruesome ankle injury suffered by Dak Prescott two weeks ago, and the team suffered another big loss on Sunday when Andy Dalton was knocked out of the game after taking a nasty blow to the head. But injuries are only a small part of the problem.
The Cowboys' defense is absolutely atrocious and looked awful once again on Sunday as Dallas was embarrassed by Washington, 25-3. The players have no respect for the coaching staff and aren't even sticking up for one another anymore. It's an absolute circus in Big D right now. But what else is new?
The Dallas Cowboys' defense is beyond terrible
Coming into Sunday's game with the Washington Football Team, the Dallas Cowboys were giving up 36.3 points per game, easily the most in the NFL and on pace to be the worst defense in the league's history. But surely they would look better against a Washington offense that came into the game with the third-fewest points and second-fewest yards in football, right? Well, not so much.
The Cowboys made Washington look like a Super Bowl contender on Sunday. Okay, maybe it wasn't that bad but it was still pretty horrendous. Kyle Allen completed 15 of 25 passes for 194 yards and two touchdowns and Antonio Gibson racked up 128 yards and a score on the ground. Washington had 397 total yards, 21 first downs, converted nine of 15 third downs, and averaged six yards per play. Yeah, this is Washington we're talking about.
But, for once, it wasn't just the Dallas Cowboys' defense that didn't show up.
The Dallas Cowboys' offense was a no-show for the second straight week
For the second week in a row, the Dallas Cowboys' offense looked dead as well. Even with Andy Dalton, a former Pro Bowler, at quarterback, Ezekiel Elliott in the backfield, and all of the weapons at wide receiver, the Cowboys only scored 10 points this past Monday night against the Cardinals. But it was even worse on Sunday against Washington.
The Cowboys' offense racked up just 142 yards in 54 plays, a dismal average of 2.6 yards per play. Ezekiel Elliott rushed for just 45 yards on 12 carries and still hasn't cracked the century mark this season. Before he was knocked out of the game (more on that in a moment), Andy Dalton completed nine of 19 passes for 75 yards with an interception and his replacement, third-string rookie Ben DiNucci, went 2-for-3 for 39 yards.
Coming into Sunday's game, Dallas was averaging 28.8 points per game and put up three points against a Washington defense that had been giving up 27 points per game. Awful.
Andy Dalton left the game after taking a nasty hit to the head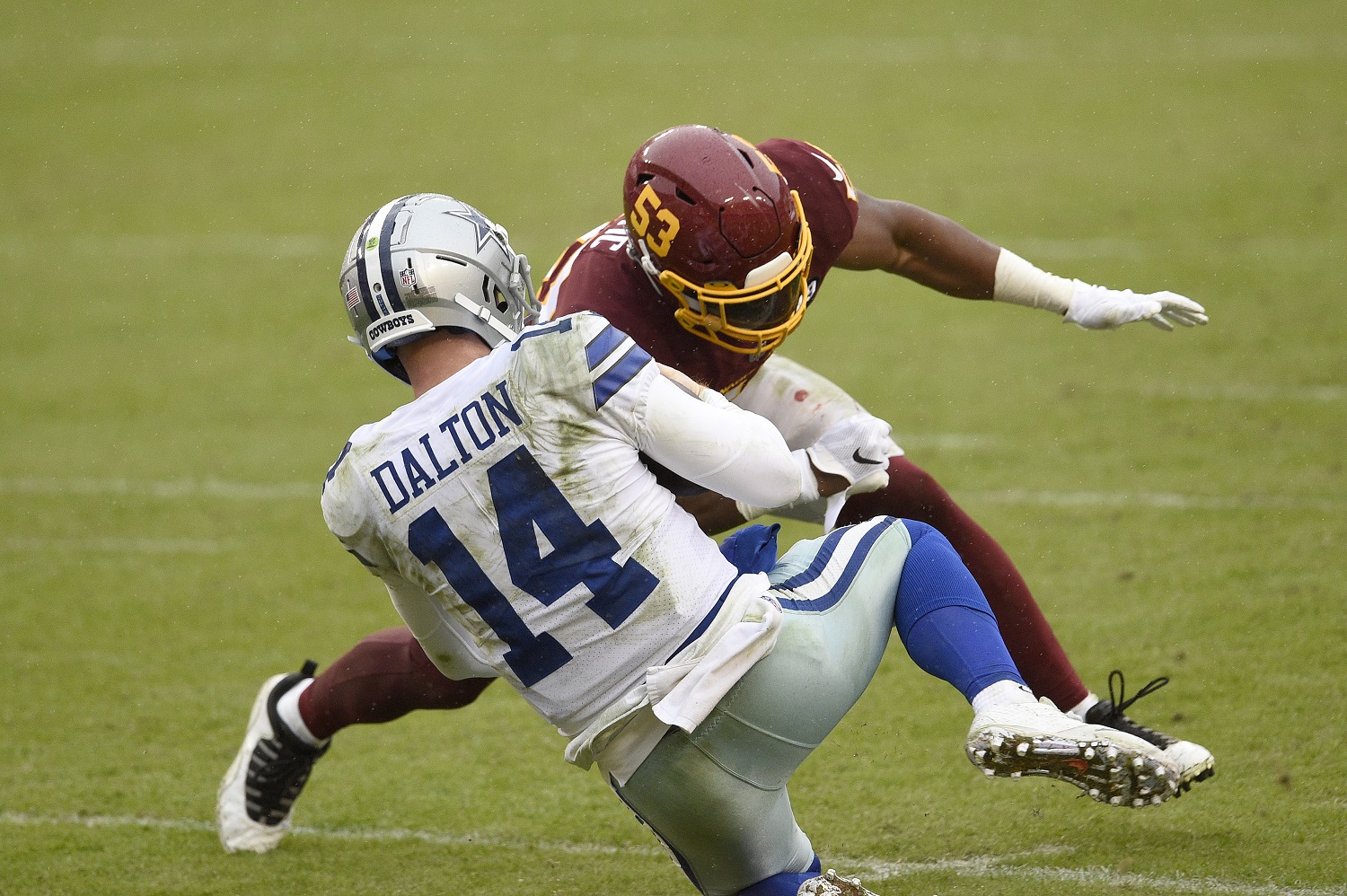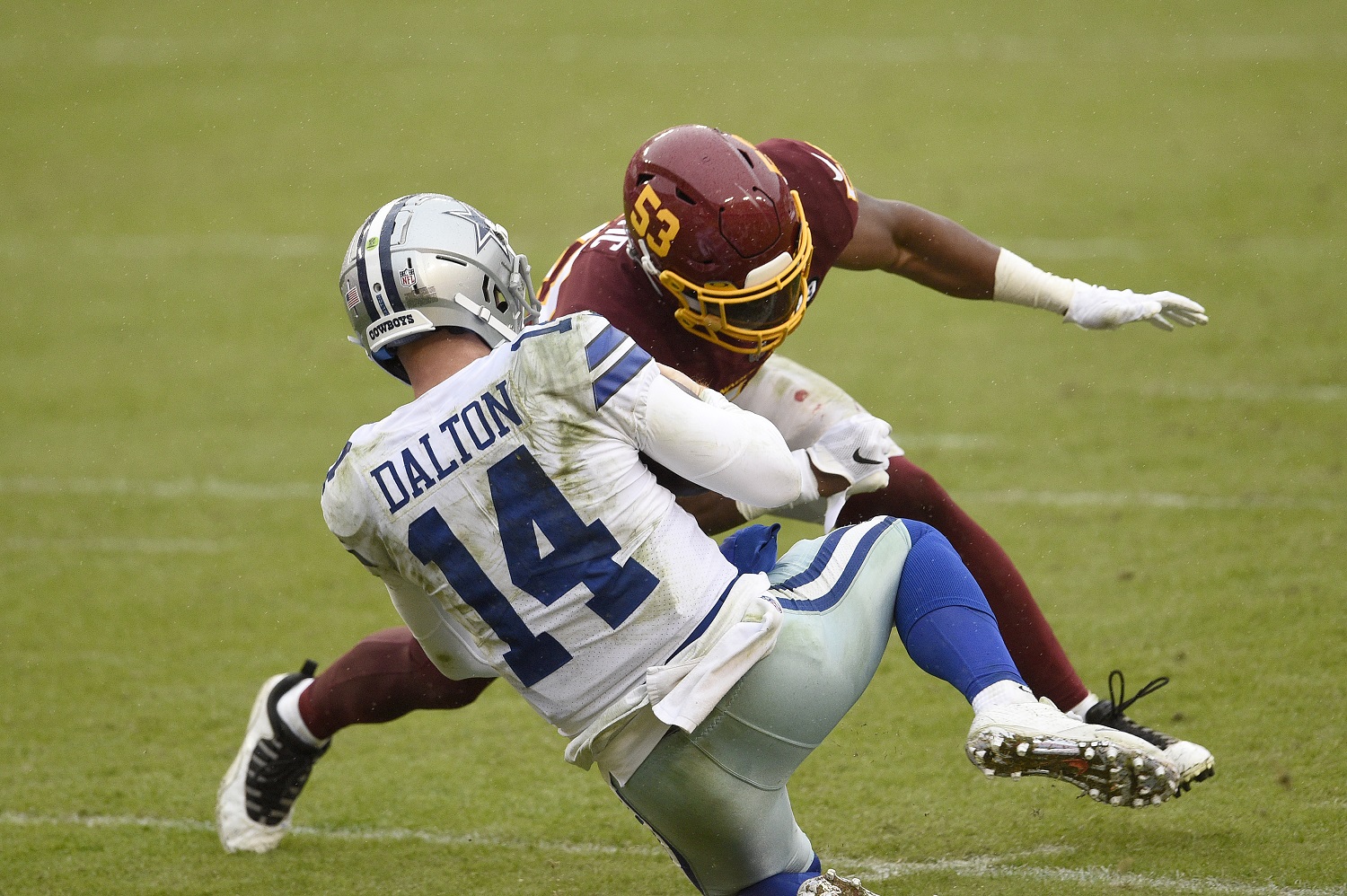 With about six and a half minutes left in Sunday's game, Andy Dalton took off from the Cowboys' end zone in an attempt to just get his team away from their own goal line. He picked up about seven yards and began his slide at about the 10-yard line, at which point he was rocked from an insanely dirty hit from Washington linebacker Jon Bostic.
Dalton's head snapped back immediately and the impact was so brutal that his helmet came flying off as he hit the turf. He was immediately pulled from the game and is now in the league's concussion protocol, according to NFL.com. While Dalton's health is clearly the most important thing here, the Dallas Cowboys now find themselves with an even bigger quarterback problem than they already had. To make matters worse, not one Cowboys player got in Bostic's face after the illegal hit. Not one. Nobody is saying that Dallas needed to start a big brawl but that's your starting quarterback. And not one player is going to stick up for him?
The Dallas Cowboys are an absolute train wreck right now and the sad news for Cowboys fans is that it looks as if things are only going to get worse.