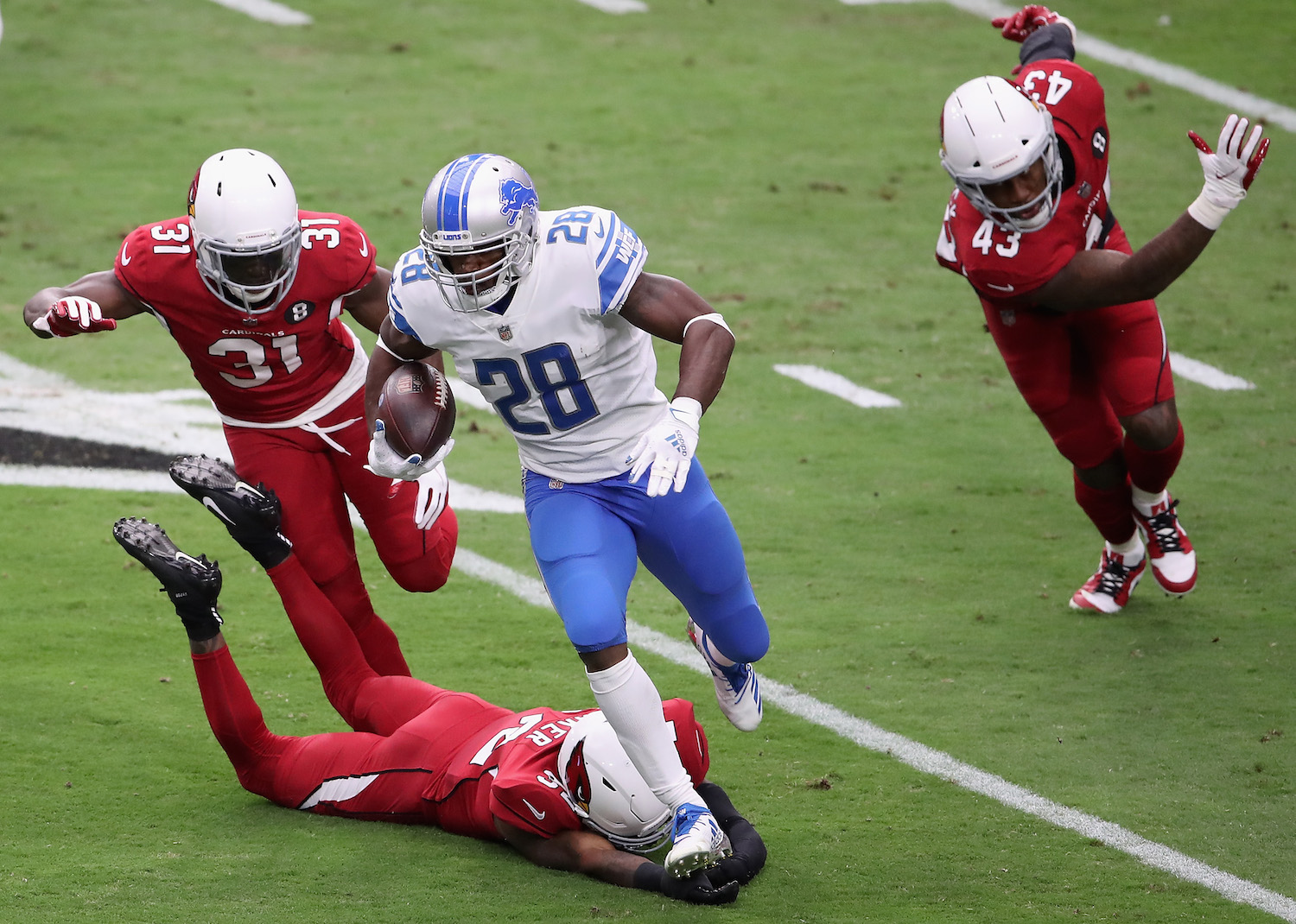 Adrian Peterson Fires Direct Shot at Washington Football Team and Surprisingly Admits He Had Coronavirus
Adrian Peterson fires a direct shot at the Washington Football Team saying there's "no love lost" and surprisingly admits he had the coronavirus earlier this year.
When the Washington Football Team released Adrian Peterson just days before the start of the 2020 NFL season, it caught the veteran running back and most of the NFL by surprise. Some suggested his career might be over. The Detroit Lions put that speculation to bed a couple of days later signing Peterson to a one-year deal.
Now, three weeks into the season and Peterson has had some time to reflect. In an interview with former ESPN NFL reporter Josina Anderson on her new podcast, Peterson didn't hold back when he shared his feelings on his former club and how he's better off now. He also casually offered up a piece of breaking news when he announced that he had the coronavirus earlier this year.  
Adrian Peterson unexpectedly released by Washington
For the last two seasons, Adrian Peterson was the No. 1 running back for the Washington Football Team. In that time, he rushed for 1,940 yards and 12 touchdowns. Heading into the 2020 season, Peterson was expected to play out the final year of a two-year contract he signed in 2019 for $8 million.
On September 4, just days before the start of the 2020 season, the team unexpectedly released Peterson. The move totally caught the future Hall of Famer off guard.
"It comes as a surprise. I didn't feel I showed anything that would warrant being released," Peterson told ESPN at the time. When asked if wanted to continue playing, he didn't hesitate. "Oh, yeah, without a doubt. I definitely want to play." 
Two days later, the Detroit Lions announced they had signed Peterson to a one-year contract. 
Adrian Peterson admits 'no love lost' with Washington Football Team
Three weeks into the 2020 NFL season and Adrian Peterson is happy he's in Detroit. In fact, the seven-time Pro Bowler said he feels like Detroit is an even better fit for him than Washington. And the early numbers prove it.
After three games, Peterson has 43 carries for 209 yards, an average of 4.9 yards per carry. Meanwhile, back in the nation's capital, the Washington running game has tallied a total of 300 total yards on 81 attempts for 3.7 yards per carry average.
Peterson said he believes there are some around the organization who regret releasing him.
"I don't know why they released me," Peterson said of Washington on the Undefined with Josina Anderson podcast. "I feel like people that have been watching for the last few weeks, they are wondering the same thing and scratching their heads. I feel like they are missing what I could have brought to the table. It is what it is. No love lost. I know a lot of people are questioning it. I see a lot of the comments."
Peterson surprisingly admits he had COVID-19 earlier in year
While Adrian Peterson is no longer playing for Washington, he said when he arrived there before the start of the season, he was required to go through the NFL protocols and get tested for COVID-19. In addition to the standard test, he also received a screening to determine if he had the antibodies, indicating he had previously had the virus.
"My test came back negative, and then my antibody test came back positive, which means that I had COVID at some point. In early March, I was experiencing some symptoms. I lost my sense of taste, and I couldn't really smell anything. This was like before those symptoms became known. 
"It felt weird. I didn't have any other side effects, only at night when I would sleep, and I would cough a lot. And this lasted like three to four days, and then it just went away."
There's no doubt 2020 will be remembered as an exceptional year in the history books for a worldwide pandemic and civil unrest in American cities. For Adrian Peterson, 2020 will be memorable because of his first-hand experience with the virus and a last-minute change of employer. Based on his early-season performances with his new employer, it appears the unexpected turn of events and change of scenery might work out for him in the long run.    
All stats courtesy of Pro Football Reference.