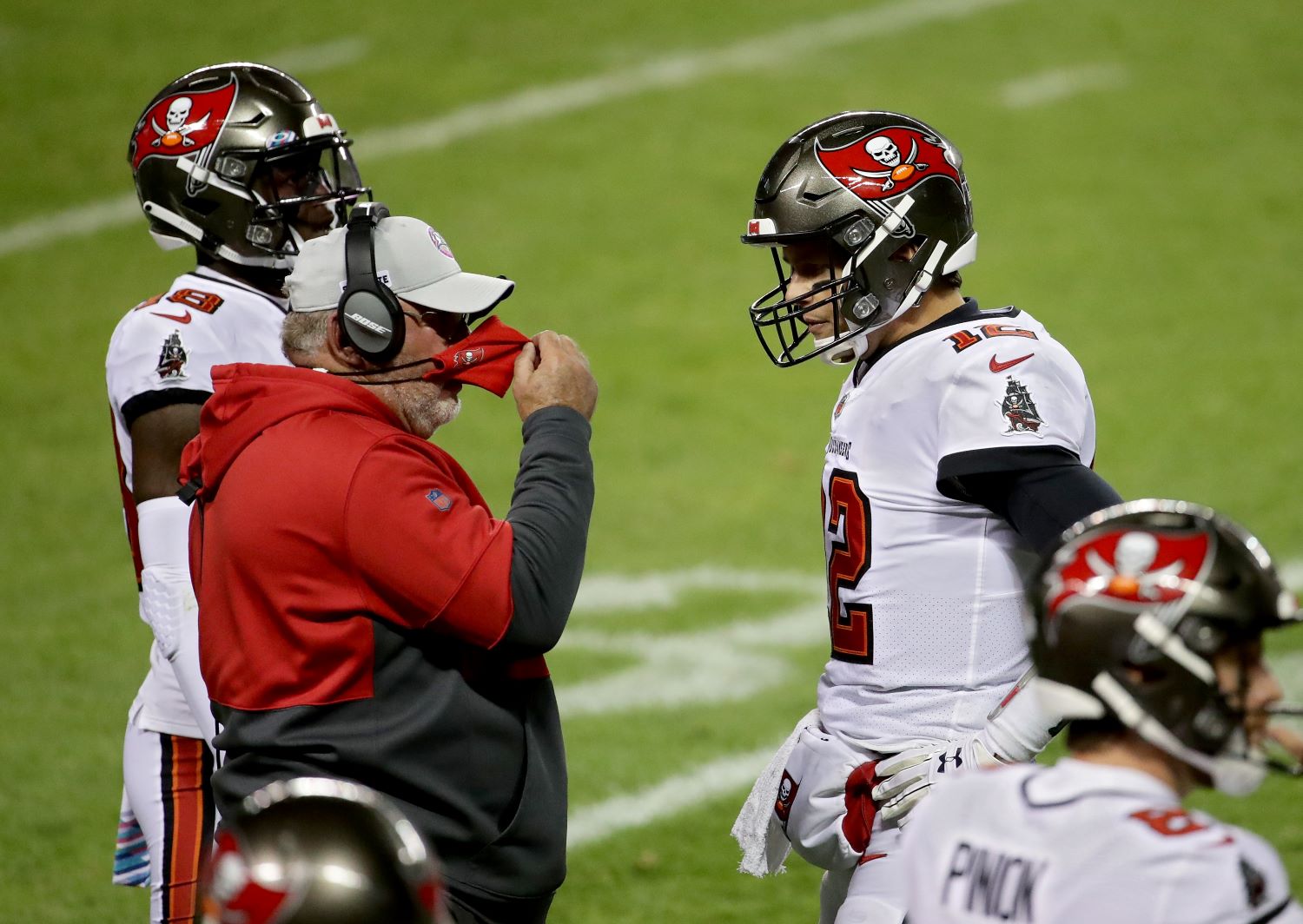 Tom Brady Just Got Put on Blast by Bruce Arians
Less than 24 hours after the Bucccaneers lost to the Rams on Monday Night Football, Bruce Arians put Tom Brady on blast for his mistakes.
It took less than 24 hours for Tom Brady to get put on blast by Bruce Arians for his performance on Monday Night Football. But the Tampa Bay Buccaneers cannot afford to focus too much of their attention on last night's loss against the LA Rams.
After all, Patrick Mahomes and the Kansas City Chiefs are coming to town. And if Brady and Arians aren't on the same page by Sunday, expect the Bucs to drop their third game in four weeks.
Tom Brady has struggled in two of his last three starts
The first year of the Tom Brady-Bruce Arians era in Tampa has included some ups and downs. After a slow start to the season, the former New England Patriots quarterback started to find a rhythm. For a five-game stretch, the Buccaneers looked like one of the most dominant offenses in the league.
Yet, the month of November has seen Brady put up two awful performances. In Week 9, he completed just 58% of his passes and got picked off three times in a 38-3 loss to the New Orleans Saints.
Although he got back on track against the Carolina Panthers (341 passing yards, 3 TD), Brady did not play well against the Rams on Monday night.
The 43-year-old completed just 26-of-48 attempts for 216 yards. Though Brady did throw two touchdown passes, he also threw two more interceptions to bring his season total to nine. He recorded double-digit interceptions just once since 2014.
In fact, the game essentially ended after Rams safety Jordan Fuller picked off the three-time MVP with less than two minutes remaining. Overall, Brady failed to deliver in primetime.
Bruce Arians just put his quarterback on blast
Bruce Arians has never been one to mince his words. Even with Tom Brady as his quarterback, he has shown no hesitation about criticizing his players.
And on Tuesday, the 68-year-old head coach put Brady on blast during his press conference with the media.
"Other than the deep ball, I think he's getting confused a few times with the coverage," Arians said. "That might be the cause for some inaccurate balls, but I don't see it at all in practice. We're not missing the deep ball in practice, that's for sure. It's just a matter on Sundays hitting them."
Of course, Brady has come under scrutiny in recent weeks for his struggles to make plays down the field. According to Next Gen Stats, he has missed all 19 of his deep passes during his last four games and has now missed 22 straight—the longest streak for any quarterback since 2017.
The deep ball conversation continued during the press conference, but Arians once again seemed to shift the blame to his quarterback rather than accept responsibility for the offense attempting so many vertical passes.
"We've got guys open; we've just missed them. And there are times when coverage dictates you go to that guy," Arians said. "I think we can do a lot better job of utilizing the deep ball in our game plan more of or less of. Each and every week is a little different. But when they're there, we need to hit them. We can't have them going off our fingertips, and we can't overthrow them."
The two better get on the same page before the Buccaneers face the Chiefs
Ultimately, Bruce Arians and Tom Brady each deserve blame for the Buccaneers' poor performance against the Rams.
On one hand, Arians needs to understand his quarterback's strengths and weaknesses. In New England, Josh McDaniels rarely dialed up deep balls and instead employed a more horizontal passing game. The Buccaneers should let Brady run a similar system that gives Antonio Brown, Chris Godwin, Mike Evans, and Rob Gronkowski the chance to gain yards after the catch.
Still, the greatest quarterback of all time does not deserve a free pass. Whether it's from a lack of trust in his new receivers or the overall system, Brady has simply made far too many turnovers and poor decisions in big moments. The Buccaneers need him to take better care of the football if they have any chance of living up to their Super Bowl potential.
Brady and Arians have to get on the same page and iron out their issues…quickly. This week, the Bucs host the Chiefs in what could be an exciting shootout between two offenses that boast an abundance of talent.
Kansas City leads the league in scoring and also boasts the No. 7 scoring defense. Steve Spagnuolo knows Brady well from his days with the New York Giants, so expect him to make life difficult for the former Patriot.
This should be a terrific matchup of two playoff-bound teams. But if Brady fails to deliver, don't be surprised if his head coach puts him on blast next week…again.
All statistics courtesy of Pro Football Reference.