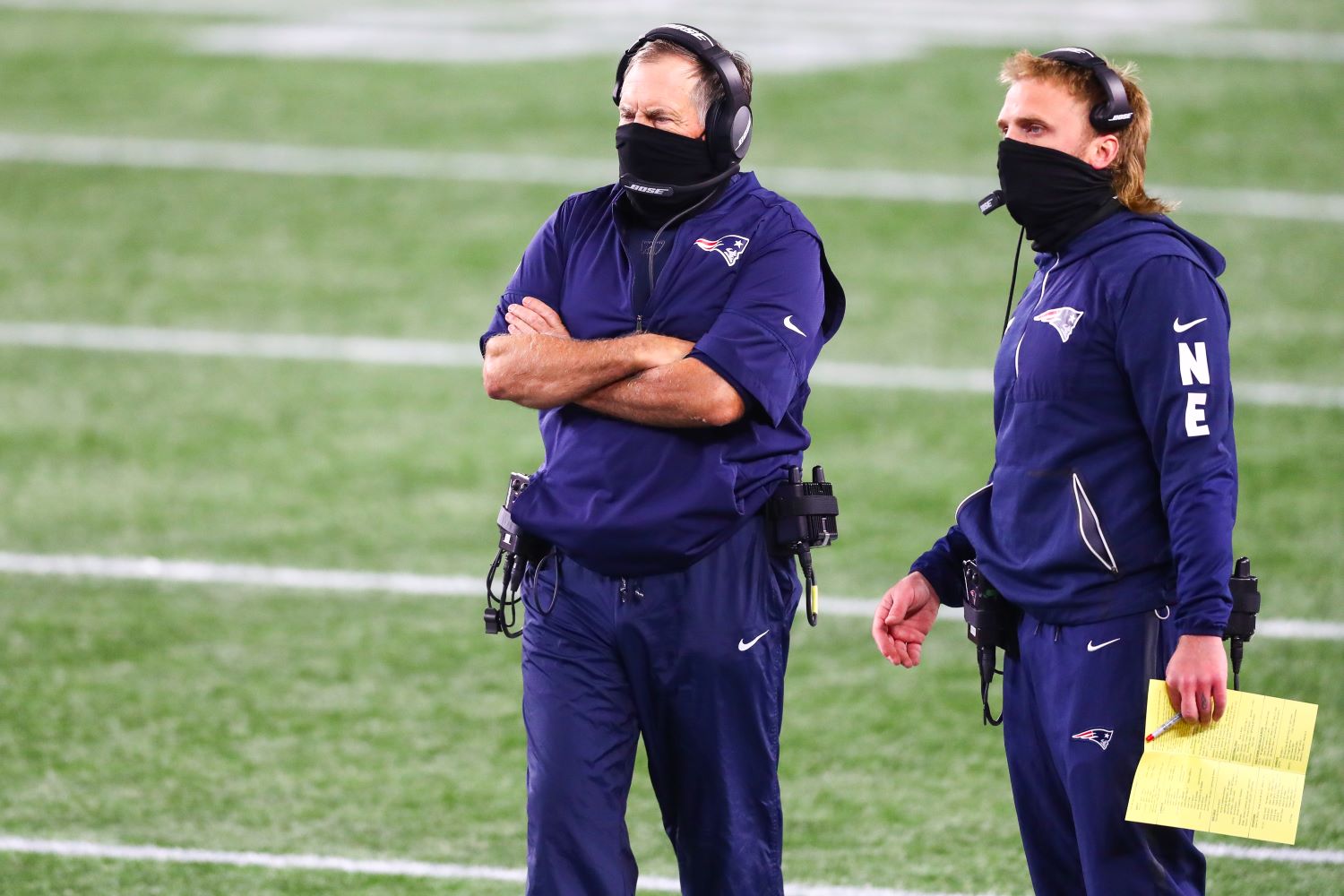 Bill Belichick Finally Admitted His Son's Real Role With the Patriots
After New England's defense held the Cardinals in check, Bill Belichick finally admitted what Patriots fans have suspected all along.
After getting shredded by Deshaun Watson a week ago, the New England Patriots defense stepped up in a big way against Kyler Murray and the Arizona Cardinals on Sunday. Adam Butler provided consistent pressure, Lawrence Guy shut down the run, and Adrian Phillips snagged an interception in a 20-17 victory at Gillette Stadium.
Considering how awful the Patriots looked against the Houston Texans last week, Bill Belichick had to be pleased with the way his team played on Sunday. Of course, the impressive performance by New England's defense came up in his post-game press conference. And perhaps in a subtle stroke of Belichickian gamesmanship, he finally admitted what Patriots fans have suspected all along.
The Patriots haven't had an official defensive coordinator since Matt Patricia
During the Bill Belichick era, the Patriots have had several high-profile defensive coordinators. However, since Matt Patricia took his "talents" to the Detroit Lions, no one has officially held that title.
Brian Flores continued to serve as linebackers coach for the 2018 season. But while Belichick did not officially anoint him as the defensive coordinator, Flores did take over play-calling duties. Of course, the Patriots went on to hold the LA Rams' high-powered offense to just three points in Super Bowl 53.
With Flores getting hired by the Miami Dolphins, that once again left Belichick without a defensive coordinator. Although Greg Schiano seemed poised to take on that title, he abruptly resigned in March.
Ultimately, the Patriots did not have an official DC in 2019, either. Former team captain Jerod Mayo got hired to coach inside linebackers. Bill Belichick's son, Steve, served as second secondary coach. He and Mayo formed an excellent tandem, as the Patriots allowed the fewest points in the league.
Bill Belichick finally admitted what Patriots fans have suspected all along
The Patriots entered the 2020 season without an official defensive coordinator for the third consecutive year. The current coaching staff features DeMarcus Convington (defensive line), Mayo (inside linebackers), Steve Belichick (outside linebackers), Brian Belichick (safeties), and Mike Pellegrino (cornerbacks).
Due in large part to personnel issues, the Patriots have experienced a drop-off on that side of the ball. New England currently ranks 12th in points allowed (23.2 points per game) after surrendering 17 to Arizona.
Still, Sunday's performance showed how a well-devised game plan and sound execution can lead to terrific results. But given the lack of an official DC, it can be difficult to figure out which coach deserves credit for the defense's big day. But thanks to Bill Belichick, Patriots fans finally got an answer to that question. And it shouldn't be surprising in the least bit.
"They got the ball outside and they hurt us with some outside runs—a variety of them. It was a challenge the whole game, but we played them a little better as the game went along," Belichick said in his post-game press conference. "Steve made a couple of good calls that put us in the right defense against a couple of those, so that was good too."
It may not seem like a great reveal, but Belichick finally publicly acknowledged that his son calls the defensive plays. While many had speculated that Steve Belichick had assumed that role dating back to last season, his father's comment cemented that. And that could have major implications for the future of Robert Kraft's franchise.
Is Steve Belichick destined to take over in New England?
So if Steve Belichick calls plays, it seems fair to label him the de-facto defensive coordinator. After all, that's essentially the role Flores served in his final year in Foxborough.
But does that mean Bill Belichick's son is destined to get a head coaching job elsewhere? Or could this simply be the next step to ensure a dynasty continues?
By acknowledging his son's role on the record, Bill Belichick could be helping boost Steve's stock for a future head coaching gig. If the Patriots play well on defense the rest of the season, it will only add more credibility to his resume. Plus, given the state of the roster, perhaps it would be better for him to move on to a different franchise and out of his father's shadow.
On the other hand, could Bill Belichick's comment also be a sign of what's to come? Considering he turns 69 in March, his own coaching career could be coming to a close. Could he "pass on the family business" to his son in some sort of succession plan?
If Steve Belichick sticks around for a couple more years and helps turn the defense back into an elite unit, perhaps the Kraft family would consider him as a legitimate candidate to succeed the greatest coach in NFL history.
And if he gets the job, the Belichick era will last much longer than the Tom Brady era ever did.
Like Sportscasting on Facebook. Follow us on Twitter @sportscasting19.