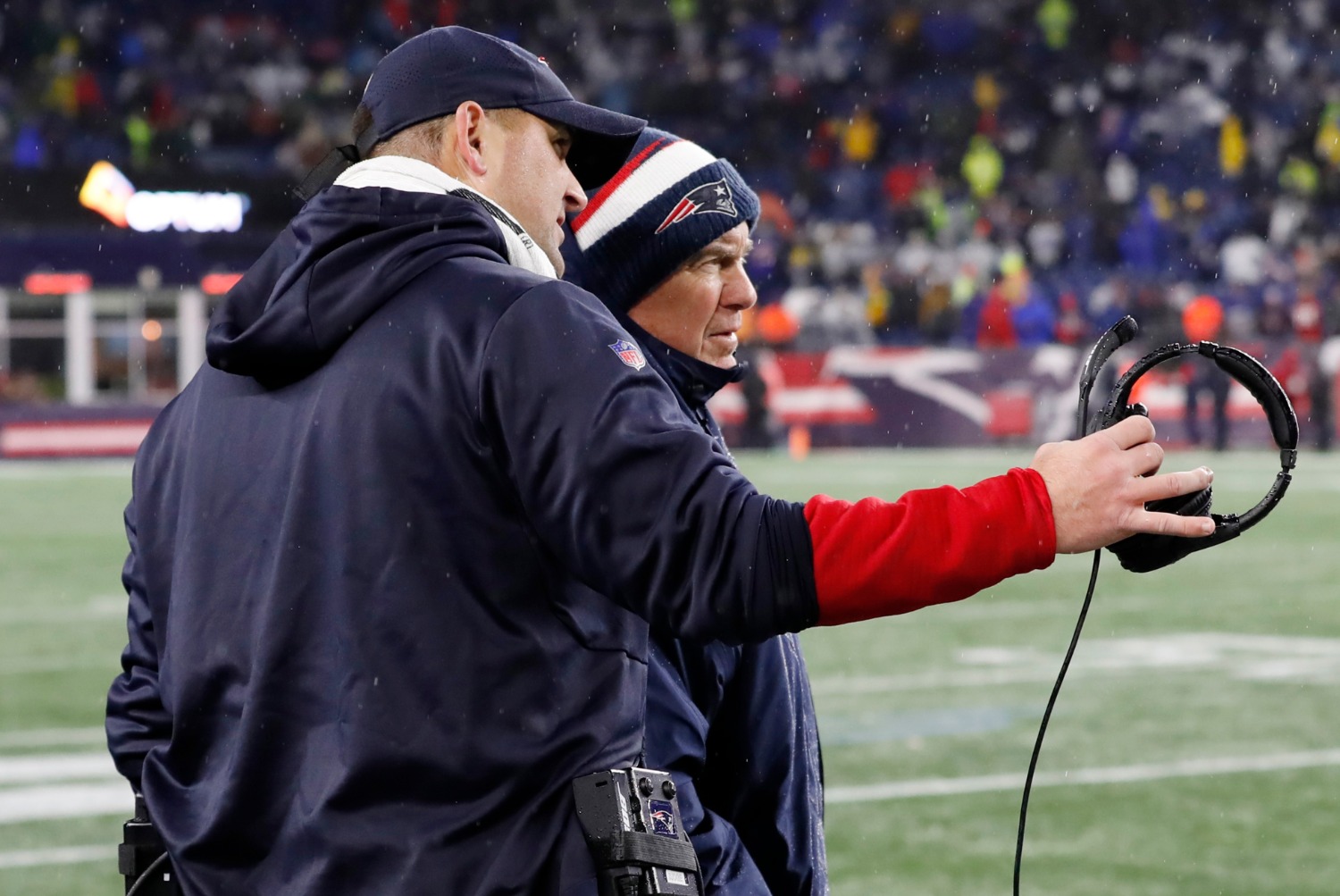 Giants HC Joe Judge Already Committed Classic Bill Belichick Disciple Mistake
Joe Judge learned a lot from Bill Belichick with the Patriots. But the Giants HC just made a mistake that has doomed Belichick disciples.
Over the years, many Bill Belichick disciples have earned opportunities to become NFL head coaches. Yet, few have experienced any success after leaving the New England Patriots. This offseason, Joe Judge became the next Belichick assistant to score a life-changing job promotion. Yet, the man in charge of the New York Giants already doomed his career by making a classic mistake that many Belichick disciples have pulled in the past.
Joe Judge has quickly risen up the coaching ranks
At 38 years old, Joe Judge ranks as the third-youngest head coach in the NFL. The Pennsylvania native has spent his entire life around the game of football. He earned three letters from Mississippi State University before returning to his alma mater to kickstart his coaching career.
Judge got his big break when he joined Nick Saban's Alabama staff as a special teams assistant. After three years on the job, he landed with the pro version of the Crimson Tide by taking his talents to Foxborough.
Since joining the Patriots as a special teams assistant in 2012, Judge worked his way up the ladder. He got promoted to special teams coordinator in 2015. Last season, Belichick added another key job title to Judge's resume: wide receivers coach.
Ironically, the Patriots' passing game struggled mightily in Judge's lone year coaching wideouts. First-round pick N'Keal Harry never got on the same page with Tom Brady. Mohamed Sanu injured his ankle after getting traded to New England and failed to produce. That left Julian Edelman to carry the offense, which ultimately faltered in the playoffs.
Still, Judge entered the offseason as a top head-coaching candidate. With three Super Bowl titles and two BCS championships on his resume, the longtime Patriots assistant did not have to wait long to become one of the NFL's 32 head coaches. On Jan. 8, the Giants hired Joe Judge to be the 19th head coach in franchise history.
Judge has already copied Bill Belichick's moves with the Giants
COVID-19 threw a wrench in every team's offseason routine. But after months of speculation, NFL teams finally began training camp recently. The Giants had their first padded practice on Monday. It turned out to be quite an eye-opening experience, though not if you have watched Bill Belichick operate over the years.
Like his old boss, Judge elected not to put names on the backs of players' jerseys. While that tactic comes straight from Belichick, the Giants head coach also pulled another page out of his predecessor's playbook.
According to NJ.com, Judge had both coaches and players run laps during practice. The archaic form of discipline surprised even some of Judge's own players.
Sterling Shepard said he had not run laps since "probably middle school." Star running back Saquon Barkley could not even recall the last time a coach made him and his teammates run laps as a form of discipline.
Judge explained his rationale by stating, "There are consequences for making mistakes. In a game, it costs you 5, 10, or 15 yards. In practice, there have to be consequences, so we learn how to deal with our mistakes."
Belichick disciples continue to make the same mistake
While Joe Judge may think channeling his inner Bill Belichick will pay off in the long run, history shows otherwise. Numerous assistants have left New England and failed to deliver results with their new teams.
The common mistake?
Trying to be Bill.
Eric Mangini became the head coach of the New York Jets after spending six years working under Belichick. Though he did make the playoffs in his first season, he got fired after his third season. Mangini then resurfaced with the Browns, where his micromanagement style and alienation of his players led to a quick exit. As much as he wanted to be like Belichick, he never came close to achieving that goal.
Josh McDaniels even tried to replicate his boss during his short tenure in Denver. He assumed personnel control, gutted the roster, and infamously benched and subsequently traded Brandon Marshall and got rid of Jay Cutler. McDaniels rubbed many people the wrong way with his brash personality and ultimately got fired before he finished his second season.
Matt Patricia has also failed in his attempt to replicate Bill Belichick. The former Patriots defensive coordinator has posted an ugly 9-22-1 record since taking over the Detroit Lions two years ago. Patricia's tough-nosed, disciplinary style rings eerily similar to Belichick.
Yet, the Lions have failed to respond to his management style. He did not do himself any favors by trading away Darius Slay and Quandre Diggs—both of whom seemed like long-term building blocks. He now enters a make-or-break season.
As much as Bill Belichick's disciples want to emulate his style, that has often led to dismal results. It only took one padded practice for Joe Judge to make the same mistake many former Patriots coaches have committed over the years. And if that continues, he stands no chance of succeeding with the Giants.