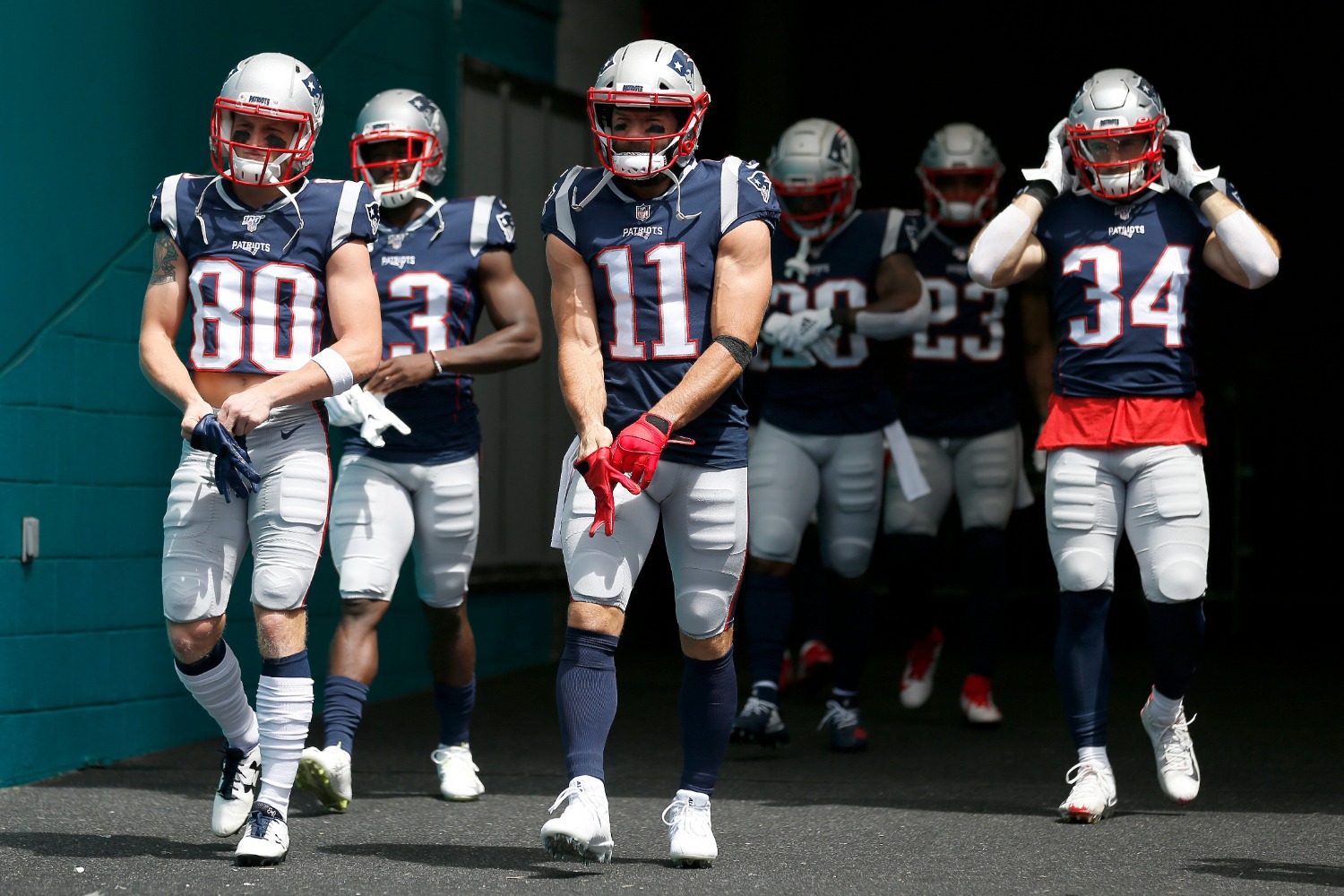 Bill Belichick May Have Stolen the Next Julian Edelman for $1.7 Million
Bill Belichick already found his next Julian Edelman in Gunner Olszewski, who signed a $1.7 million contract with the Patriots as an UDFA.
Bill Belichick created a dynasty in New England due in large part to his ability to turn undervalued assets into valuable contributors. Julian Edelman fits that mold perfectly. The former college quarterback joined the New England Patriots as a ho-hum seventh-round pick in 2009. A decade later, he has three Super Bowl rings and has carved out a legacy as one of the best players in franchise history.
However, Belichick knows all too well about preparing for the future. And with his star receiver aging, the mastermind of the greatest dynasty in sports scored a potential steal by signing the next Julian Edelman for just $1.7 million last spring. That move could pay dividends this season and well into the future.
Bill Belichick turned Julian Edelman into the NFL's preeminent slot receiver
When Bill Belichick made Julian Edelman the 232nd player taken in the 2009 NFL draft, Patriots fans had no idea how important that selection would be. After all, Edelman played quarterback at Kent State and did not have a clear-cut path to making an NFL team.
However, the 5-foot-10, 198-pounder showcased impressive quickness and agility to go along with feisty competitiveness. Naturally, that led Belichick to move Edelman to receiver. The position switch changed everything for the Patriots.
With Wes Welker's tenure coming to a close, New England needed a long-term replacement for the most critical position in their offensive attack. Though Edelman did not become a full-time starter until his fifth NFL season, he has more than made up for it since then.
Operating as Tom Brady's most trusted target, the dynamic slot receiver has racked up three 1,000-yard campaigns since 2013. In addition, Edelman has caught 118 passes for 1,442 yards and five touchdowns in 19 postseason games. His playoff heroics played a significant role in New England capturing three Super Bowl championships since 2014.
However, Julian Edelman has also battled injuries throughout his NFL career. He missed the entire 2017 season with a torn ACL, and he has played all 16 games just three times. So last spring, Bill Belichick found a possible successor for his aging receiver.
Belichick potentially stole the next Edelman for $1.7 million
Like Julian Edelman, Gunner Olszewski inspired little buzz before he entered the NFL draft. That did not come as a surprise considering he played at Bemidji State University. The Texas native actually played cornerback for the Division II program and even won Northern Sun Intercollegiate Conference Defensive Player of the Year honors as a senior.
Still, that did not result in a draft-day phone call. However, Olszewski got the opportunity he needed when the Patriots signed him to a three-year, $1.7 million contract with a paltry signing bonus of just $2,500. Interestingly, New England moved the former D-II corner to wide receiver.
Facing an uphill climb as an undrafted free agent, Olszewski impressed enough in training camp and the preseason to earn a roster spot. The 6-foot, 190-pound receiver/punt returner played in eight games as a rookie. Olszewski caught just two passes for 34 yards. He also returned 20 punts for 179 yards before landing on injured reserve with ankle and hamstring ailments.
The fact Gunner Olszewski earned a roster spot with the defending Super Bowl champions as an undrafted D-II corner making the switch to receiver made for an impressive accomplishment. And while his rookie year did not blow anyone away, he possesses striking similarities to Julian Edelman that position him for a much bigger role with the Patriots.
Gunner Olszewski boasts tremendous upside and striking similarities to his star teammate
From Troy Brown to Wes Welker to Julian Edelman, Bill Belichick has employed high-quality slot receivers over the years. Gunner Olszewski should be next in line.
From a physical standpoint, he boasts nearly identical dimensions as his highly accomplished teammate. His quickness and explosion make him difficult to tackle. Olszewski's punt return skills helped him make the roster last season. Coincidentally, Edelman also proved his worth to the Patriots early in his career by fulfilling that role.
The former Bemidji State star has already earned praise from his head coach, who discussed the second-year pro's progress at Friday's press conference.
"Gunner's improved tremendously, both physically and from a football standpoint," Belichick said. "He's learned how to do a lot of different things for us, and he continues to work on things that will expand his opportunities."
New England's head coach specifically pointed out that Olzsewski is "much, much, much further ahead from where he was last year."
Given the Patriots' shaky receiver situation, that only gives Gunner Olszewski more of an opportunity to make his mark. Like Julian Edelman, he has scratched and clawed his way to stick around in New England. His versatility, athletic ability, and work ethic make him an intriguing long-term prospect who could one day take over as New England's top slot receiver.
After all, Julian Edelman did the same thing years ago.
All statistics courtesy of Pro Football Reference.