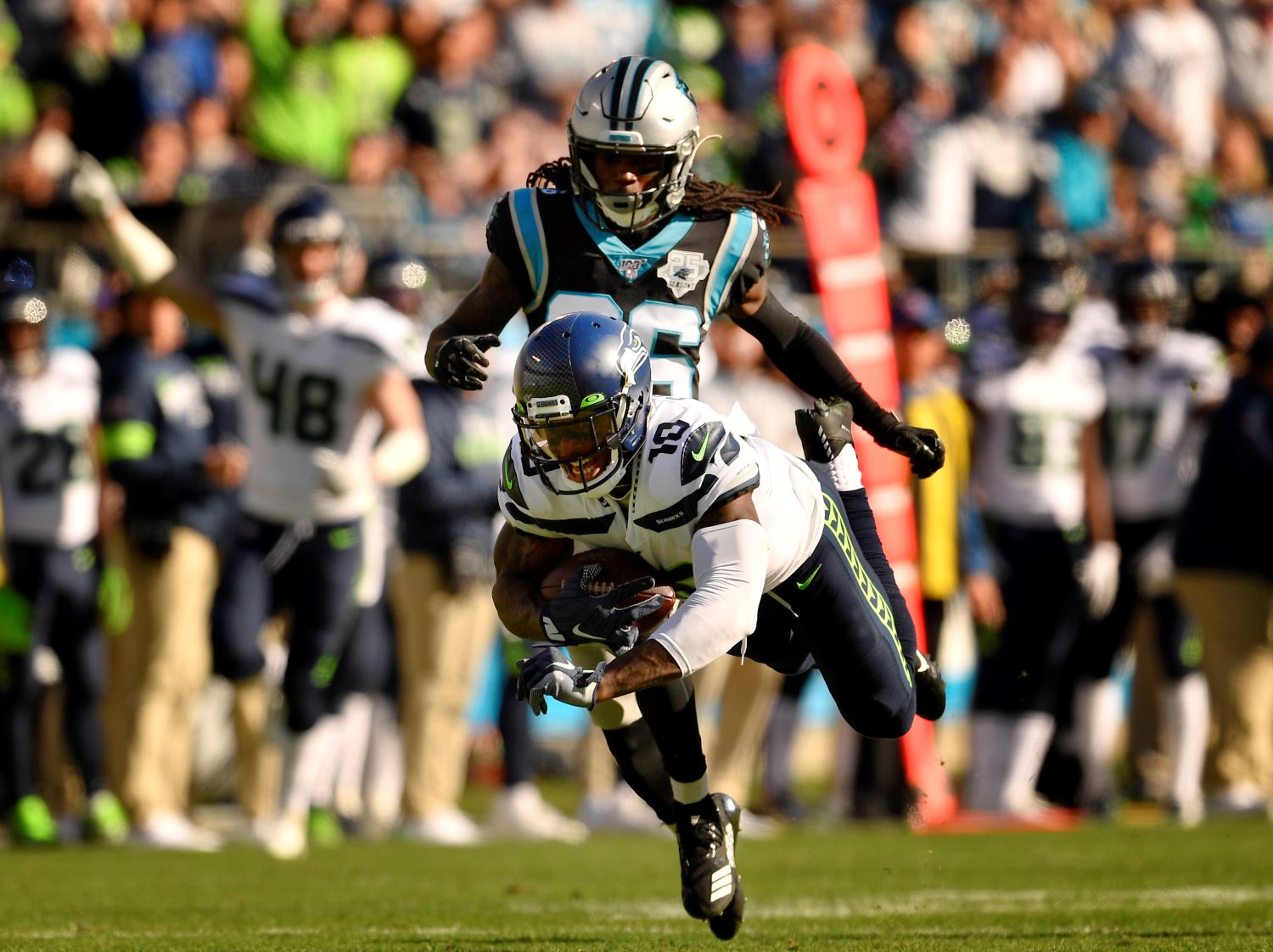 Seahawks WR Josh Gordon Has Cleared the Final Hurdle to His NFL Comeback
Josh Gordon hasn't played in an NFL game in almost a year. But on Thursday, the Seattle Seahawks received great news about the talented WR.
The Seattle Seahawks certainly don't have a wide receiver problem. After all, DK Metcalf and Tyler Lockett form arguably the most dominant duo in the NFL. But on Thursday, the team got great news about another pass-catcher who's no stranger to making big plays on Sundays.
Now, it will be up to Josh Gordon to show Seattle that he can stay focused on football as Russell Wilson and Co. prepare for another trip to the playoffs.
Seattle brought back Josh Gordon despite his suspension
Early in his NFL career, Josh Gordon looked like a future Hall of Famer. In just his second year in the league, the 6-foot-3, 225-pound wideout led the NFL with 1,646 receiving yards.
However, substance-abuse issues derailed his chances of earning a bust in Canton one day. Since that magical 2013 campaign, Gordon has played a total of 33 games. He has missed ample time due to suspensions, including the entire 2015 and 2016 seasons.
His off-field struggles continued in 2019. The New England Patriots waived Gordon from injured reserve on Oct. 31. He quickly got picked up by the Seahawks, but it wouldn't be long before the Houston native found himself in hot water with the NFL again.
On Dec. 16, the league suspended Gordon indefinitely for violating the NFL's performance-enhancing drugs and substance abuse policy. That represented his fifth suspension for violating the policy.
Gordon finally became a free agent this spring, but he garnered little interest. He eventually re-signed with the Seahawks in September despite not being eligible to play.
Gordon completes his NFL comeback
Although he signed another contract with the Seahawks, Josh Gordon has yet to take the field this season. But on Thursday, Seattle got great news about the 29-year-old receiver.
Jay Glazer of Fox Sports reported via Twitter that the NFL has reinstated Gordon from his suspension. He will be eligible to return for the last two games of the regular season.
In addition, Ian Rapoport took to Twitter to share a statement from the NFL that provided some more context about Gordon's return.
"Gordon may begin COVID testing Friday, December 4 and may join the club on December 9 assuming negative tests. Gordon will be permitted to attend team meetings and individual meetings with coaching staff," the statement read. "He may also engage in individual workouts and strength and conditioning, but may not practice, travel with the team or attend games."
The former Cleveland Browns star can begin practicing with the team after the Seahawks play the Washington Football Team in Week 15.
And if Gordon has indeed put his issues behind him, that spells trouble for Seattle's future opponents.
Good luck trying to stop Russell Wilson and his group of weapons
Through 11 games, the Seahawks rank third in scoring at a clip of 31 points per game. Once Josh Gordon enters the fold, that number could skyrocket.
Russell Wilson already has two elite weapons in Metcalf and Lockett. The former already has surpassed 1,000 receiving yards and might just be the best vertical threat in the NFL. The latter has racked up 70 receptions and eight touchdowns on 92 targets. Add a fast, physical, big-bodied wideout like Gordon to the mix and you have the makings of a potentially unstoppable trio.
Seattle can line up Gordon and Metcalf on the perimeter and let Lockett do damage between the numbers. Defenses will face a monumental challenge in trying to stop Gordon and Metcalf on deep routes. Both are freakishly gifted athletes who can win in contested catch situations. Meanwhile, Lockett's quickness and short-area explosion make him the perfect complement.
Prior to Thursday, the Seahawks were already one of the top teams in the NFC. By getting Gordon back, they should be even more lethal on offense.
And if that proves to be the case, don't be surprised if Seattle represents the NFC in Super Bowl 55.
All statistics courtesy of Pro Football Reference.