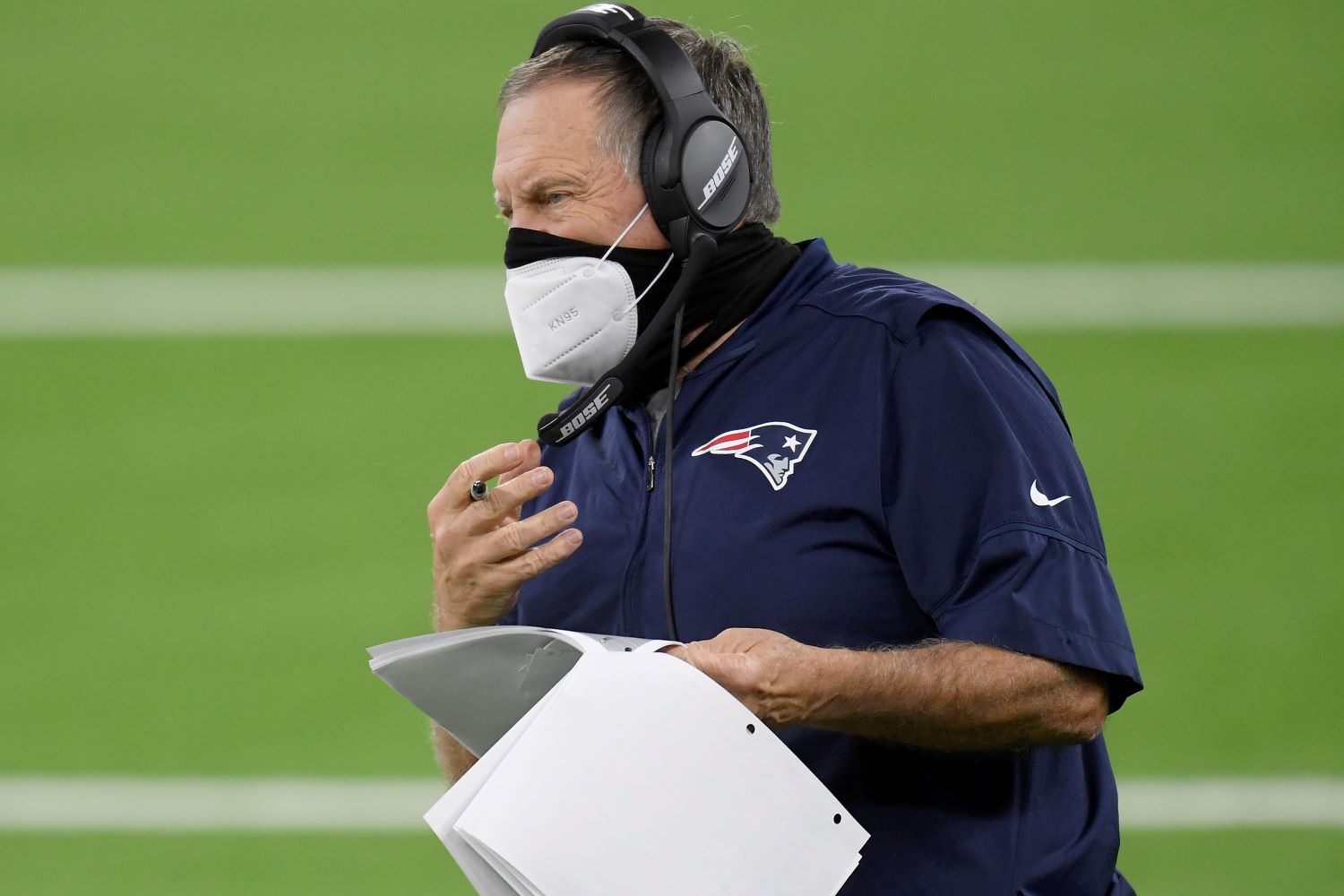 Bill Belichick Just Got Brief Vindication For the Worst Mistake of His Patriots Career
Bill Belichick deserves criticism for drafting N'Keal Harry 32nd overall, but the Patriots coach just got brief vindication for his mistake.
Bill Belichick has led the New England Patriots to six Super Bowl titles, but even he has made mistakes along the way. From getting a light return on the Jimmy Garoppolo trade to benching Malcolm Butler in the biggest game of the year, the architect of the greatest dynasty in pro sports certainly hasn't been perfect.
But out of all of Belichick's mistakes as a general manager, none measure up to his decision to make N'Keal Harry the second receiver off the board in the 2019 NFL draft. Luckily for Belichick, he just got brief vindication for the worst mistake of his career on Thursday Night Football.
And while that doesn't necessarily mean Harry has fully escaped draft bust territory, perhaps he has more to offer than what he's shown so far.
Bill Belichick took N'Keal Harry over a number of talented receivers
With Tom Brady desperately needing help at wide receiver, the Patriots entered the 2019 NFL draft with the opportunity to add a premier pass-catcher for the greatest quarterback of all time. For Bill Belichick, spending a premium draft pick on an offensive skill player represented a rare investment. In fact, prior to 2019, Belichick had never used a first-round pick on a receiver.
By the time the Patriots got on the clock, only Marquise Brown had come off the board. That put Belichick in a terrific position to land an instant-impact receiver to help Brady succeed.
In a class described as historically deep by many experts, New England could have taken South Carolina's Deebo Samuel. Based on his college film, the explosive playmaker seemed like the ideal receiver for a Patriots offense that puts an onus on gaining yards after the catch.
Plus, Ole Miss had two intriguing physical freaks in DK Metcalf and A.J. Brown. While the former faced questions about his route-running and next-level fit, the latter looked like an excellent candidate to become a Patriot.
Yet, Belichick went in a different direction.
Instead of going with Samuel, Brown, or Metcalf, New England took N'Keal Harry with the final pick of the first round. And let's just say that decision has not paid off as expected.
The 2019 first-round pick has made little impact for the Patriots
N'Keal Harry may boast a big frame, but that hasn't helped him make much of an impact. To put it bluntly—the former Arizona State star has been an abject disaster.
In his rookie season, the 6-foot-4, 225-pound wideout suffered several injuries that sidelined him for a significant portion of the regular season. By the time he returned, Harry clearly did not have Brady's trust. The first-round pick caught just 12 passes for 104 yards and two touchdowns in seven games.
To rub salt in the wound, a staggering number of receivers drafted after Harry have already become consistent producers for their respective teams. In fact, some have already reached star status.
Metcalf posted a 58/900/7 line as a rookie, but he's taken his game to another level in his second NFL season. The Seattle Seahawks wideout currently leads the league with 1,119 receiving yards and looks like a future perennial All-Pro.
Brown, his former college teammate, has also far outplayed his draft slot. Selected 19 picks after Harry, the 6-foot, 226-pound receiver averaged 20.2 yards per catch as a rookie. Brown has actually upped his yards-per-game average in 2020 from 65.7 to 72.5.
Meanwhile, Harry has struggled to stay healthy since Bill Belichick brought him to New England. And when he has been on the field, the big-bodied wideout has barely made a blip on the radar. Instead of adding a 1,000-yard receiver for Brady—which may have changed his attitude about staying in New England—Belichick made a colossal mistake by taking a player who simply hasn't produced.
Others will point to Belichick's questionable trade history (think the Pats miss Chandler Jones?) or drafting and paying Aaron Hernandez, but taking Harry over the other receivers available in an absolutely-loaded draft class ranks as the worst mistake of Belichick's career.
Last season (and longer, if you're a Brady supporter), the GOAT desperately needed a No. 1 receiver. The Patriots got so desperate that they signed Antonio Brown, who promptly got himself cut after one game.
Harry should have been that guy…except he got hurt and never clicked with Brady. But that all could have been avoided if Belichick had taken any one of Samuel, Brown, Metcalf, or even Mecole Hardman. Think Brady would have sulked his way through the 2019 season if he had one of those weapons?

And even if TB12 had already mentally checked out of New England, it is abundantly clear that the Patriots lack a true No. 1 receiver, or even perhaps a No. 2. Think Cam Newton (or Jarrett Stidham) would be better off with someone other than Harry?
Belichick just got brief vindication for the worst mistake of his career
N'Keal Harry's second season with the Patriots hasn't been much better than his first. Heading into Thursday, the 22-year-old had only totaled 26 catches for 228 yards and two touchdowns, and one of those scores came last week against the LA Chargers.
Yet, on a night where the Patriots didn't do much on offense, Belichick got brief vindication for the worst mistake of his career.
The second-year wideout hauled in two contested catches in jump-ball situations that finally gave Patriots fans a taste of his potential. In particular, Harry's leaping grab off of a double-move route had to impress the coaching staff. Since he struggles to gain separation, the 22-year-old has to win one-on-one battles using his size, body control, and strong hands.
On that play, as well as an impressive leaping grab over the middle late in the second quarter, Harry did exactly that.
For Belichick and Josh McDaniels, Harry's performance has to be encouraging. But will that lead to more opportunities for the former first-round pick?
Stunningly, just a week after he used his size to box out a defender for a touchdown grab, Harry didn't draw a single target in the red zone. That has to change moving forward, especially given the lack of impact from the tight end position.
The sample size is certainly small, but Harry is slowly taking small steps forward in his development. But if he wants to avoid sealing his status as the worst mistake of Bill Belichick's career, he'll have to provide more than just a few contested catches moving forward.
All statistics courtesy of Pro Football Reference.