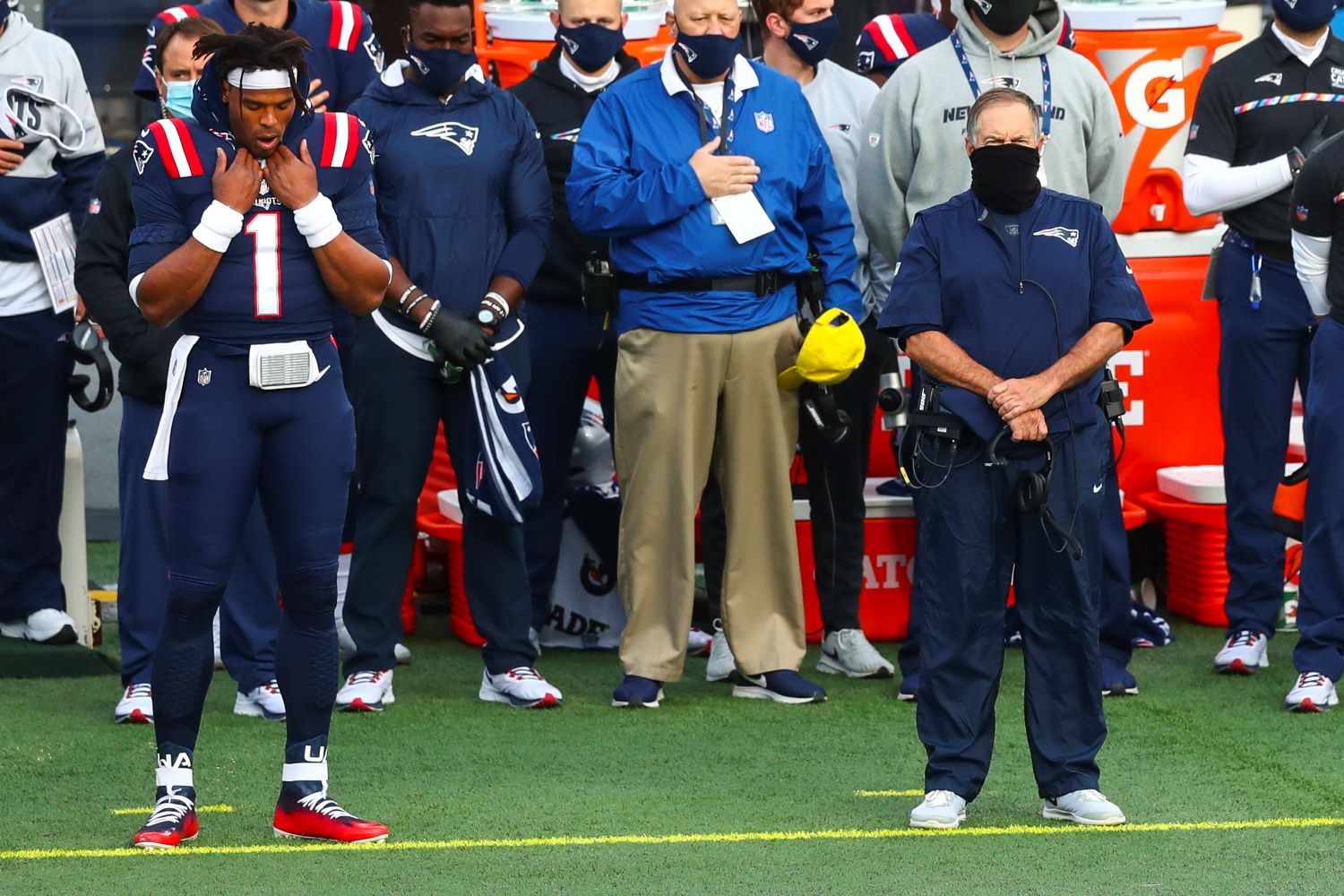 Bill Belichick Leaves No Doubt About Cam Newton's Future as the Patriots' Starting Quarterback
After watching Cam Newton struggle against the LA Rams, Bill Belichick left no doubt about his future as the Patriots' starting quarterback.
With their playoff hopes on the line, the New England Patriots got thoroughly outclassed by the LA Rams on Thursday Night Football. Although the defense buckled down after a slow start, Cam Newton and the offense mustered just three points against Brandon Staley's defense.
Naturally, that has led fans and media members to speculate about whether Bill Belichick should make the switch to Jarrett Stidham. So after Thursday's loss in LA, New England's head coach made sure to leave no doubt about Newton's future as the team's starting quarterback.
The struggles continue for Cam Newton
When the Patriots signed Cam Newton to a laughably cheap contract, it represented a classic low-risk, high-reward move by Bill Belichick.
Apparently, though, the Patriots got what they paid for.
Although the former No. 1 pick has punched in 11 rushing touchdowns, he has mostly been an abject disaster as a passer. Through 12 games, Newton has thrown just five touchdowns compared to 10 interceptions.
His turnover troubles continued Thursday against a fast, physical Rams defense. Facing consistent pressure, Newton completed just nine of 16 passes for 119 yards and no touchdowns. The 31-year-old threw a backbreaking pick-six that essentially put the game out of reach early in the second quarter.
Of course, that came on the heels of two thoroughly unimpressive performances against the Arizona Cardinals and the LA Chargers.
Against Arizona, Newton completed just nine passes for 50 yards and two interceptions. However, the Patriots managed to escape with a victory thanks to their defense and some questionable coaching decisions by Kliff Kingsbury.
Newton didn't fare much better against the Chargers. He did throw a touchdown pass, but he finished the day with merely 69 passing yards.
Overall, the former Carolina Panthers QB has failed to rediscover the form that once made him one of the league's biggest stars.
Bill Belichick leaves no doubt about who will start at quarterback for the Patriots
Bill Belichick always preaches about doing things in the best interest of the team. Somehow, though, Cam Newton continues to start at quarterback for the Patriots.
And apparently, he isn't going anywhere anytime soon.
Despite watching the veteran look completely overmatched on Thursday, Belichick left no doubt about Newton's future as the Patriots' starting QB. In fact, he seemed to relish getting asked whether he will stick with Newton moving forward.
"Great question, Mike. I'm really glad you asked that," Belichick said to ESPN reporter Mike Reiss during his post-game media availability. "Cam's our quarterback."
New England's head coach took things one step further Friday during his press conference.
When asked whether he's changed his mind about Newton's role after having the opportunity to watch the game film, Belichick put an end to the discussion once and for all.
"I've answered that question for the last time."
Is Belichick making a mistake by sticking with Newton?
Cam Newton may have Bill Belichick's full-fledged support, but he has done nothing on the field to deserve such a long leash.
From a leadership standpoint, it's clear that Newton has won the respect of his teammates and coaches. He certainly seems to bring great energy and humility despite all of his struggles.
Yet, it's totally fair to question whether Belichick is making a mistake by sticking with the disappointing veteran.
As a pure quarterback, Newton struggles to make quick decisions, identify blitzers, and protect the football. His 3.3% interception rate is tied for the worst mark of his 10-year career. He also takes far too many sacks due to his lack of pocket awareness.
Many will point to New England's lackluster collection of skill players. And while the Patriots definitely need an upgrade at receiver and tight end, Newton's lack of vision has resulted in plenty of missed opportunities to hit open targets.
At this point, it would be better for the Patriots to give Jarrett Stidham a shot at starting the rest of the way. The second-year pro has flashed potential in preseason games and limited regular-season action. However, it's still unclear whether he has what it takes to become a franchise quarterback.
But until Bill Belichick sends Cam Newton to the bench for good, we'll never find out the answer to that question.
All statistics courtesy of Pro Football Reference.