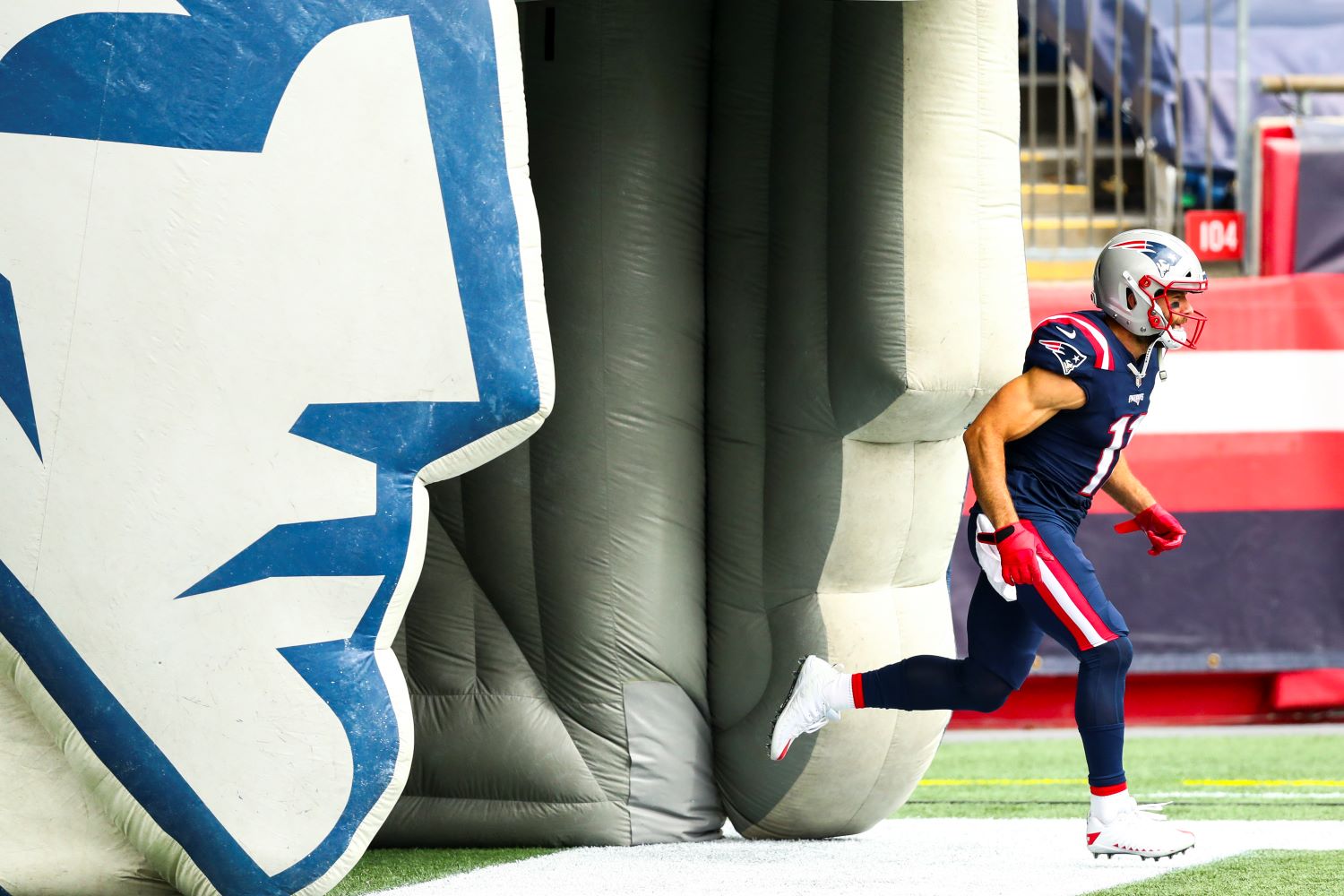 The New England Patriots May Soon Say Goodbye to a Franchise Legend
The New England Patriots may say goodbye to franchise legend Julian Edelman this offseason based on his age, injury history, and contract.
This year, the New England Patriots let one legend walk out the door. And while Julian Edelman certainly isn't on the same level as Tom Brady, he could soon follow in his former quarterback's footsteps out the door.
But unlike Brady, it won't be because the former Super Bowl MVP necessarily wants to leave. Rather, it has everything to do with Bill Belichick needing to hit move on from an aging player with major durability concerns. And when you factor in his contract situation, even a playoff hero like Edelman stands little chance of sticking around in Foxborough beyond 2020.
Julian Edelman deserves a spot in the Patriots Hall of Fame
Bill Belichick seemingly can't draft receivers to save his life, but he did strike gold back in 2009. Only nobody could have predicted that Julian Edelman—a former college quarterback—would become one of the most effective slot receivers in NFL history.
Of course, it didn't happen right away for the Kent State product. The 5-foot-10, 198-pounder started just 13 games in his first four NFL seasons. However, Edelman showcased intriguing potential as both a slot receiver and as a punt returner. He even played lined up as a defensive back in 2011 as a result of the Patriots' depth issues.
Everything changed for Edelman in 2013. He played in all 16 games for the first time in his career. Operating as Brady's No. 1 target, he caught 105 passes for 1,056 yards, and six touchdowns. He followed up with a 92/972/4 line in 14 regular-season games in 2014.
When he eventually retires, Edelman's regular-season numbers won't blow anyone away. His postseason production, however, deserves plenty of attention.
Throughout his Patriots career, Edelman has made a number of critical catches in the playoffs. His clutch fourth-quarter touchdown grab put the Patriots ahead for good over the Seattle Seahawks in Super Bowl 49.
Two years later, his improbable fingertip catch against the Atlanta Falcons left viewers speechless. And in 2018, he took home Super Bowl MVP honors after torching the LA Rams to the tune of 10 catches for 141 yards.
The 34-year-old currently ranks second all-time in playoff receptions (118) and receiving yards (1,442). He trails only Jerry Rice in both categories.
The former Super Bowl MVP has had a forgettable 2020 season
In a cruel twist of fate, Julian Edelman's first season without Tom Brady has been hampered by knee troubles. Even before he landed on injured reserve, the veteran receiver did not look anything like his usual self after a dynamic Week 2 performance against the Seahawks that included eight catches for 179 yards.
Since that terrific outing, Edelman has caught just eight passes for 79 yards on 21 targets. He didn't catch a single touchdown pass before his season got put on pause due to knee surgery.
Overall, Edelman has only recorded 21 catches for 315 yards in six games. And while he returned to practice this week, it is not clear if the veteran pass-catcher will take the field on Sunday against the Miami Dolphins.
If he misses that matchup, his next game won't come until Dec. 28 against the Buffalo Bills. The Patriots then wrap up their season against a New York Jets team that nearly beat them back in early November.
And unless Bill Belichick deviates from his "a year early rather than a year late" method of handling aging players, the Patriots will soon say goodbye to another franchise legend.
Don't be surprised to see the Patriots say goodbye to the franchise legend this offseason
For years, Julian Edelman has epitomized the Patriot Way. He lined up wherever the team needed him. He fought through injuries. He made tough catches in traffic. And he performed best when it mattered most.
Yet, one of the most beloved players in franchise history could soon be gone. Because after laboring through another injury-shortened campaign—he's only played 16 games three times in his career—Edelman's best football is clearly behind him.
Anyone who's followed Bill Belichick's career knows that he doesn't pay players for past production. Edelman has one year remaining on the two-year, $18 million contract extension he signed in May 2019.
After counting just under $10 million against the salary cap this season, that number drops to about $6.7 million in 2021.
Although New England would absorb a dead-cap charge of about $2.7 million, they would save about $4 million by moving on from Edelman.
It certainly won't be easy to say goodbye to another franchise legend for the second straight offseason. But for a team that needs to get younger and faster, it doesn't make sense to keep a receiver who turns 35 in May who also carries an extensive injury history.
And if Belichick does trade or release Julian Edelman in the coming months, it will bring an end to one of the most impressive careers of any late-round draft pick in NFL history.
All contract data courtesy of Spotrac. All statistics courtesy of Pro Football Reference.