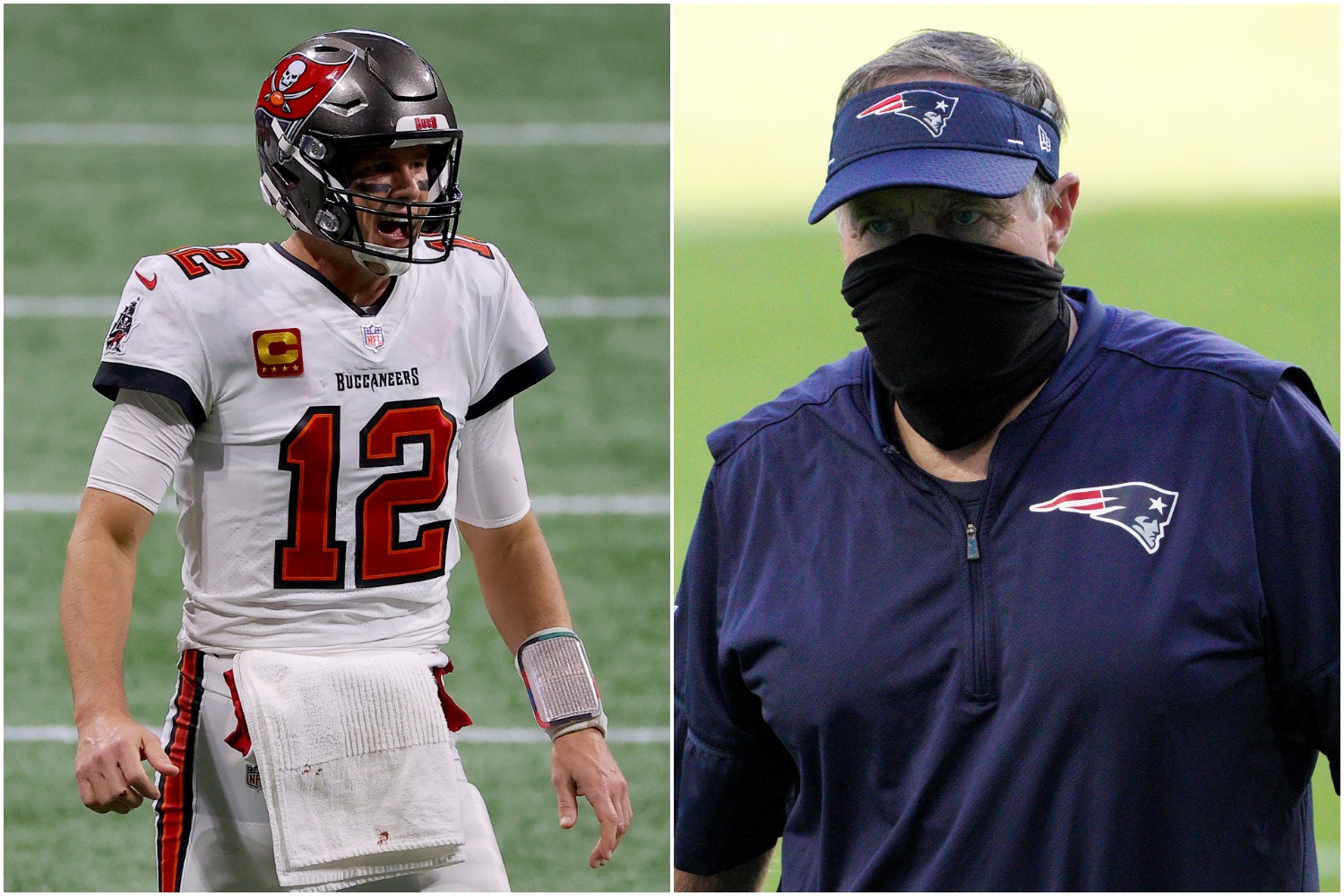 Tom Brady Just Made Bill Belichick's Worst Nightmare Come True
If Bill Belichick had just shown Tom Brady the respect he deserved in the form of a long-term contract, the New England Patriots would be preparing for another playoff run. Instead, the greatest quarterback of all time has positioned the Tampa Bay Buccaneers to make the postseason for the first time since 2007. And on …
If Bill Belichick had just shown Tom Brady the respect he deserved in the form of a long-term contract, the New England Patriots would be preparing for another playoff run. Instead, the greatest quarterback of all time has positioned the Tampa Bay Buccaneers to make the postseason for the first time since 2007.
And on Sunday, Belichick's worst nightmare just came true courtesy of TB12. Because on a day where the four-time Super Bowl MVP staged another epic comeback against the Atlanta Falcons, the Patriots suffered a knockout blow to their playoff chances due largely to an inept offense led by Cam Newton.
But it would have never gotten to this point if not for William Stephen Belichick.
Bill Belichick refused to commit to Tom Brady despite everything they accomplished together
Bill Belichick has made it a habit of winning football games…with Tom Brady as his quarterback. In his only other stint as an NFL head coach, Belichick posted an uninspiring 45-53 record in five years with the Cleveland Browns.
In his first year in New England, Belichick went 5-11 with Drew Bledsoe as his starting quarterback. Of course, a violent hit from Mo Lewis opened the door for Brady to get on the field. The California kid who had to battle for his job at Michigan never looked back.
Together, Brady and Belichick formed the most dominant quarterback-coach duo in NFL history. Winning became not just a habit but an expectation. The Patriots went from a middling franchise to the most consistent force in NFL history.
Yet, despite winning six Super Bowls together, Belichick refused to show Brady the respect he rightfully deserved. Even after leading the Patriots to an improbable comeback against the Falcons in Super Bowl 51, he didn't get a long-term deal. Brady then won league MVP honors and set the record for the most passing yards in Super Bowl history, but he still didn't receive a multi-year commitment.
Adding incentives to the legendary quarterback's contract didn't satisfy Brady's ultimate desire for long-term job security. In recent years, the future Hall of Famer backed off on his commitment to the team by skipping out on voluntary workouts. And after a dismal 2019 season that included plenty of moments of frustration, Brady took his talents to Tampa in the spring.
The Patriots suffered a brutal loss on the same day their former quarterback led his team to a huge comeback victory
By refusing to commit to Tom Brady, Bill Belichick gave the quarterback a chance to choose his own fate. Instead of replacing the two-time MVP via the draft, he went the cheap route by signing Newton to a one-year, incentive-laden deal. Although Belichick hitched his wagon to a former MVP, that decision has turned out to be an abject disaster.
Heading into Sunday, the Patriots owned a disappointing 6-7 record due largely to their inept offense. Newton has struggled to deliver consistent results in the passing game. And the former Carolina Panthers star has not dominated with his legs like he did in his prime.
That showed up on Sunday against a Miami Dolphins team that has clearly surpassed their AFC East rival. Newton completed 17-of-27 passes for 209 yards and zero touchdowns. He committed yet another fumble (his sixth of the season) that got taken back for a touchdown before it got overturned on replay. A punchless New England offense mustered just 12 points in a loss that eliminated the team from playoff contention.
Meanwhile, Brady executed another stunning comeback that proved he still has plenty left in the tank. The Bucs scored 31 second-half points to earn a huge win on the road that pushed their record to 9-5 and strengthened their chances of earning a playoff berth.
Brady just made Belichick's worst nightmare come true
While the Patriots certainly have major roster flaws to fix, it's impossible to how poorly Cam Newton has performed, especially in recent weeks. And considering he plays the most important position in football, his struggles have played a significant role in New England missing the playoffs for the first time since 2008.
Ultimately, that falls on Bill Belichick's shoulders. He could have locked up Brady years ago and avoided this entire situation. Yet, he refused to reward the six-time Super Bowl champion with a contact extension that would have secured his future in Foxborough.
And for all the concerns about Brady's supposed decline, his 3,886 passing yards and 32 touchdowns prove he's still a top-10 quarterback.
His performance on Sunday only reinforced the fact that the aging star still has what it takes to win. Meanwhile, Newton may never get a starting gig again based on his horrific 2020 season.
The 68-year-old Belichick must now live his worst nightmare as he watches the 43-year-old quarterback he let walk out the door attempt to lead his new team to its first Super Bowl title since 2002 while the Patriots have no answer at the most important position in pro sports.
Maybe Brady really was the difference maker during New England's unprecedented two-decade run of success.
Unfortunately for Patriots fans, Bill Belichick apparently didn't agree.
And because of his own refusal to keep TB12 in New England, his worst nightmare just came true.
All statistics courtesy of Pro Football Reference.