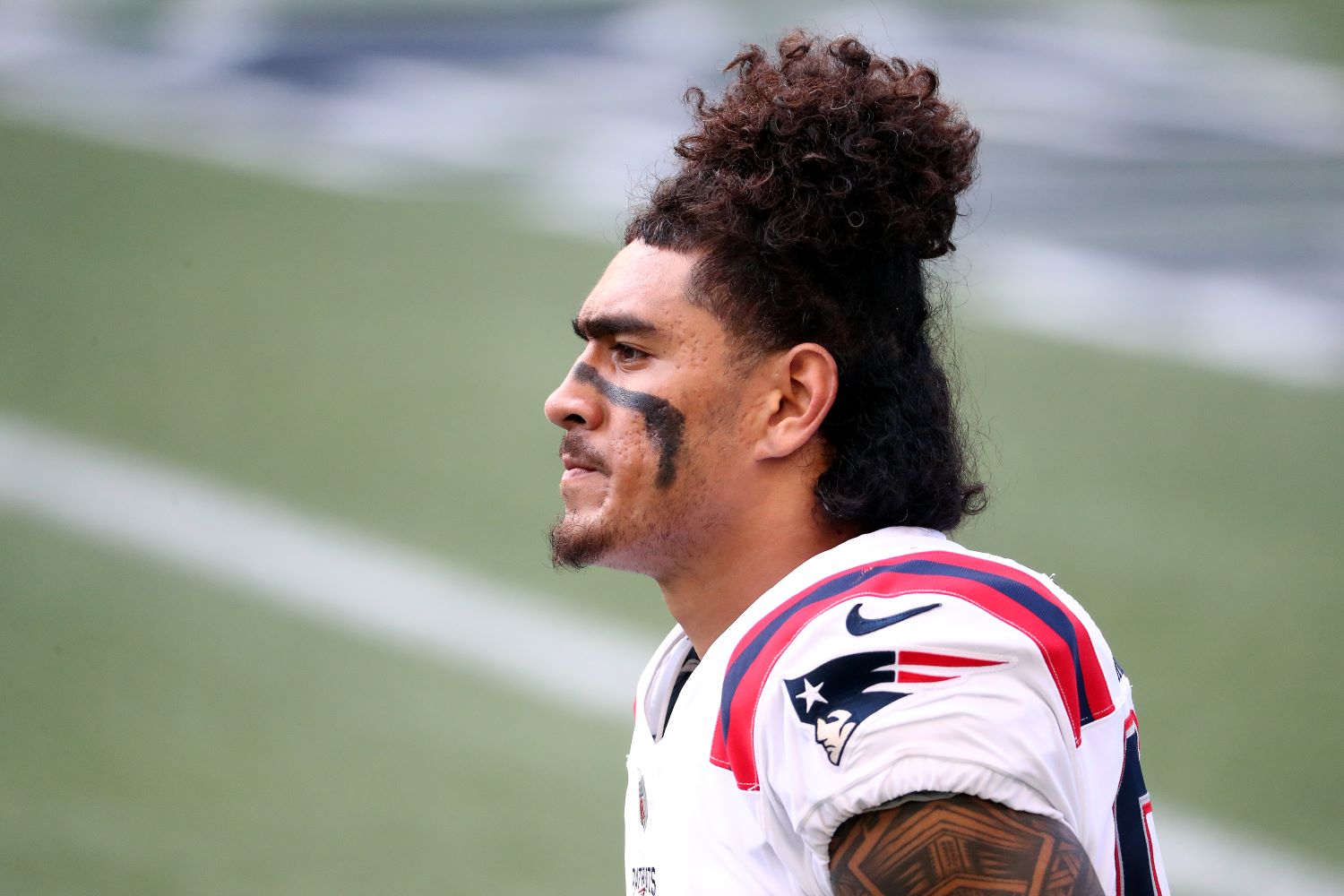 Patriots TE Devin Asiasi is Coping With the Tragic Death of His 'Big Brother' as He Tries to Focus on Football
Devin Asiasi suffered a devastating loss with the tragic death of his 'big brother' back in October. Can the Patriots count on him in 2021?
Making the transition from college to the NFL can be a daunting process. But for New England Patriots tight end Devin Asiasi, his rookie season has included a far greater challenge that no first-year NFL player could ever have expected.
The 23-year-old suffered a devastating loss not even halfway through his first year in Foxborough when a close friend he described as his "big brother" died in a brutal fashion. And on Friday, Asiasi finally got a chance to discuss the impact Ueta Savelio Muasika Jr. had on his life before he lost his own.
Devin Asiasi suffered a devastating loss earlier this season
Bill Belichick finally addressed the tight end position (twice) in the 2020 NFL draft. The Patriots aggressively moved up to snag Devin Asiasi with the 91st overall pick. Considering he caught 44 passes for 641 yards and four touchdowns in his final season at UCLA, the 6-foot-3, 260-pound California native seemed like a rock-solid selection.
However, Asiasi's first year with the Patriots has not gone as expected. Despite only having Ryan Izzo ahead of him on the depth chart, the athletic tight end didn't factor much into the offense through the first five games of the season. In fact, Asiasi didn't even get his first target until last Thursday's loss to the LA Rams.
Any momentum the first-year tight end might have built ended in late October. Asiasi did not travel for the Patriots' Nov. 1 game against the Buffalo Bills. The team listed him as an inactive due to personal reasons.
Two days later, New England placed the rookie on injured reserve with an undisclosed ailment.
It turns out that Asiasi suffered a devastating loss off the field just two days before the Bills game when his close friend died unexpectedly.
According to The San Mateo Daily Journal, Ueta Savelio Muasika Jr. got shot and killed during an Oct. 30 incident in Asiasi's hometown of San Mateo, Calif. The 30-year-old artist performed under the name "Juice Boi" as part of the group Cutthroat Mode. A child also got injured during the shooting.
Asiasi opens up about his the tragic death of his 'big brother'
On Dec. 10, the Patriots finally activated Devin Asiasi off IR. He ended up playing 23 snaps against the Rams in Week 14.
Although he has not lived up to expectations on the field, he has had to deal with an emotionally-taxing situation that makes football seem trivial. On Friday, Asiasi showed those raw emotions when discussing his time away from the team as a result of Muasika's death.
"It's not something I really want to go into," Asiasi said. "This is such a sensitive topic. But (Muasika) was a great man to me. He was a very close family member to me. I considered him a family member because we were all in the same community. We all grew up with each other. I've known him as damn near a big brother to me."
He further added, "The situation is just tragic. It's just something I would never ever want to relive ever in my life. I know he's in a better place. He's in a better place and that's my peace with it."
Unfortunately for the Muasika family, they suffered another painful loss recently. Asiasi relayed that Ueta Muasika's father passed away a few days ago.
"I just want to send my prayers once again to my family back home and the Muasika family back home in San Mateo," Asiasi said. "I'm always thinking about you all and I'm always praying for you, always here for you."
The Patriots need to give the young tight end a chance to finish the season on a high note
The Patriots may have had big plans for Devin Asiasi, but his development got halted due to the tragic death of his self-described big brother. Still, the young tight end reinforced that he's "focused on the rest of the season" and that he's getting ready to get back on the field more to "help this team get more wins."
With New England in line to miss the playoffs for the first time since 2008, it would be smart for Josh McDaniels to start throwing the Patriots' young skill players into the mix in the team's final three games.
Given the investment they just made in him, the Patriots at least need to give Asiasi opportunities to showcase his skillset. He's started to progress as a blocker, but New England desperately needs a tight end to produce in the passing game.
Can the former UCLA standout start to make an impact as his trying rookie season comes to a close? If so, that will give him much-needed momentum heading into the offseason.
And if he starts to flash the playmaking ability that he did in college, perhaps Asiasi can be the answer to the Patriots' tight end woes after all.
Like Sportscasting on Facebook. Follow us on Twitter @sportscasting19.