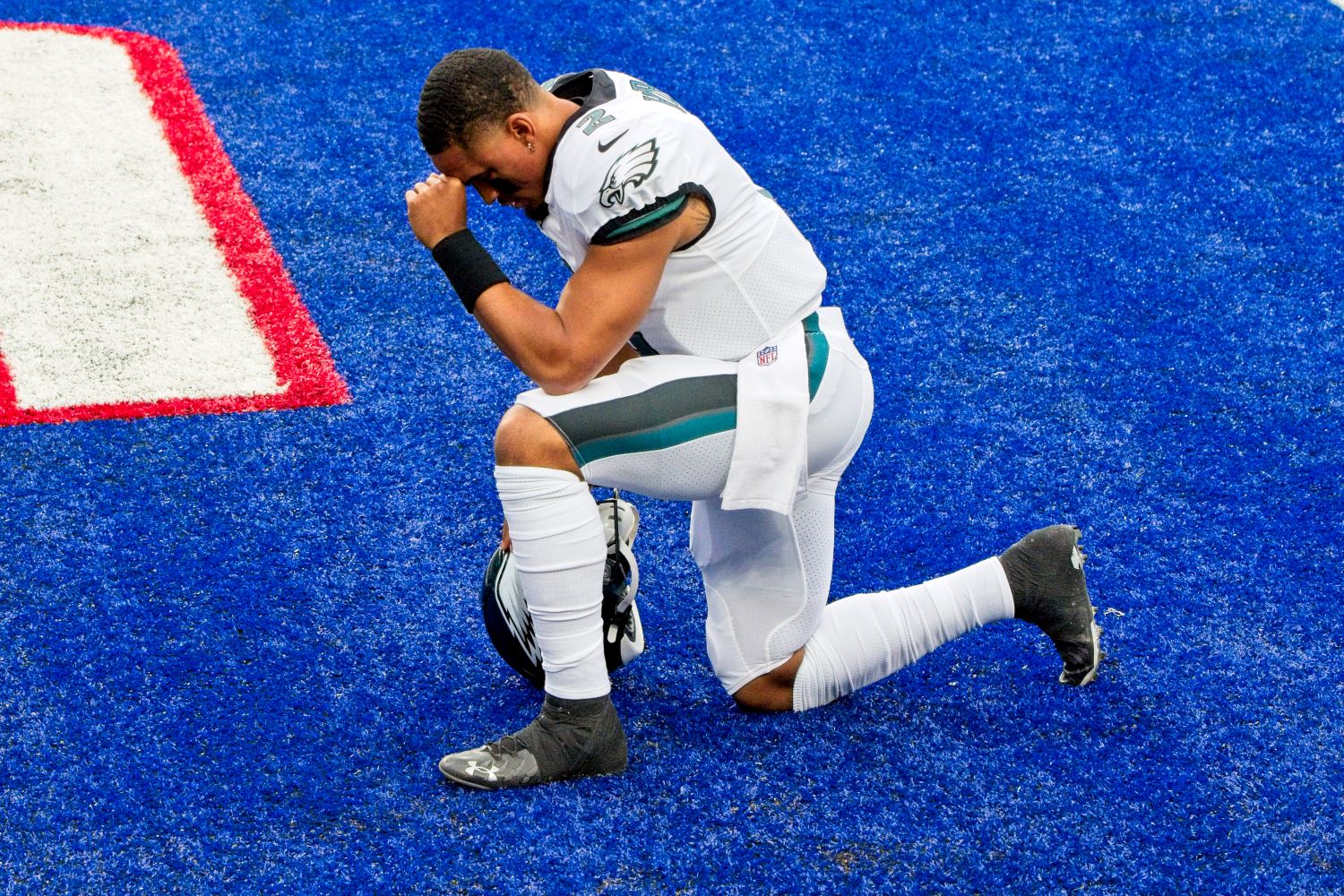 Eagles QB Jalen Hurts Suffered a Painful Loss With the Untimely Death of His Grandfather
Philadelphia Eagles quarterback Jalen Hurts suffered a painful loss earlier this year when his grandfather died during Senior Bowl week.
Jalen Hurts endured plenty of adversity during his collegiate career. But losing his starting job to Tua Tagovailoa paled in comparison to a much more painful loss he experienced off the field.
During arguably the most important week of his life, Hurts suffered an emotional blow when his grandfather died. However, he showed incredible maturity and resolve to push forward and make his NFL dream come true.
And now, the former Heisman Trophy finalist will start a new chapter of his career as the starting quarterback for the Philadelphia Eagles.
Jalen Hurts earned an invitation to the Senior Bowl after a brilliant college career
Jalen Hurts started his college career at the University of Alabama. The 6-foot-1, 218-pound signal-caller showed tremendous ability as a dual-threat weapon. As a true freshman, he threw for 2,780 yards and 23 touchdowns while adding 954 yards and 13 touchdowns on the ground.
Hurts captured SEC Offensive Player of the Year and SEC Freshman of the Year honors for his fantastic debut season for the Crimson Tide.
As a sophomore, he posted a ridiculous 17:1 touchdown-to-interception ratio. Hurts also averaged 5.6 yards per carry and scored eight times as a runner. However, he got benched at halftime of the 2018 College Football Playoff National Championship in favor of Tagovailoa.
He never started another game at Alabama.
After riding the bench as a junior, Hurts transferred to the University of Oklahoma to replace Baker Mayfield. Joining forces with Lincoln Riley allowed Hurts to showcase his skill set in an up-tempo, RPO-based offense.
Although he fell just short of winning the Heisman, the Houston native set career-highs across the board. Hurts finished his senior season with 3,851 passing yards and 32 touchdowns. He also obliterated his previous best with 1,298 rushing yards and 20 touchdowns.
Hurts earned an invitation to the 2020 Senior Bowl for his outstanding campaign. However, he ended up suffering a painful loss during his time in Mobile.
Hurts suffered a painful loss with the untimely death of his grandfather
For Jalen Hurts, Senior Bowl week featured both highs and lows. While he did well to showcase his skills, he did so with a heavy heart.
On Jan. 13, his maternal grandfather, Otis Dewalt, died at the age of 92. His funeral took place on the second day of practice at the Senior Bowl. Hurts chose to remain in Alabama rather than attend the service.
Pamela Hurts, Jalen's mother, told NFL reporter Tom Pelissero that her father had battled dementia in recent years. She also relayed that her son used FaceTime to check up on his grandfather while in college.
Nicole Lynn, Hurts' agent, provided a statement to Pelissero about her client's decision to play in the Senior Bowl.
"Jalen had an incredibly difficult decision to make after finding out his grandpa's funeral would be during the Wednesday practice of the Senior Bowl," Lynn said in her statement. "With a heavy heart, Jalen ultimately felt his grandpa would want him to keep his commitment and play in the game — so Jalen decided to play. I would be lying if I said this week has not been extremely difficult for Jalen considering the circumstance, but I admire his strength through it all."
Hurts got voted the South Team Offensive Practice Player of the Week among a quarterback group that also included Justin Herbert. He scored a touchdown during the game and entered the 2020 NFL draft as one of the most intriguing offensive prospects.
A new beginning with the Eagles
Jalen Hurts didn't become a first-round pick, but he didn't have to wait long to hear his name called. The Eagles surprised the rest of the NFL by selecting the dual-threat signal-caller with the 53rd overall pick back in April.
Considering Philadelphia already had Carson Wentz entrenched as its starting quarterback, the move certainly raised more than a few eyebrows.
But after watching Wentz struggle for weeks, the Eagles finally moved in a different direction on Tuesday. Head coach Doug Pederson officially named Hurts as the starter moving forward.
The rookie takes over an Eagles squad that owns a disappointing 3-8-1 record. However, he still has a shot at leading his team to a playoff berth given the weak state of the NFC East.
Will Hurts overcome concerns about his size and next-level fit to keep Philadelphia in the mix for a division title?
Based on his history of overcoming adversity, it wouldn't be smart to bet against him.
All statistics courtesy of Sports Reference and Pro Football Reference.