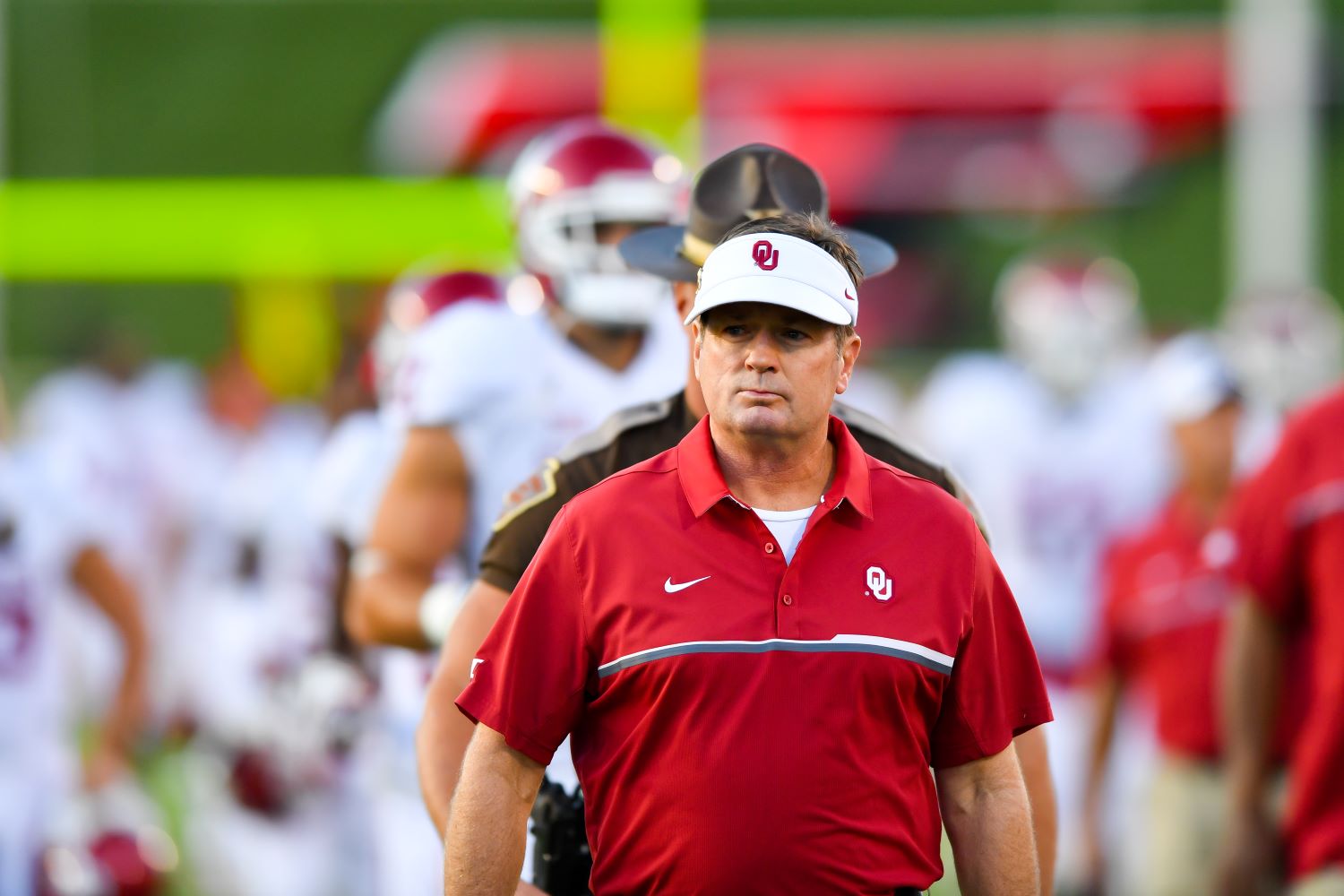 Bob Stoops Has Returned to Coaching at Oklahoma
With COVID-19 depleting his coaching staff, Oklahoma head coach Lincoln Riley is calling upon a familiar face to help him: Bob Stoops.
For nearly two decades, Bob Stoops served as the head coach of the University of Oklahoma football team. And because of COVID-19, the 60-year-old college football legend is coaching again at his former school.
In fact, don't be surprised to see Stoops patrolling the sidelines on Saturday when the Sooners take on the Baylor Bears.
Bob Stoops spent 17 years as the head coach at Oklahoma
A true football lifer, Bob Stoops kickstarted his coaching career at his alma mater, the University of Iowa. The former collegiate defensive back spent about 15 years building his resume before Oklahoma brought him on board to lead their football program in 1999.
After going 7-5 in his first season as head coach, Stoops went on to win double-digit games every year except 2005, 2009, and 2014. During his brilliant coaching career, he racked up 190 victories, one national title, and a 9-9 record in bowl games.
In addition, the Sooners churned out a number of future NFL stars under Stoops' watch. Defensive tackle Tommie Harris earned three Pro Bowl selections with the Chicago Bears after becoming the 14th overall pick in the 2005 NFL draft. Two years later, Adrian Peterson went seventh overall to the Minnesota Vikings. In 2010, Gerald McCoy and Trent Williams went third and fourth overall, respectively.
But after 18 years at the helm, Stoops stepped down after the 2016 season. Earlier this year, he finally made a return to the sidelines as the head coach/general manager for the Dallas Renegades of the XFL. However, the league suspended operations and eventually got sold to a group that included The Rock.
COVID-19 leads to a return for Stoops
Last week, the Sooners could not play their scheduled game against West Virginia due to positive COVID-19 tests and contract tracing within the program. According to ESPN, tests results released by the school's athletic department on Monday revealed that there are 27 active COVID-19 cases among athletes. In addition, there are 13 positive cases among staff members.
With the coronavirus clearly having an impact on his players and his coaching staff, Lincoln Riley turned to a familiar face for help.
"We brought Coach Stoops out of retirement today," Riley said at his press conference on Tuesday. "He was out on the field and coached with us today. It was great to have him out there."
Interestingly, Riley revealed that this is all part of a contingency plan that isn't anything new.
"We've kind of had it in our hip pocket this whole time, that if we had any staff member that fell off, we've got a Hall of Famer sitting on the bench," he explained. "That's a pretty good bench when you can call that guy up."
Currently, Stoops is under contract with the school as a "special assistant" to athletic director Joe Castiglione. And because of that designation, he actually has the opportunity to coach from the sidelines on Saturday.
The Sooners can extend their winning streak to six games on Saturday
While Lincoln Riley did not confirm that Bob Stoops will be on the field on Saturday, he didn't rule it out, either.
"We'll just have to see how the week plays out and what's available as far as the normal stuff," Riley said. "But it's certainly a pretty darn good option to have."
Ultimately, the Sooners shouldn't need the magic touch from the legendary coach. After all, the Bears don't exactly represent a massive threat to their five-game winning streak.
Baylor currently owns a 2-5 record. And while Dave Aranda's team has hung tough in most of their games, Oklahoma is a whole different animal.
Quarterback Spencer Rattler has looked terrific in his first season as a starter. The 6-foot-1, 205-pound redshirt freshman has completed 68.1% of his passes for 2,319 yards and 22 touchdowns in eight games. Of course, it helps to have three talented pass-catchers in Marvin Mims (28 receptions, 483 yards, 7 TD), Austin Stogner (25/410/3), and Theo Wease (28/401/2).
Meanwhile, the Bears have surrendered nearly 28 points per game and counter with an offense that ranks just 74th in scoring.
Unless Baylor pulls off some magic, Oklahoma should extend its winning streak to six games. And who could have imagined that Bob Stoops might be on the sidelines when that happens?
All statistics courtesy of Sports Reference.