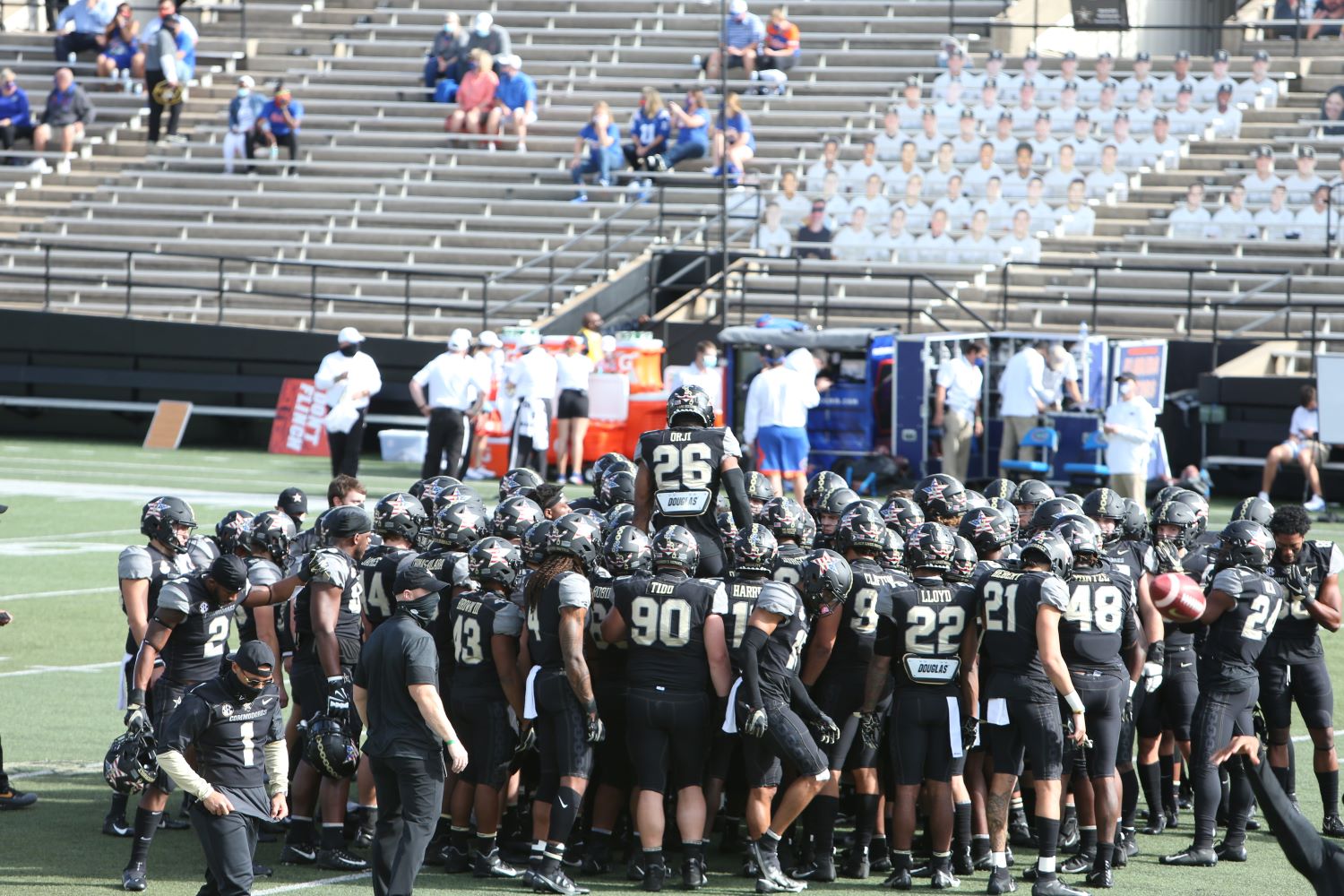 Jason Whitlock is Catching Major Heat For Ignorant Vanderbilt Football Tweet
Jason Whitlock has made a career out of being controversial, so it's no surprise that he's catching heat for his tweet about Vanderbilt.
Over the years, Jason Whitlock has made a number of controversial statements. In many respects, he has become one of the most recognizable sports media figures because of his no-filter approach.
And once again, Whitlock has put himself in the spotlight thanks to an ignorant tweet involving Vanderbilt University.
Vanderbilt football now features a female kicker
Not much has gone right for Derek Mason and the Commodores this season. Off to an 0-7 start, Vanderbilt has been awful on both sides of the ball. The Commodores entered Saturday with the 121st-ranked scoring offense (16.6 points per game) and the 106th-ranked scoring defense (36.1 points per game).
In addition, the kicking game has been a major problem. Junior Pierson Cooke has only connected on 42.9% of his field-goal attempts. Plus, several specialists had to go into quarantine this week due to COVID-19 testing, according to ESPN.
As a result, the Commodores made a bold move to shake things up at the kicker position.
Sarah Fuller, a goalkeeper on Vanderbilt's highly-successful soccer team, tried out and earned a spot on the football roster.
On Saturday, she became the first woman to play in a Power 5 football game. However, her inclusion on the football team did not sit well with Jason Whitlock.
Jason Whitlock is catching major heat for his ignorant tweet
Before Fuller made her on-field debut, Jason Whitlock took to Twitter to stir up some controversy about Vanderbilt's decision to make her a part of the football roster.
"Things I'm not supposed to ask. Does Vanderbilt have a men's soccer team?" Whitlock wrote in a tweet. "Were any of the guys on the men's soccer team considered to kick for the football team? Did Vandy choose the best candidate or the most publicity?"
It didn't take long for Twitter users to expose the sports media figure for his ignorance.
As Pat Forde of Sports Illustrated aptly pointed out, it only took a quick Google search to discover that Vanderbilt does not even have a men's soccer team.
Mike Vernon, who previously worked at Bleacher Report, fired a direct shot at Whitlock.
"The entire second act of ur career is a publicity stunt," Vernon tweeted.
Ultimately, Whitlock could have avoided the entire situation simply by taking the time to do proper research. Then again, that would go against his M.O.
Because outside of perhaps Skip Bayless, no sports media member embraces controversial takes quite like Jason Whitlock.
Whitlock is no stranger to controversy
Whether it was at ESPN, Fox Sports, or even now at OutKick, Jason Whitlock has never been shy about saying what's on his mind. However, his ignorant tweet about Vanderbilt ranks pretty low in terms of his all-time worst takes.
Back in May, LeBron James took to Twitter to discuss the shooting death of Ahmaud Arbery.
"We're literally hunted EVERYDAY/EVERYTIME we step foot outside the comfort of our homes!" James wrote. "Can't even go for a damn jog man! Like WTF man are you kidding me?!?!?!?!?!?"
His tweet caught the attention of Whitlock, who took the opportunity to slam the LA Lakers star.
"This isn't helpful. It's twitter trolling," Whitlock tweeted. "It's using this man's tragedy to build a brand as more outspoken than Michael Jordan. There are all kinds of ways to draw attention to this tragedy. Suggesting that we are hunted everyday/everytime is just [expletive]-stirring."
Of course, King James had more than a few friends come to his defense. Former Cleveland Cavaliers teammate Kendrick Perkins put Whitlock in his place with a strong message of his own via Twitter.
"You sure you're not trolling and making it about you? He's using his platform to speak out on a tragedy and you making it about him and MJ. Do better big bro!" Perkins wrote.
Like Sportscasting on Facebook. Follow us on Twitter @sportscasting19.