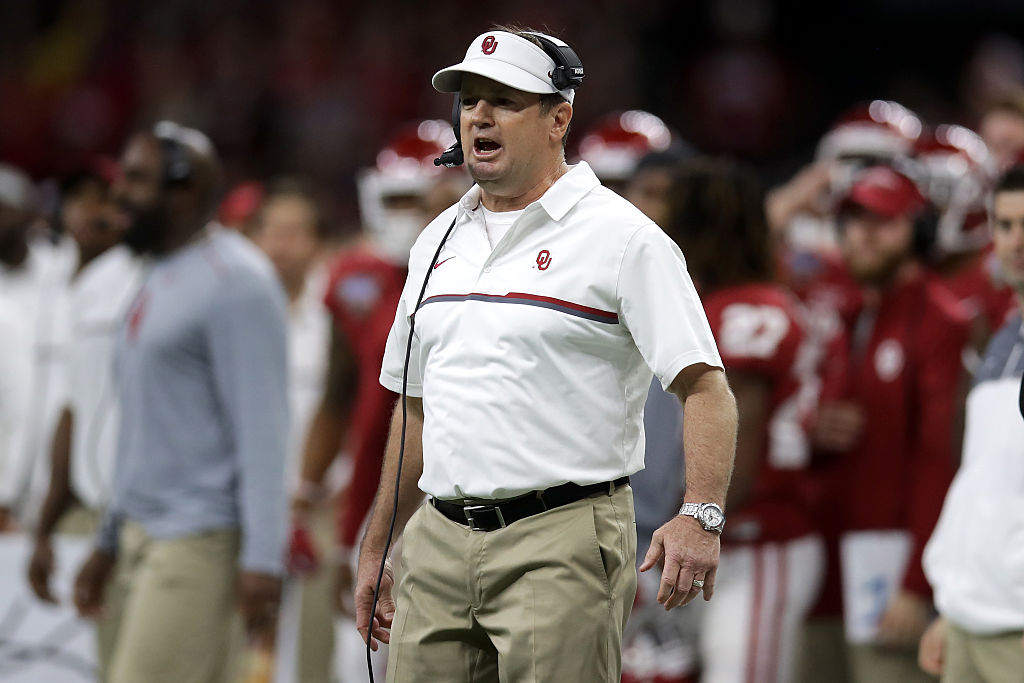 How Did Bob Stoops End Up Coaching in the XFL?
During his time with the Oklahoma Sooners, Bob Stoops established himself as one of college's top coaches. Now he's in the XFL.
While college football holds a special place in many football fans' hearts, nothing can compare to the NFL. Generally, when a player or coach leaves an NCAA program, they're moving up the ladder. Bob Stoops, however, went the other way; after a long career at Oklahoma, the coach retired, only to return to action in the XFL.
No matter how you try to spin it, the XFL is a step down from a major Division-I football program. So how did Bob Stoops end up in the upstart league, coaching the Dallas Renegades?
Bob Stoops' coaching career
Like many coaches, Bob Stoops began his football career as a player. After graduating from the University of Iowa, though, he decided to head to the sidelines.
Stoops remained with the Hawkeyes, first as a graduate assistant and then an assistant coach, before branching out on his own in 1998. He spent one season at Kent State; Stoops then joined the Kansas State Wildcats, starting as the defensive backs coach and working his way up to co-defensive coordinator. His success in Manhattan earned him a gig with the Florida Gators, serving as Steve Spurrier's defensive coordinator.
After three seasons in the swamp, Bob Stoops took over the Oklahoma Sooners and never looked back. He immediately got the program back into a bowl game; one year later, they ran the table and won the national title. While he wouldn't reach the same heights again, Stoops piled up a 190-48 record in Norman before calling it a career in 2017.
What brought Bob Stoops to the XFL?
While everyone dreams of retiring, Bob Stoops didn't think it lived up to the hype. After years on the sidelines, he came to miss football.
"When I stepped away a couple of years ago, one of my major reasons, and I made it very clear, is I wanted my own time," Stoops explained via ESPN. "As the only saying goes, be careful what you wish for. All of a sudden, I got to thinking after a couple of years, some days I've got too much time on my hands. You start to look at what are your options."
The XFL presented an opportunity to return to the sidelines without devoting every waking moment to football, as a major program would require. Texas isn't that far from Stoops' Oklahoma home; he won't need to miss any of his son's games with the Sooners, either.
"All of that together fit me at this point in my life," Stoops told USA Today Sports. "My love of football won out."
Can he still do it in the XFL?
Whether you take the XFL seriously or not, it's tough to argue with Bob Stoops' coaching credentials. Even after a few years out of the action, his experience should be enough to carry him through any rough spots; based on the recent history of non-NFL leagues, there will surely be a few.
It's also worth noting that Stoops will have a bit of a security blanket on the roster in the form of Landry Jones. The quarterback, who spent several seasons as an NFL back-up, played under the coach at Oklahoma; that working relationship should give the duo an advantage over the competition, at least in the early weeks.
Bob Stoops joined the XFL because he missed football; if the Renegades struggle, he may wish he was back on the golf course.