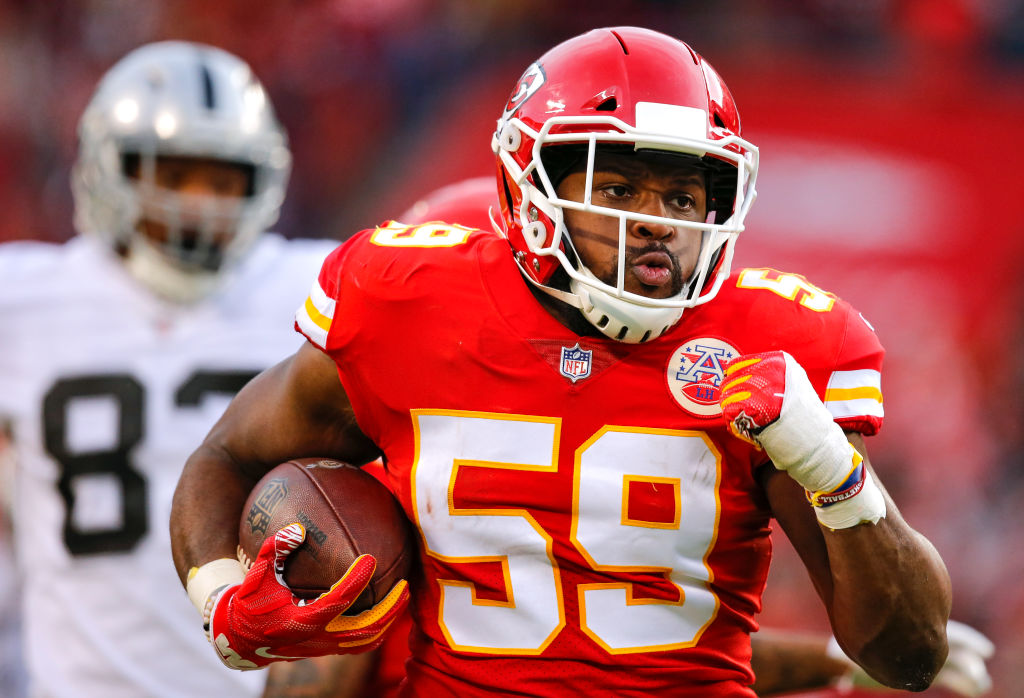 Can You Believe This College Has Only 1 Player in Super Bowl LIV?
While LSU and Penn State are well-represented, Reggie Ragland of the Kansas City Chiefs is the only former University of Alabama player on a Super Bowl LIV roster.
One look at the list of College Football Playoff participants the past six years explains why the Super Bowl LIV rosters are heavy on players who arrived in the NFL via Southeastern Conference schools. Alabama, Georgia, and LSU have all represented the conference in college football's four-team playoff.
The actual surprise is that while LSU has five players on Super Bowl rosters, perennial power Alabama accounts for only one – linebacker Reggie Ragland — of the SEC's 24 representatives in the NFL championship game in Miami.
In fact, the Crimson Tide will have fewer players in Super Bowl LIV than lesser-known schools Central Michigan, Georgia Southern, and Florida Atlantic. We're inclined to chalk that up to statistical fluke, however, since Alabama has had a staggering 22 players selected by NFL teams over the past two NFL drafts.
Jimmy Garoppolo, Patrick Mahomes come from different backgrounds
There's no better example of the diverse backgrounds of participants in the NFL championship game than the starting quarterbacks.
Patrick Mahomes played at Texas Tech in the Big 12, one of the Power 5 conferences dominating the weekly college football rankings, playoffs, and major bowls. That puts the team up against the likes of Oklahoma, Texas, and Baylor each season and in the hunt for berths in the biggest bowl games.
Jimmy Garoppolo prepared for his NFL career at Eastern Illinois, a member of the Ohio Valley Conference. The OVC completes in the Football Championship Subdivision, which is one notch below Football Bowl Subdivision and used to be referred to Division I-AA. Eastern Illinois' foes last fall included Austin Peay, Murray State, and Southeast Missouri.
LSU, Penn State well-represented in Super Bowl LIV
LSU, whose star-studded lineup for its national championship run is sure to translate to a busy NFL draft weekend, and Penn State have five players apiece representing either the San Francisco 49ers or Kansas City Chiefs.
Chiefs cornerback Morris Claiborne, safety Tyrann Mathieu, and running backs Spencer Ware and Darrel Williams all played for LSU, as did 49ers linebacker Kwon Alexander.
The Penn State alums are defensive tackle Kevin Givens, kicker Robbie Gould, and defensive end Anthony Zettel from San Francisco plus safety Jordan Lucas and guard Stefan Wisniewski for Kansas City.
Clemson, Stanford, Oklahoma and Kansas State have three players apiece on the Super Bowl LIV rosters.
One surprise among the leading college contributors
The school sitting right behind LSU and Penn State on the list of colleges supplying the most players to Super Bowl LIV is both perfectly understandable and yet surprising.
The University of Iowa plays in the rugged Big Ten but has posted winning records in 11 of the past 12 seasons while largely living in the shadow of Ohio State, Penn State, Michigan, and Wisconsin. It's a reflection of the work of Kirk Ferentz, one of the longest-tenured and most respected head coaches in major-college football.
In that context, it's not surprising that Anthony Hitchens and Ben Niemann of the Chiefs and C.J. Beathard and George Kittle of the 49ers all have Iowa backgrounds. What is unusual, however, is that none play on the offensive line for a school most know in the Big Ten for turning out plow horses who open lanes for running backs and protect the blind side of quarterbacks.
Kitchens and Niemann are linebackers. Beathard is a quarterback and Kittle lines up at tight end.