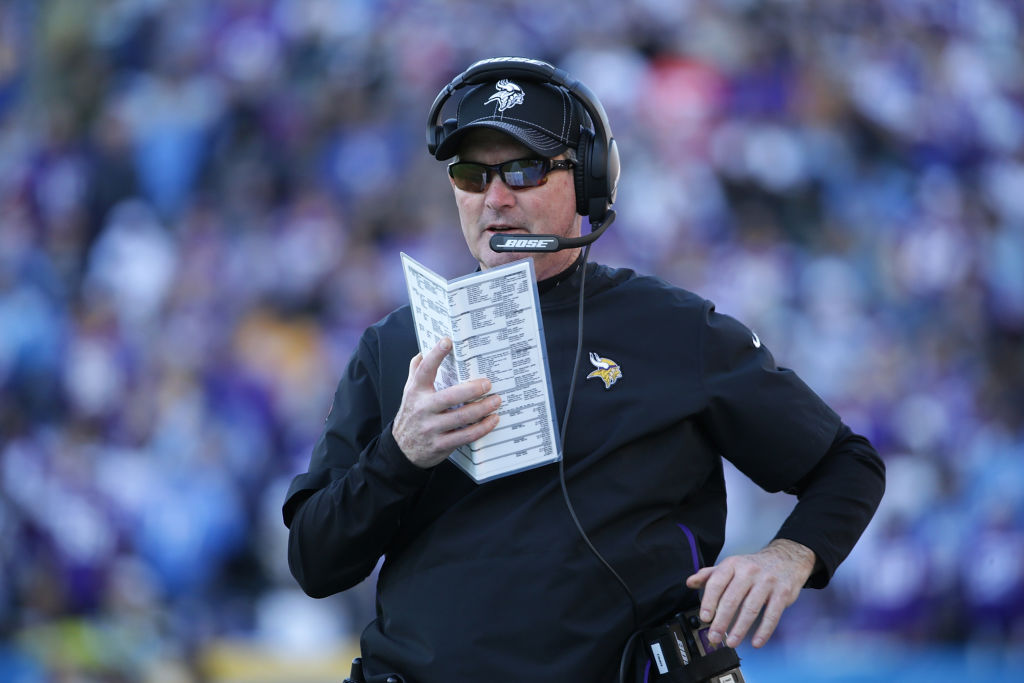 Mike Zimmer Explains Why 49ers Tight End George Kittle Is So Dangerous
Last week, Minnesota Vikings head coach Mike Zimmer neutralized Drew Brees. This week, he's preparing to face the San Francisco 49ers and George Kittle.
When you think of a team's most dangerous offensive players, certain positions spring to mind. Quarterbacks are obviously a major threat—they literally touch the ball on every play—and both running backs and wide receivers are relied upon for their big-play potential. Don't overlook San Francisco 49ers tight end George Kittle, though.
Minnesota Vikings head coach Mike Zimmer won't make that mistake on Saturday when his club travels to the Bay Area. Zimmer has even gone on the record, explaining what makes the tight end so dangerous.
George Kittle's football career
While George Kittle is now one of the NFL's elite tight ends, he didn't always stuff the box score.
Kittle played his college football at the University of Iowa but didn't get off to a flying start. The tight end only caught five passes during his freshman season; as a sophomore, that output decreased to one reception. During Kittle's junior year, though, he finally got a chance to strut his stuff. The big tight end caught 20 passes for 290 yards and six touchdowns as a junior and followed that up with a 314-yard, four-touchdown senior campaign.
Kittle headed into the NFL draft as the fifth-best tight end available and San Francisco 49ers. After a respectable rookie season, featuring 43 receptions for 515 yards and two touchdowns, Kittle exploded during his second professional campaign. The tight end showed an uncanny ability to rack up yards after the catch and finished the year with a record-setting 1,337 receiving yards; he followed it up with a 1,053-yard 2019 season.
Mike Zimmer's scouting report on George Kittle
Going into Saturday's Divisional Round, the Minnesota Vikings will get a chance to see George Kittle up close and personal. Head coach Mike Zimmer knows that his squad will be facing off against an elite athlete.
"He's great with run after the catch, and they use him on a lot of screens," Zimmer explained on a conference call. "They use him on rockets and in all different ways. He's very nifty in the passing game. He'll give you a head fake and a shake and go the other way. And he's got great speed. You combine those things with his run-after-catch ability, and the way he can get open in routes and it makes him very difficult."
While all of that is true, Kittle isn't just a threatening receiver. The tight end is also an elite blocker, capable of blowing up any defender he encounters; no matter where the Minnesota Vikings encounter him, they'll have their hands full.
Can the Minnesota Vikings defense handle the pressure?
While the Minnesota Vikings might have pulled off the upset on Wild Card Weekend, their passing defense will face another stern test on Saturday. While Jimmy Garappolo isn't Drew Brees, the 49ers are still tough to stop.
Although the Vikings defense has successfully limited most tight ends that they've faced this season, their strategy could play into Kittle's hands. Minnesota generally lets tight ends catch passes underneath, challenging them to make something happen after the catch; that, of course, is where Kittle shines.
It's also worth noting that the 49ers are quite deep offensively and can survive Zimmer's possible attempts to neutralize their big tight end. If linebackers Eric Kendricks and Anthony Barr, for example, shadow Kittle when he lines up in the slot, San Francisco will have no problem running the ball up the gut.
Mike Zimmer is saying all the right things about George Kittle. Defending him and the rest of the San Francisco 49ers offense, though, will be a whole different matter.