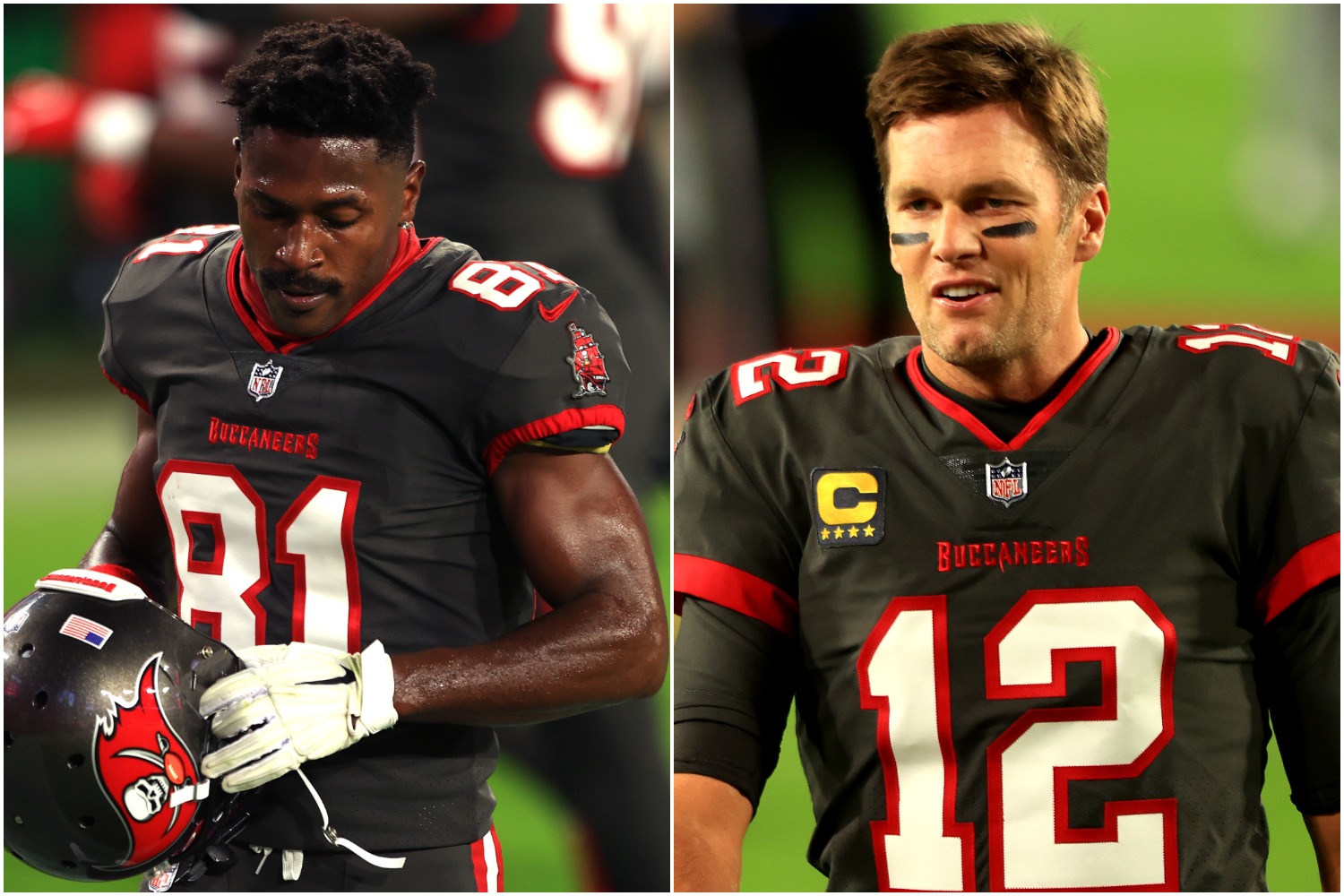 Antonio Brown Faces a $750,000 Test of His Loyalty to Tom Brady and the Buccaneers
With Antonio Brown all but assured to miss out on $750,000 in incentives, will his loyalty to Tom Brady and the Buccaneers remain strong?
Tom Brady has spent the last year publicly supporting Antonio Brown amidst all the wide receiver's legal and personal troubles. And ultimately, the six-time Super Bowl champion finally got his wish when the Tampa Bay Buccaneers gave in and signed Brady's former teammate to a one-year deal in late October.
But as the regular season winds down, Brown's loyalty to Brady and the Bucs is being put to the test. With $750,000 about to go up in smoke, will AB revert back to his old ways and become a headache for a Tampa team gearing up for a Super Bowl run?
Antonio Brown hasn't made much of an impact in Tampa
From 2013-2018, Antonio Brown put up such prolific numbers that he probably could have retired and still have been considered a Hall of Fame lock. But since he shot his way out of Pittsburgh, he's made more noise on social media than on the football field.
Brown got a chance to catch passes from Tom Brady for one game before the New England Patriots released him after allegations of sexual assault emerged. He remained in the headlines over the last year due to ongoing legal battles and personal drama.
And once Brady took his talents to Tampa, it only fueled speculation about a reunion with Brown. Buccaneers head coach Bruce Arians ultimately had to put his foot in his mouth in October when he 32-year-old receiver signed a one-year contract to complete his NFL comeback.
However, Brown hasn't produced at anywhere near the level he did during his prime in Pittsburgh. In five games, the 32-year-old wideout has caught 25 passes for just 217 yards. He has yet to score a touchdown after recording just one in 2019. Brown led the league with 15 touchdown grabs in 2018.
Brown's loyalty to Tom Brady and the Buccaneers is being put to the test
The Buccaneers have gone just 2-3 with Antonio Brown in the lineup. Needless to say, Tom Brady has to be frustrated with how things have gone since his friend signed with Tampa.
With the offense struggling to find consistency, Arians made a major change to the passing attack on Sunday. And if the trend continues, it will truly put Brown's loyalty to Brady and the Bucs to the test.
After playing 73% of the offensive snaps in the Buccaneers' Week 12 loss to the Kansas City Chiefs, he played just 49% (25 snaps) in Sunday's 26-14 victory against the Minnesota Vikings. Brown played 39 snaps in each of his first two games with the Bucs. That number jumped to 43 in the final two games before their bye week.
By having his snaps reduced, the 5-foot-10, 185-pounder loses out not only on opportunities to make plays in the passing game but also to make a sizable chunk of change. Brown has performance-based incentives in his contract that total up to $750,000. He can make $250,000 for catching at least 45 passes. He must record at least 650 receiving yards to earn another $250,000. Brown needs six touchdown receptions to hit the other $250,000 incentive.
Will Brown become a distraction for a team with Super Bowl aspirations?
At this point, though, those numbers seem unattainable given Antonio Brown's reduced role in the offense following his team's bye week. He needs 20 more catches, 433 more receiving yards, and five touchdowns to hit those respective incentives.
But with the Bucs scaling back his snaps, will losing out on up to $750,000 cause the bad side of Brown to emerge? He's said all the right things since coming to Tampa…so far. When his money's involved, though, the equation might change.
In terms of "diva receivers" you won't find one who fits the bill better than AB. If he doesn't get on the field as often and doesn't get enough targets for his liking, we could soon see another blowup from the mercurial wideout.
Of course, that puts Tom Brady in a precarious position since its his job to distribute the football. He obviously wants to prove everyone wrong and lead the Buccaneers to a Super Bowl title at 43 years old. Any distraction from an unhappy Brown will only knock Tampa off course as it prepares for a playoff run.
We'll find out just how much Tony Robbins rubbed off on AB. If he's truly matured, he won't let his lack of targets (and subsequent loss of incentive money) get in the way of helping the greatest quarterback of all time win a championship without Bill Belichick.
But will he remain loyal to Brady and the Bucs if he spends more time on the sidelines and misses out on a bigger payday?
They say money talks.
For Brown's sake, it's best he stays quiet.
All contract info courtesy of Spotrac. All statistics courtesy of Pro Football Reference.