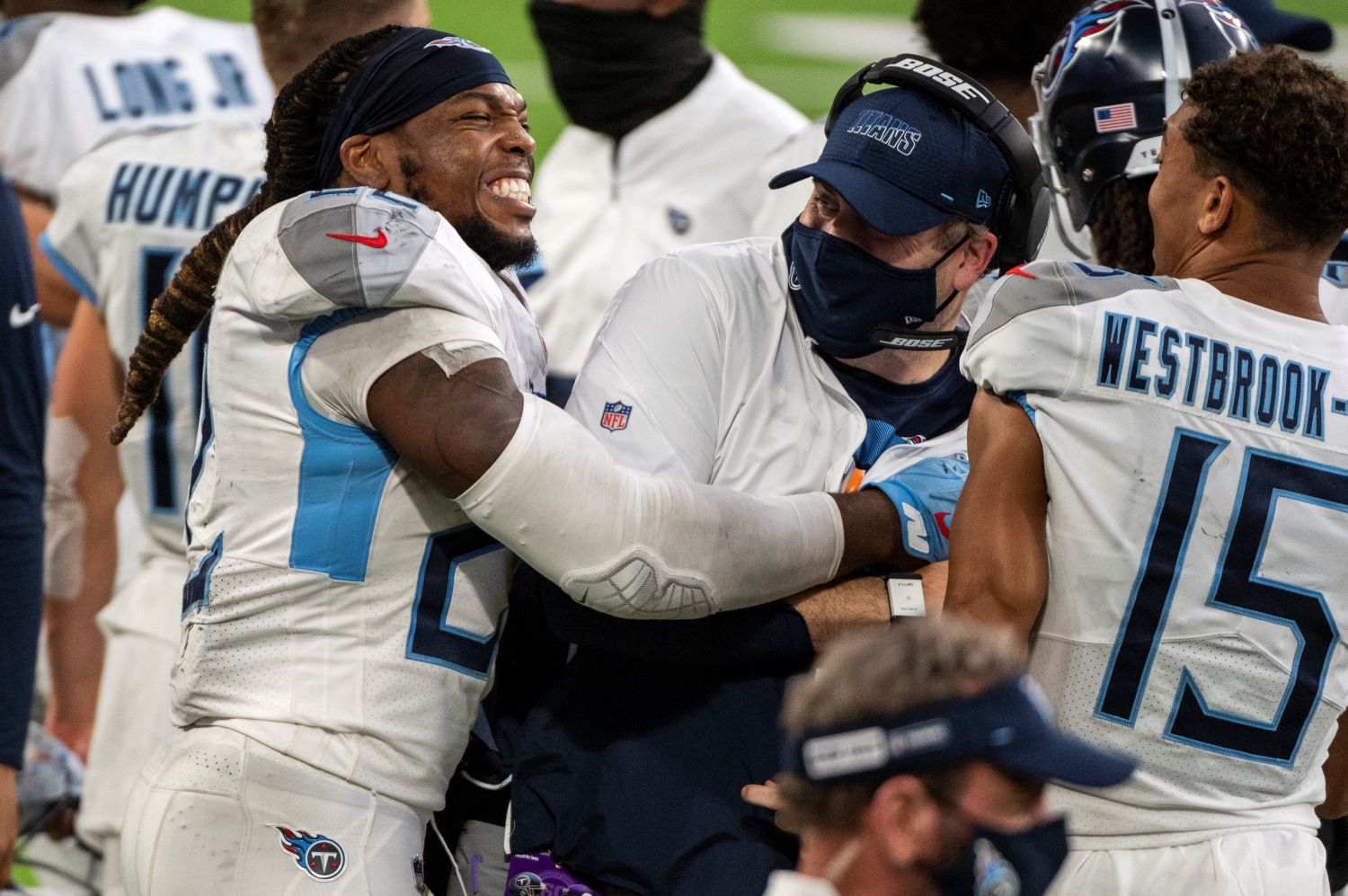 The NFL's Hottest Head Coaching Candidate Has a Famous Father Worth $5.6 Billion
Titans OC Arthur Smith isn't just the hottest head coaching candidate in the NFL. He's also the son of a famous man worth $5.6 billion.
As the Tennessee Titans prepare to face the Baltimore Ravens on Sunday, their offensive coordinator continues to inch closer to getting a huge raise. However, it won't be from his current team. Because based on the interest he's drawing around the league, Arthur Smith is about to become a head coach very, very soon.
Ironically, the 38-year-old Memphis native who transformed Tennessee's offense into a dominant force has close ties to another NFL team. In fact, his father happens to be a part-owner of one of the league's most famous franchises.
That's just part of growing up in a family headed by a man worth $5.6 billion. And while Smith will never reach that financial status by coaching football, he will be getting a healthy boost to his salary once he finds the right fit for his services this offseason.
Arthur Smith has transformed the Titans into an offensive juggernaut
While Ryan Tannehill deserves credit for turning his career around, that never would have happened without the coaching brilliance of Arthur Smith.
The former University of North Carolina offensive lineman transitioned to coaching immediately after graduating. He landed his first NFL gig shortly after. Smith worked as a defensive quality assistant for the then-Washington Redskins from 2007-08.
In 2011, the Tennessee native returned to his home state to take on a defensive quality control coaching position with the Titans. He then gained experience on the offensive side of the ball, mostly working with tight ends. However, he finally got his big break in 2019 when he ascended to the offensive coordinator role.
That move has paid enormous dividends for Mike Vrabel's team.
Tennessee finished 10th in scoring and 12th in total yards in Smith's first year as OC. Tannehill won NFL Comeback Player of the Year honors. Derrick Henry led the league in rushing. And A.J. Brown surpassed 1,000 receiving yards in a sensational rookie season.
This year, the Titans have been even more effective on offense. Henry set career-highs in rushing attempts (378), yards (2,027), and touchdowns (17). The Pro Bowl back led the NFL with 2,141 total yards from scrimmage.
Tannehill proved his magical 2019 campaign wasn't just a fluke, too. The former Miami Dolphins quarterback completed 65.5% of his passes for 3,819 yards, 33 touchdowns, and only seven interceptions. He relied heavily on Brown (70/1,075/11) and former first-round pick Corey David (65/984/5).
Tennessee finished fourth in scoring and earned the No. 4 spot in the AFC playoff standings after posting an 11-5 record.
Smith won't be in Tennessee much longer
While the Titans still have plenty of work to do in order to achieve their Super Bowl dream, it's clear that they'll be a tough team to beat in the playoffs thanks to Arthur Smith's creative offensive system.
Like most young coordinators who experience early success, he appears to be on the verge of landing the ultimate promotion.
On Monday, ESPN's Adam Schefter reported via Twitter that all six NFL teams with head coach openings have either already requested permission or plan to ask permission to interview Smith.
On Tuesday, Joe Rexrode of The Athletic reported that two general mangers told Yahoo's Charles Robinson that Smith is "the No. 1 candidate in the field" ahead of Buffalo Bills OC Brian Daboll.
According to one of the unnamed GMs, Smith's scheme versatility makes him a favorable comp to Cleveland Browns head coach Kevin Stefanski.
Ultimately, Smith should have all the leverage when it comes time to sit down at the interview table. But he shouldn't need much advice on how to handle the biggest job interview of his life.
After all, he only needs to make a phone call to his famous billionaire father for some advice on how to conduct a business meeting.
The NFL's hottest head coaching candidate is the son of a famous billionaire
Despite being the hottest head coaching candidate in the NFL, Arthur Smith isn't even the most famous member of his own family.
That honor definitely goes to his dad.
While the Titans OC will soon get a pay raise once he officially becomes a head coach, he'll never touch his father's net worth.
Fred Smith founded FedEx in 1971. His company may have started small but it has developed into an incredibly lucrative business.
In fact, Arthur Smith's father is so wealthy that he's a minority owner of the Washington Football Team.
According to Forbes, as of Jan. 5, 2021, Fred Smith is worth $5.6 billion. FedEx generates $70 billion in annual revenue.
In September 2020, Forbes calculated that the Titans are worth $2.3 billion.
All statistics courtesy of Pro Football Reference.