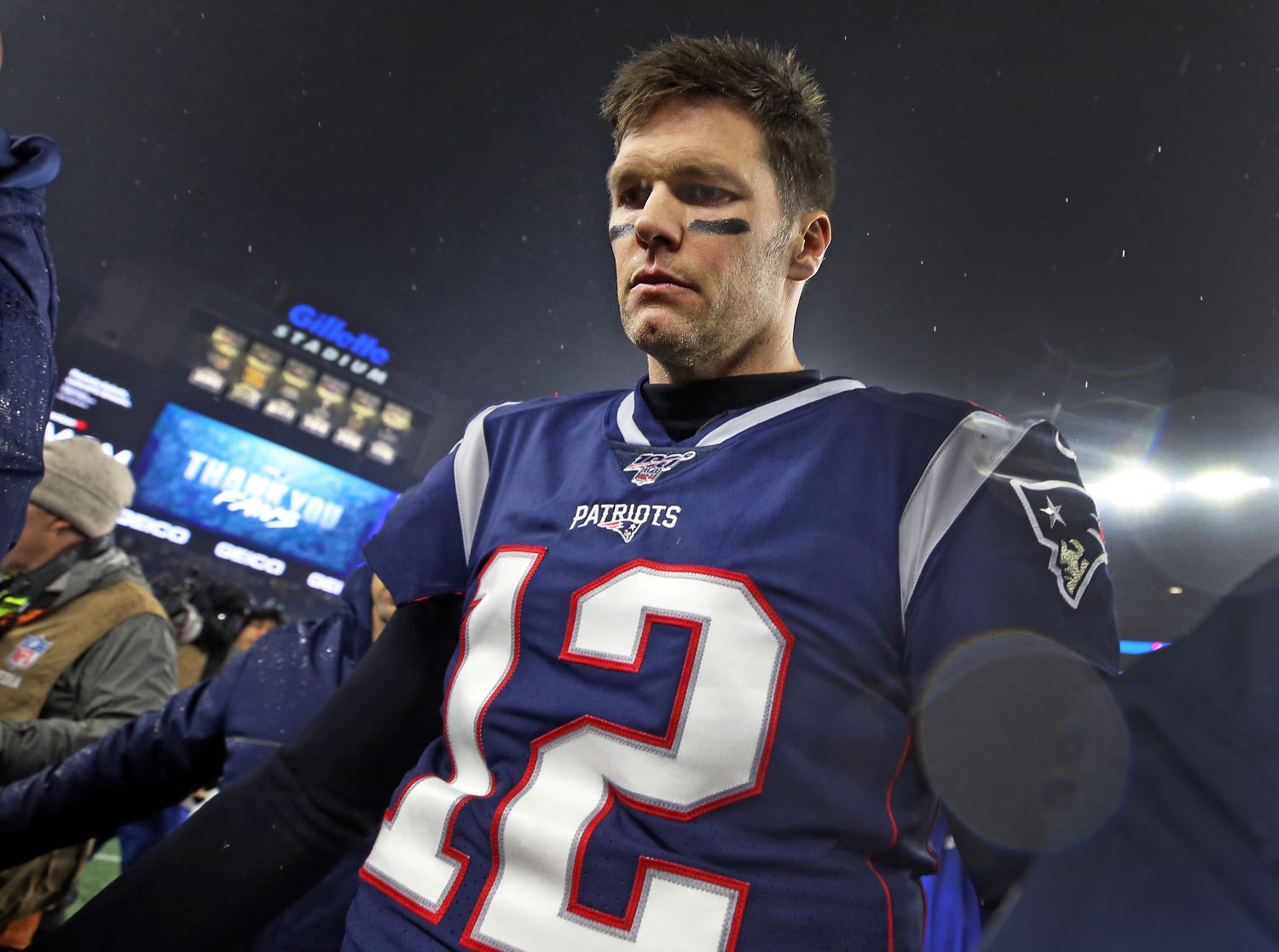 Tom Brady Owes His Career to a Patriots Coach Who Tragically Died Before Ever Seeing Him Throw a Touchdown
Tom Brady and the Patriots suffered a tragic loss when QB coach Dick Rehbein unexpectedly died right before the start of the 2001 season.
When Bill Belichick took over as the head coach of the New England Patriots, he brought Dick Rehbein aboard to lead the quarterback room.
That turned out to be the best decision of Belichick's career. Because without Rehbein, Tom Brady would never have become a Patriot.
However, the man who firmly believed in a slow, skinny quarterback out of Michigan never got the chance to watch him complete an official touchdown pass.
Just before the start of the 2001 season, Brady and the Patriots suffered a devastating loss when Rehbein died unexpectedly at the age of 45. Two decades later, the kid he stood on the table for has six Super Bowl rings and might add a seventh in his age-43 season. And for Brady, none of that would have happened without his first quarterback coach.
Dick Rehbein was chiefly responsible for New England drafting Tom Brady
Bill Belichick inherited one of the NFL's top quarterbacks when he arrived in New England. Yet, that didn't stop him from devoting resources on the most important position in pro sports.
With Drew Bledsoe entrenched as the team's starting quarterback, Belichick tasked Dick Rehbein with finding a developmental prospect to target in the 2000 NFL draft.
The first-year QB coach boasted years of experience on the offensive side of the ball. Prior to joining Belichick's staff, Rehbein had worked for the New York Giants from 1992-99 coaching tight ends, wide receivers, and the offensive line.
In search of a young signal-caller who could potentially become a reliable backup, Rehbein fell hard for a quarterback who had to fight to keep his starting job in college: Tom Brady.
According to ESPN, the veteran coach "appreciated Brady's competitive desire and talent for pulling Michigan from the brink of of defeat."
In fact, he believed so much in the Wolverines QB that he told his wife that he had discovered another Joe Montana or Brett Favre. He took things even further with a bold prediction that has obviously come true.
"Twenty years from now, people will know the name Tom Brady," Rehbein told his wife.
Although Belichick didn't devote an early-round pick on the position, he finally ended Brady's draft-day slide by selecting him 199th overall. Without Rehbein's support, that never would have happened.
But while the Patriots gained a future star, they lost the man responsible for bringing Brady to Foxborough just before their magical 2001 season began.
Brady and the Patriots suffered a tragic loss with the unexpected death of their quarterback coach
Tom Brady spent his rookie year riding the bench. However, his work ethic and competitiveness impressed his teammates and coaches. So heading into his second training camp, he looked to make a big move up the depth chart.
But during camp, the Patriots got a scare when Dick Rehbein passed out while running on a treadmill. Although he had been diagnosed with cardiomyopathy in 1988, the 45-year-old was an active runner who on the surface appeared to be healthy.
He was taken to Massachusetts General Hospital, where doctors conducted tests on his heart.
That turned out to be the last activity Rehbein ever did.
After undergoing a hospital stress test on the morning of Aug. 6, he suffered an apparent heart attack and lost consciousness. Despite extensive resuscitation efforts, the father of two died of heart failure.
Rehbein's unexpected passing rocked the organization.
"Personally, it's a great loss because he was a good friend, he was a good man and he was an excellent football coach," said Bledsoe, who had signed a record-breaking contract five months earlier. "He was the kind of guy who found a way, even in the hard times, to make you look forward to coming to work. And I speak for all the quarterbacks in saying that we will miss him very, very much."
Proving Rehbein right
While his first QB coach and biggest fan (before Gisele Bundchen arrived) never got to see him throw an official touchdown pass, Tom Brady has certainly proven Dick Rehbein right for believing in him when no one else did.
After all, without his support, Brady would have gotten drafted by another team (if at all) and never have become the greatest quarterback of all time.
But thanks to Rehbein, the Patriots didn't fall apart when Bledsoe suffered a near-fatal injury against the New York Jets on Sept. 23, 2001.
Instead, they became the most dominant dynasty in the history of pro sports. Brady led New England to perhaps the most surprising upset in Super Bowl history in his first year as a starter. The Patriots won three titles in a four-year span before winning three more between 2014-2018.
And that never would have happened without Dick Rehbein.
Like Sportscasting on Facebook. Follow us on Twitter @sportscasting19.