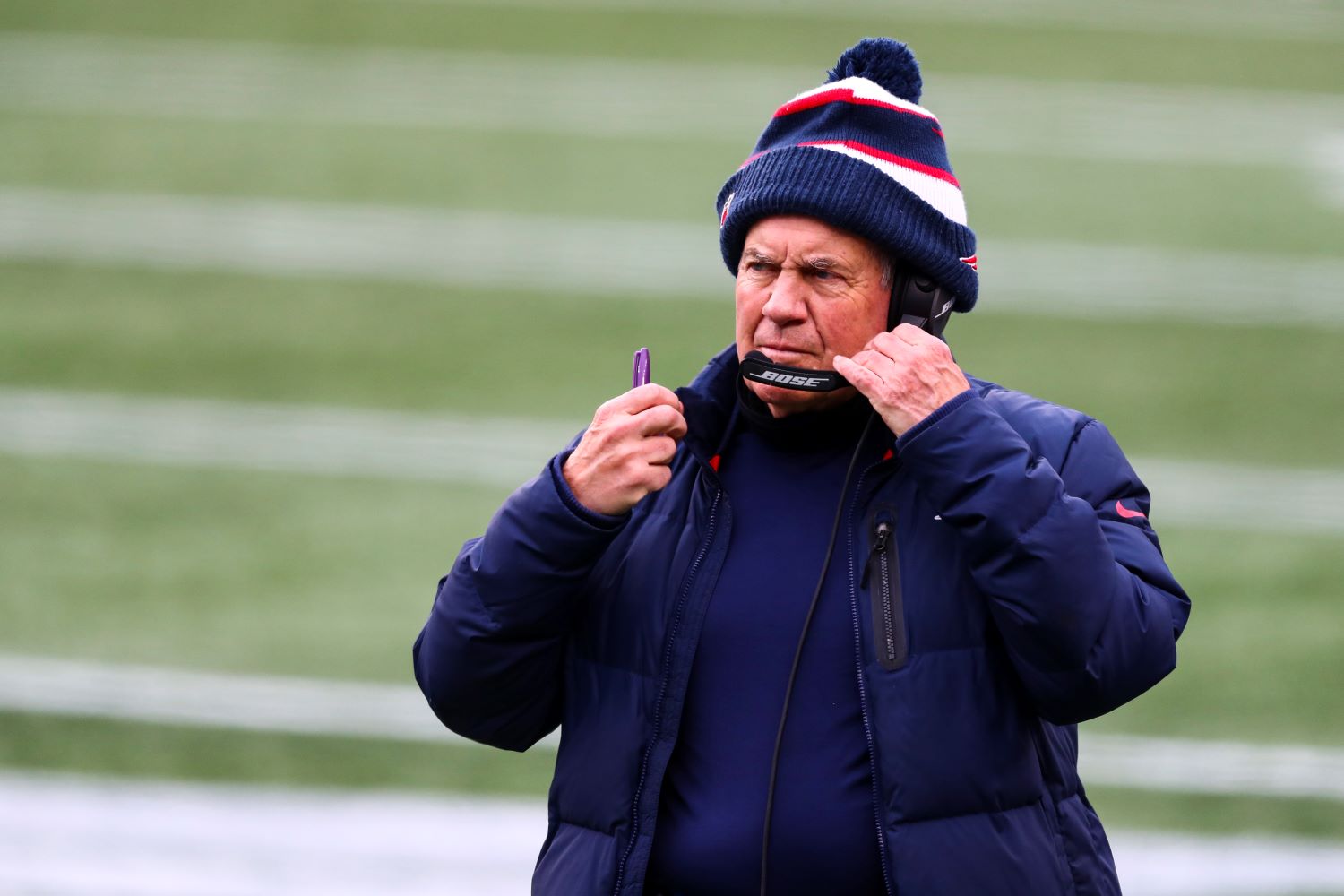 Bill Belichick Apparently Has No Guilt About Blatantly Lying to Patriots Fans
Bill Belichick has fully committed to selling the ultimate lie to Patriots fans. But can he work his magic to fix a massively flawed roster?
Bill Belichick wants New England Patriots fans to believe that the team "sold out" to win three Super Bowl titles between 2014-2018.
Yet, despite plenty of evidence to the contrary, he refuses to stop perpetuating that lie.
Because when you dig deeper into how Belichick handled the roster during the last half-decade, it's clear that the Patriots weren't nearly as aggressive as their head coach/de-facto general manager wants fans to believe.
But the past doesn't matter. Now, the future of the franchise hangs in the balance. But can Belichick work his magic and rebuild a talent-depleted roster this offseason?
Exposing Bill Belichick's "selling out" explanation
For two decades, Bill Belichick explained nearly every football-related decision the same way. In some form or fashion, every trade, release, or other player-related transaction took place because it was "in the best interest of the team"…even if it didn't seem that way on the surface.
But if you take a look at some of the major moves the Patriots did (or didn't) make over the last few years, it's hard to believe Belichick.
In March 2016, he traded Chandler Jones to the Arizona Cardinals for a second-round pick and Jonathan Cooper. Although that pick eventually yielded Joe Thuney and Malcolm Mitchell, Jones has racked up 61 sacks in 69 games and could end up in Canton one day.
Seven months later, Belichick shipped Pro Bowl linebacker Jamie Collins to the Cleveland Browns for a conditional third-round pick.
In October 2017, he shockingly traded Jimmy Garoppolo to the San Francisco 49ers for just a second-round pick. Of course, that came a month after Belichick got rid of Jacoby Brissett—who would probably be the best quarterback on New England's roster at the moment.
As for the whole "selling out" part of his argument?
He didn't pay up to retain Akiem Hicks, who departed in free agency in 2016. He let Malcolm Butler walk even after he developed into a Pro Bowl corner. Left tackles Nate Solder and Trent Brown received record-setting contracts…from other teams. Other notable players who left in free agency in recent years include Trey Flowers, Kyle Van Noy, and Dion Lewis.
In recent years, Belichick refused to shell out starter-level money for legitimate help at wide receiver or tight end. And he sure didn't seem eager to keep Tom Brady and Rob Gronkowski around, either.
Overall, his whole premise of "selling out" makes little sense based on how the Patriots have handled free agency and trades.
Fully committing to the ultimate lie
In reality, the reason the Patriots have one of the worst rosters in the league (at least on offense) has nothing to do with "selling out" to win Super Bowls. Yet, it's clear that Bill Belichick has fully committed to selling the ultimate lie to New England fans.
During his Monday press conference, he faced a question about whether the franchise will be more aggressive this offseason.
And once again, Belichick reverted back to the excuse he's peddled all season.
"Honestly, I don't know how we could be any more aggressive than we were for the last five years," he said. "I'm talking about the '14-'18 period. I'll throw last year in there, too. So, for the last six years, really. So there's a residual to that."
In reality, the sad state of New England's roster has everything to do with Belichick's horrific NFL draft results. Somehow, though, he continues to sell the lie that the team sold out and maintained an ultra-aggressive approach the previous six seasons.
However, the truth remains that the Patriots have struggled mightily to hit on their draft picks. Dominique Easley flamed out after arriving as a first-round pick in 2014. Malcom Brown didn't earn a second contract, either. New England didn't make a first-round pick in 2016 or 2017.
Isaiah Wynn and Sony Michel went 23rd and 31st overall, respectively, in 2018. Neither has lived up to expectations. And 2019 first-round pick N'Keal Harry already looks like the worst draft miss of Belichick's career.
Still, Belichick refuses to talk about those massive whiffs. Instead, he continues to try and sell fans on the myth that the current state of the roster can be traced back to the team's "aggressive" approach from 2014-19.
The Patriots have a long list of needs to address this offseason
Looking ahead, Patriots fans absolutely should be concerned about the future of the franchise. After all, Bill Belichick's recent track record as a GM inspires little confidence in his ability to rebuild a roster that has major needs at the most important positions in football.
Everything begins with finding the next quarterback. Will New England spend the 15th overall pick on a signal-caller? Could Belichick target a veteran like Matthew Stafford or Jimmy Garoppolo in a trade? Or will he explore free agency to find the team's long-term starter?
He also has to finally fix the wide receiver and tight end positions. The Patriots need starting-caliber pass-catching options who can get open consistently. However, Belichick has struggled mightily (to put it mildly) at drafting receivers, and tight ends Devin Asiasi and Dalton Keene failed to make an impact as rookies.
On the other side of the ball, New England desperately needs more size and athleticism along the front seven. Can Belichick rediscover his roots and fortify the defensive line and linebacker groups with explosive athletes built for the modern game?
Plus, a star-studded secondary could get a facelift, too. Stephon Gilmore will likely be gone. Third-year corner J.C. Jackson will be a restricted free agent and should draw plenty of interest thanks to his nine-interception season. Will the McCourty twins return for another year of action?
Ultimately, it's clear that Bill Belichick has a ton of work to do this offseason. But if he stays committed to selling the ultimate lie to Patriots fans, it's fair to question whether he will ever fix the flawed roster he created.
Like Sportscasting on Facebook. Follow us on Twitter @sportscasting19.