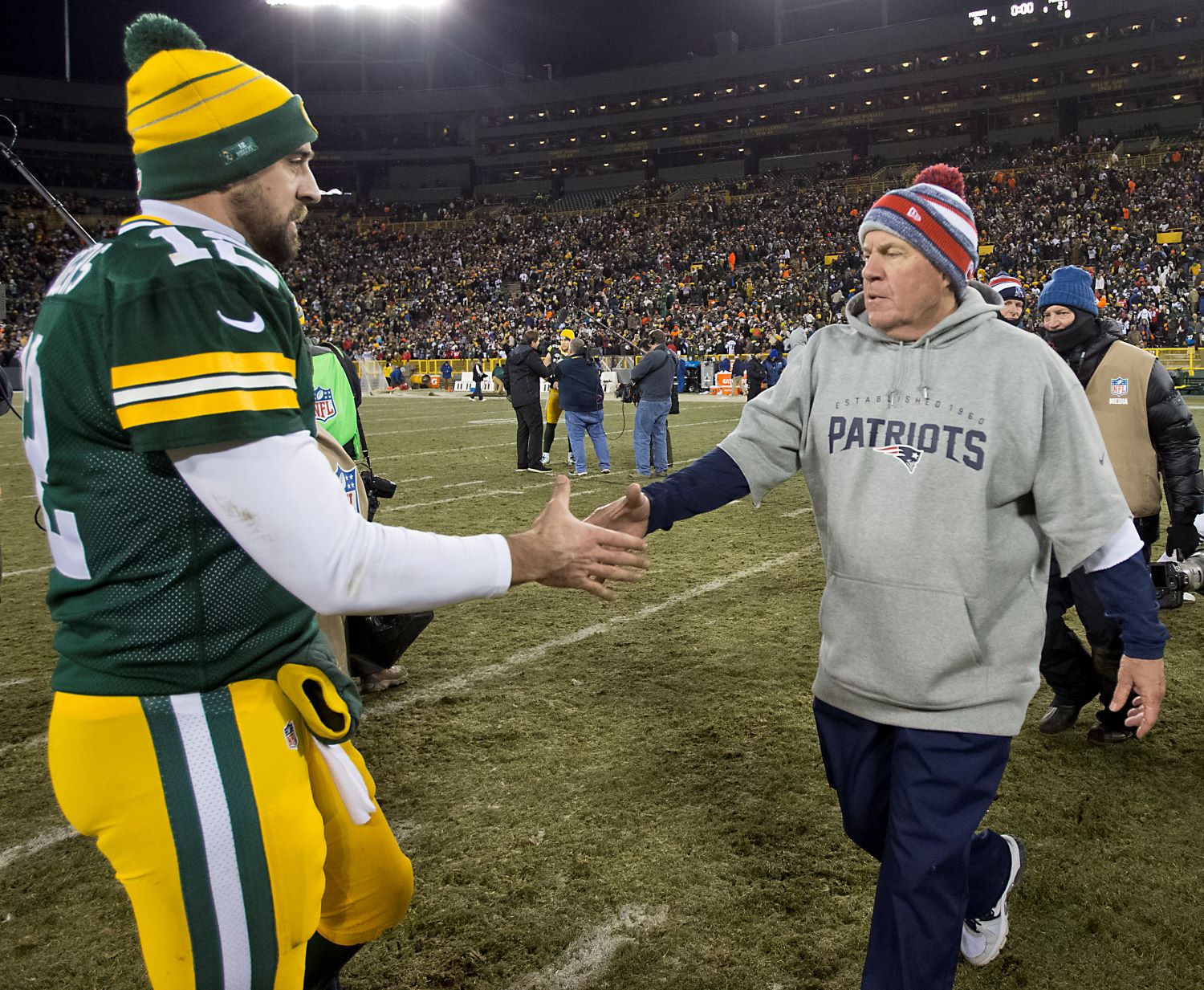 Bill Belichick Gave the Packers the Blueprint to Save Aaron Rodgers' Career
Aaron Rodgers suddenly looks like an MVP again at age 36 all because the Packers pulled a page out of Bill Belichick's playbook.
With the 2020 regular season winding to a close, Aaron Rodgers has a chance to cement his case to win NFL MVP honors. The 37-year-old has bounced back from several disappointing seasons to remind everyone why he's considered one of the best quarterbacks in league history.
But as the aging quarterback prepares to lead the Green Bay Packers on a Super Bowl run, let's not pretend that his resurgence simply came out of nowhere. Rather, the Packers saved Rodgers' career by pulling a page out of Bill Belichick's playbook.
Aaron Rodgers watched his numbers decline from 2017-2019
Aaron Rodgers may only have one Super Bowl ring but he will certainly go down as one of the best quarterbacks to ever step foot on an NFL field.
Incredibly accurate and never afraid to make a tough throw in traffic, Brett Favre's former backup put up prolific numbers once he got a chance to take over as the Packers' starting quarterback.
In 2011, Rodgers won his first MVP trophy after throwing 45 touchdown passes. He also set career-highs in passing yards (4,643), quarterback rating (122.5), and yards per attempt (9.2).
Three years later, he won MVP honors again. In his age-31 campaign, the rocket-armed QB threw just five interceptions compared to 38 touchdowns. Unfortunately for the Packers, they fell well short of winning a title.
In recent years, though, Rodgers has struggled to replicate that same success. Some of that blame falls on Green Bay's front office, which hasn't done the best job of investing resources on skill players.
However, it's hard to ignore the raw numbers.
After throwing 109 touchdowns in 48 games from 2014-16, the future Hall of Famer totaled just 67 in 39 games from 2017-19.
Rodgers' completion percentage fell every year since he hit 65.7% of his attempts in 2016. He completed 64.7% in 2017 before dropping to 62.3% in 2018. He bottomed out at 62.0% in 2019—the second-worst rate of his career since he took over starting duties in 2008.
Tom Brady came back to life after the Patriots drafted Jimmy Garoppolo
Back in 2014, Tom Brady was in the exact same situation as Aaron Rodgers. After winning his second MVP award in 2010 and leading the Patriots to a Super Bowl appearance in 2011, his numbers sharply declined.
Brady bottomed out in 2013 when he threw only 25 touchdowns and completed just 60.5% of his passes. He finished the season with an 87.3 quarterback rating—nearly 24 points lower than his league-leading 111.0 rating in 2010.
With his quarterback inching closer to age 40, Bill Belichick boldly drafted Jimmy Garoppolo 42nd overall in 2014. That decision fueled Brady to take better care of his body, refocus his efforts, and ensure his potential successor would never unseat him from his throne.
Brady went on to win three more Super Bowl rings and another MVP award before he bolted for Tampa this offseason. Garoppolo got traded before his rookie deal expired.
For the Packers, the Brady-Garoppolo situation showed what can happen when you put pressure on an aging franchise quarterback.
The Packers saved Rodgers' career by pulling a page out of Bill Belichick's playbook
Given Aaron Rodgers' age and recent statistical drop-off, Green Bay had obvious reasons to consider investing at the quarterback position heading into the 2020 NFL draft.
And ultimately, the Packers pulled a page out of Bill Belichick's playbook to save their franchise quarterback's career.
Drafting Jordan Love in the first round may have dropped jaws at the time, but it's clearly paid off. Even though the rookie QB hasn't attempted a single pass, it's impossible to ignore Rodgers' resurgence and not draw a connection to the presence of his potential successor on the roster.
Teams don't devote first-round picks on quarterbacks to ride the bench. But even if the Packers didn't plan on Love taking over anytime soon due to financial reasons, the fact they brought him aboard signified the franchise has started to plan for life after Rodgers.
Yet, even though nearly all of his weapons have been hurt at some point this season, the future Hall of Famer has put together arguably the most impressive season of his decorated career.
Entering Week 17, Rodgers only needs two touchdown passes to surpass his career-high of 45 that he set back in 2011. He's also completed a career-high 70.3% of his passes in his 13th year as a starter.
If the Packers wanted to light a fire under Rodgers to help him rediscover his vintage form, they certainly accomplished that feat. But will he cap off his incredible campaign with a second Super Bowl ring?
Based on how he's played this season, who's betting against him?
All statistics courtesy of Pro Football Reference.