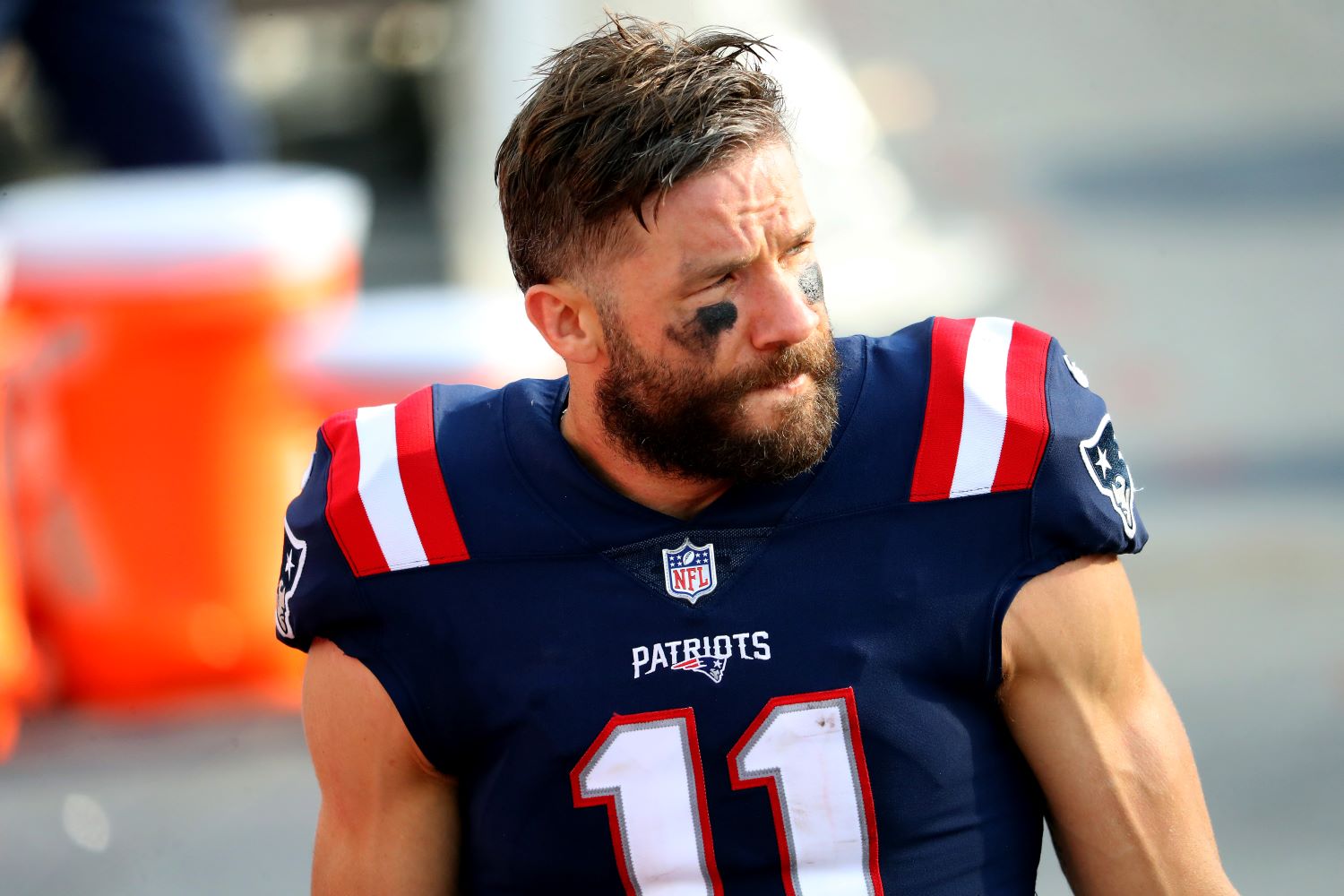 Julian Edelman Has Caught His Final Pass for the Patriots
Bill Belichick unearthed a future star when he took a seventh-round flyer on Julian Edelman back in 2009. Despite playing quarterback in college, he has become one of the best slot receivers in NFL history during his decorated career with the New England Patriots. And unless Belichick totally abandons a principle he's lived by since …
Bill Belichick unearthed a future star when he took a seventh-round flyer on Julian Edelman back in 2009. Despite playing quarterback in college, he has become one of the best slot receivers in NFL history during his decorated career with the New England Patriots.
And unless Belichick totally abandons a principle he's lived by since taking control of the franchise two decades ago, Edelman has caught his final pass for the Patriots.
Julian Edelman has been sidelined since October
In 2019, Julian Edelman played all 16 games for just the third time. Although Tom Brady didn't have fun in his final year in Foxborough, his favorite target set a career-high with 1,117 receiving yards.
Heading into the 2020 season, the Patriots seemingly had at least one reliable receiver on their roster. However, Edelman has barely seen the field during his age-34 campaign.
The former Super Bowl MVP started the year on a hot streak. He caught five passes for 57 yards in New England's season-opening win against the Miami Dolphins. Edelman followed up with a monster night against the Seattle Seahawks that included eight catches for 179 yards.
Then it all went downhill.
Over his next four games, the aging wideout totaled just 79 yards on eight catches. Edelman committed several drops and didn't look anything like his usual self through the first half of the season.
On Oct. 31, the Patriots placed him on injured reserve after he underwent knee surgery. After getting designated to return from IR on Dec. 16, it seemed like New England would be getting its top pass-catcher back sooner than later.
New England isn't activating the former Super Bowl MVP off injured reserve
Although there had been some hope that Julian Edelman could return in time to help the Patriots turn their season around, that obviously hasn't happened.
With their top receiver sidelined, the Patriots have fallen completely out of the playoff hunt. At 6-8, Bill Belichick's team will miss the postseason for the first time since 2008—the year before Edelman arrived via the draft.
Still, New England has a shot at finishing with a .500 record if it can pull off consecutive wins.
But if that miracle happens, it won't be because of Edelman.
On Monday, Ian Rapoport reported via Twitter that the veteran wideout will not be activated from IR for Monday night's game against the Buffalo Bills.
According to Rapoport, "Edelman's season is almost certainly over—and at age 34, his future is uncertain, as well."
Given the fact that New England essentially has nothing left to play for, it makes little sense to bring the aging receiver back for two meaningless games. At this point, Edelman may as well prepare for the 2021 season.
Just don't expect him to catch his next NFL pass wearing a Patriots uniform.
Don't be surprised when Bill Belichick pulls the plug on the Edelman era
There's no doubt that Julian Edelman belongs in the Patriots Hall of Fame. Based on his prolific postseason numbers and three Super Bowl rings, he might deserve a spot in Canton, too.
However, if he plans on continuing his NFL career, he better start packing his bags.
If there's one principle Bill Belichick has stuck by, it's that he gets rid of a player a year early rather than a year late. He has shown no qualms about trading or cutting franchise icons as they age and/or want more money.
Richard Seymour—who should get inducted into the Pro Football Hall of Fame at some point—got traded right before the start of the 2009 season. Perennial Pro Bowl guard Logan Mankins got traded to the Tampa Bay Buccaneers a few weeks before the 2014 season began. Vince Wilfork won a Super Bowl ring that year before the Patriots declined their team option and let him become a free agent.
Heck, Belichick let the greatest quarterback of all time leave after he refused to give him a long-term contract in recent years.
Expect Edelman to become the next casualty of the Belichick way of doing business.
In 2021, he carries a cap hit of $6.1 million. However, his dead-cap charge of $2.6 million makes him an easy cut candidate. And given his lengthy injury history and the fact that he turns 35 in May, it seems highly unlikely that Belichick will continue to employ Edelman despite all of his contributions.
Does that necessarily mean his career is over?
Perhaps not.
But if Julian Edelman does catch another NFL pass, it won't be from whoever plays quarterback for the Patriots in 2021.
All contract data courtesy of Spotrac. All statistics courtesy of Pro Football Reference.