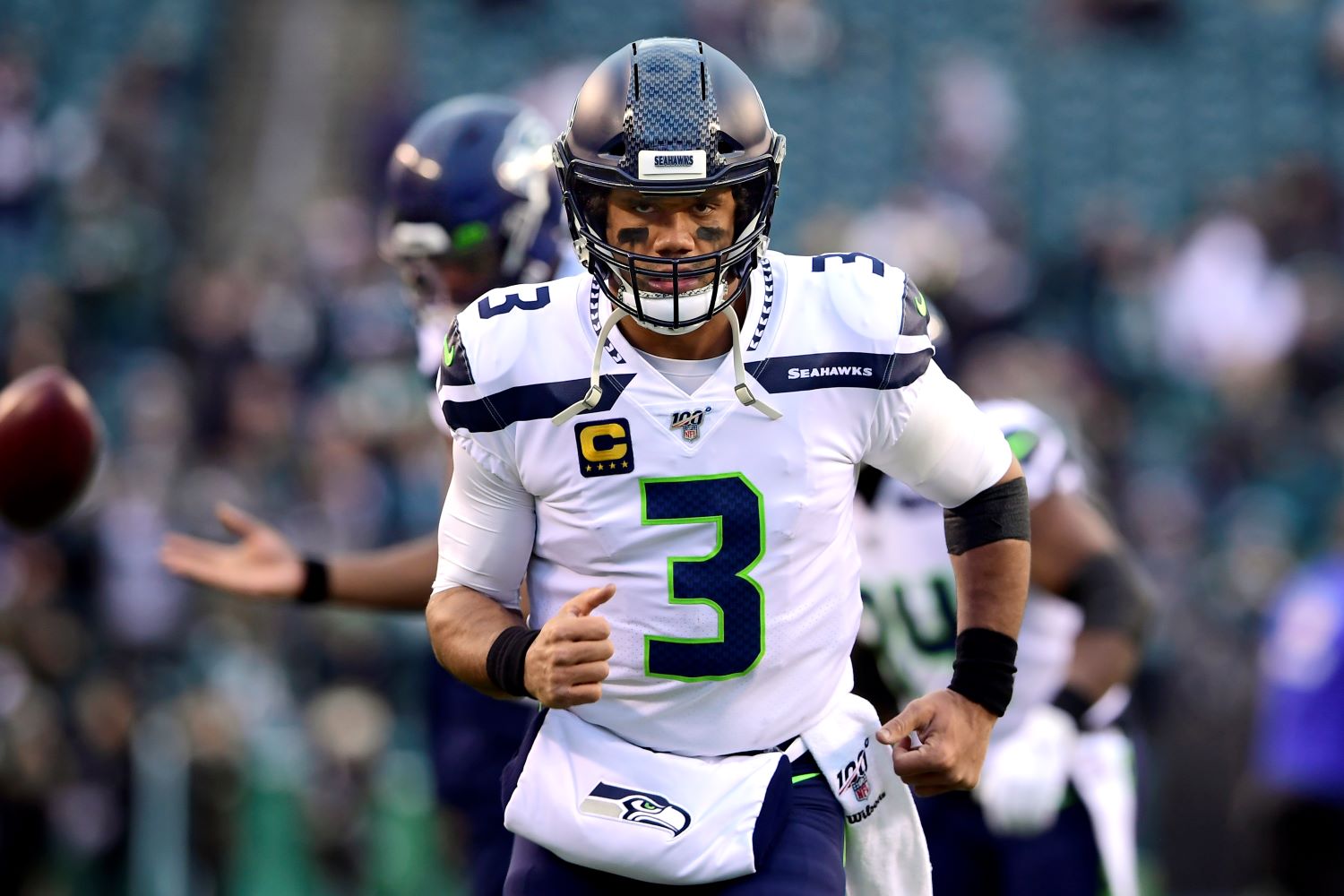 A Potential Hall of Famer is Returning Just in Time to Help Russell Wilson and the Seahawks Steal the No. 1 Seed
Russell Wilson and the Seahawks have a better chance to steal the No. 1 seed in the NFC now that Greg Olsen will be back in the lineup.
Even though the Seattle Seahawks have dealt with injuries on offense, they still rank fifth in scoring. Of course, it helps to have Russell Wilson at quarterback.
In recent weeks, the seven-time Pro Bowler has had to get used to life without Greg Olsen. But with the potential Hall of Famer set to return to the lineup, Wilson will have a key weapon available as the Seahawks try to steal the No. 1 seed in the NFC.
Can Seattle somehow find a way to earn a first-round bye? Or will Pete Carroll's team fall short of swiping away the top spot from the Green Bay Packers?
Greg Olsen suffered a serious foot injury in Week 11
For the last nine seasons, Greg Olsen racked up prolific pass-catching numbers for the Carolina Panthers. However, the three-time Pro Bowler struggled to stay healthy toward the end of his tenure with the team. Olsen played just 16 games between 2017-2018 after never missing a game from 2012-2016.
Released back in February, Olsen didn't wait long to find a new NFL home. Two weeks after he got cut, he signed a one-year, $7 million contract with the Seahawks to join forces with Russell Wilson.
The 6-foot-5, 255-pound tight end caught four passes for 24 yards and a touchdown in his debut. He continued to earn plenty of playing time during the first half of the season before another major injury popped up.
In Week 11, the 35-year-old suffered a ruptured fascia in his left foot. Seattle placed the veteran on injured reserve on Nov. 23.
Given his history of foot problems, Olsen's injury raised legitimate concern about his NFL future. After all, would it really be possible for him to make a full recovery in time for a potential Super Bowl run?
On Saturday, we found out the answer to that question.
The potential Hall of Famer makes a surprising return
The Seahawks have gone 3-1 without Greg Olsen in the lineup. But they have not been nearly as productive on offense since the aging tight end landed on IR.
In their last four games, Russell Wilson and Co. have averaged just under 24 points. In the 10 games that Olsen played, Seattle averaged nearly 32 points.
Luckily for the Seahawks, the potential Hall of Famer won't have to spend another Sunday watching his team on TV.
On Saturday, Pete Carroll announced that Olsen will be activated off IR for Sunday's matchup against the LA Rams.
That represents a big boost for an offense that has shown some inconsistencies over the last month. And given what's at stake in terms of playoff seeding, Olsen's return couldn't have come at a better time.
Can Russell Wilson and the Seahawks steal the No. 1 seed?
With only two weeks remaining, the 10-4 Seahawks can't afford any slip-ups if they hope to steal the No. 1 seed from an 11-3 Packers team riding a four-game winning streak.
The return of Greg Olsen gives Seattle a much better chance of completing that mission. While he certainly doesn't have the same dynamic athleticism that made him a star in Carolina, he boasts a wide catch radius, reliable hands, and underrated route-running ability. Olsen has caught 65.7% of his targets this season—a mark he surpassed just once since 2014.
His presence should give Tyler Lockett more room to operate over the middle. Plus, if safeties have to account for Olsen in the passing game, that will only make DK Metcalf's job easier.
Still, the Seahawks' chances of stealing the No. 1 seed look slim.
The Packers can secure a coveted first-round bye by beating the Tennessee Titans this week and having the Seahawks lose one of their final two games. Even if Green Bay fails to take care of business on Sunday, a win against the Chicago Bears in Week 17 will wrap up the No. 1 seed.
Drew Brees and the New Orleans Saints also stand in the way of Russell Wilson's team securing home-field advantage throughout the playoffs. New Orleans kept its hopes of earning the top spot alive by dropping 52 points on the Minnesota Vikings on Christmas.
Ultimately, it will take a bunch of lucky breaks for Seattle to steal the No. 1 seed. Then again, few expected Greg Olsen to ever play again after he suffered what appeared to be a season-ending (and potentially career-ending) foot injury a month ago.
Maybe the Seahawks will get another lucky break or two after all.
All statistics courtesy of Pro Football Reference.