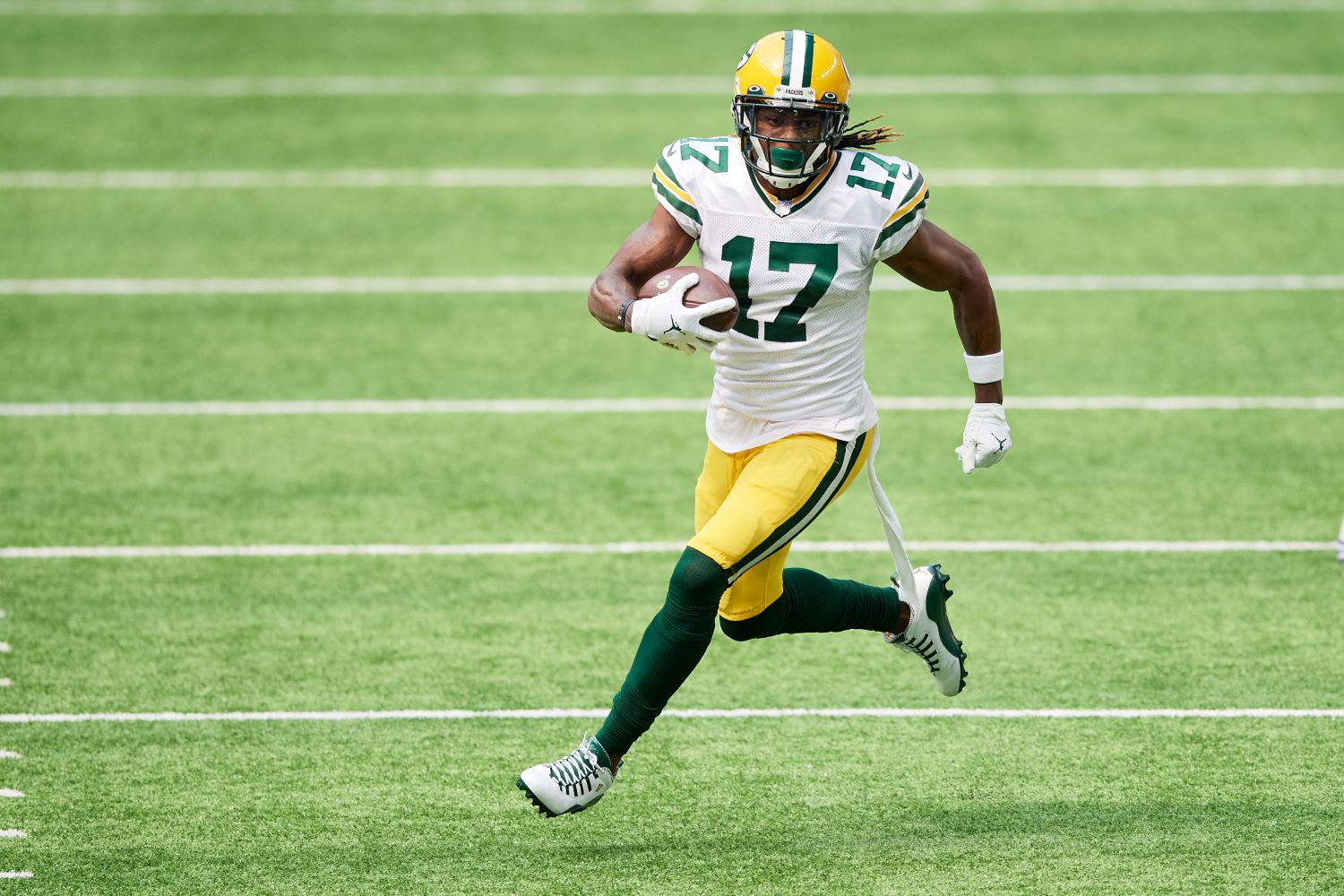 The Packers Need to Make a $100 Million Decision About Davante Adams
With Davante Adams proving he's the best receiver in the NFL, the Green Bay Packers need to decide whether they will pay him accordingly.
It turns out Aaron Rodgers may not need more weapons after all. Because with Davante Adams playing at an unparalleled level, the Green Bay Packers rank second in the NFL in scoring and look like a top Super Bowl contender.
However, Adams' continued dominance will force Green Bay to make a tough financial decision. With their superstar receiver set to hit free agency after the 2021 season, the Packers will have to give Adams a substantial raise if they plan on competing for a title in the final years of Rodgers' prime.
Davante Adams has taken his game to another level in 2020
Although injuries have been a consistent problem for Davante Adams, he has produced at a high level when he has been on the field. The three-time Pro Bowler racked up 35 touchdown receptions from 2016-2018. Last season, Adams totaled 997 receiving yards despite missing four games.
This season, a hamstring injury sidelined the 27-year-old for two games. However, he has been an unstoppable force in the six games he has played. Since returning from his injury, Adams has totaled 36 catches for 483 yards and six touchdowns.
On Thursday night, a depleted San Francisco 49ers defense had no answers for the 6-foot-1, 215-pound wideout. The Packers got on the scoreboard first after Rodgers connected with his favorite target on a 36-yard TD pass. Green Bay's star receiver finished the night with 173 yards on 10 catches.
Overall, Adams leads the NFL with 112.5 receiving yards per game. DeAndre Hopkins ranks second at 100.6.
Meanwhile, despite playing just six games, the Packers WR leads the league with eight touchdown grabs. Adams continues to shine as the clear-cut No. 1 target in Green Bay's offense. But when you compare his production to his contract, you'll quickly realize he's incredibly underpaid.
Green Bay's star receiver is vastly underpaid
After establishing himself as one of the NFL's best young receivers, Davante Adams scored a substantial raise. In December 2017, the Packers signed their star playmaker to a four-year, $58 million contract extension. While his average annual salary of $14.5 million isn't cheap, Adams has definitely outplayed that deal.
In fact, when you compare his current contract to some of the extensions other receivers have signed in recent years, it's abundantly clear that the Packers have an incredible bargain on their hands.
Hopkins leads all wideouts with an AAV of $27.25 million courtesy of a two-year, $54 million extension he signed with the Arizona Cardinals. Julio Jones signed a three-year, $66 million extension with the Atlanta Falcons in September 2019. Meanwhile, Keenan Allen makes $20 million per year, and Michael Thomas makes just over $19 million annually.
Of course, Amari Cooper is at the top of the class when it comes to receiver contracts. Back in March, the Dallas Cowboys signed him to a five-year, $100 million deal that included $60 million guaranteed.
The Packers may have to make a $100 million decision sooner than later
With just one year left on his $58 million contract extension, Davante Adams needs a new deal. Given his production and importance to their offense, the Packers shouldn't hesitate to extend their star receiver.
However, will Green Bay be willing to pay the price?
Based on his first-half production, Adams certainly has a case to call himself the best receiver in football. Despite his $100 million contract, Cooper falls more into the top-10 range.
When it comes time to meet at the negotiating table, Adams' asking price should start with Cooper's contract. He will be 28 years old next season, and given Rodgers' MVP level of play, the Packers should be considered strong Super Bowl contenders for at least the next few years.
In that case, Green Bay should be willing to break the bank to retain Adams' services. He and Rodgers have excellent chemistry, and the Packers lack any capable fallback options at receiver.
Ultimately, they need to finally do right by their franchise quarterback and ensure he has at least one elite weapon with which to work.
After all, using a first-round pick on Jordan Love didn't accomplish that.
All contract data courtesy of Spotrac. All statistics courtesy of Pro Football Reference.