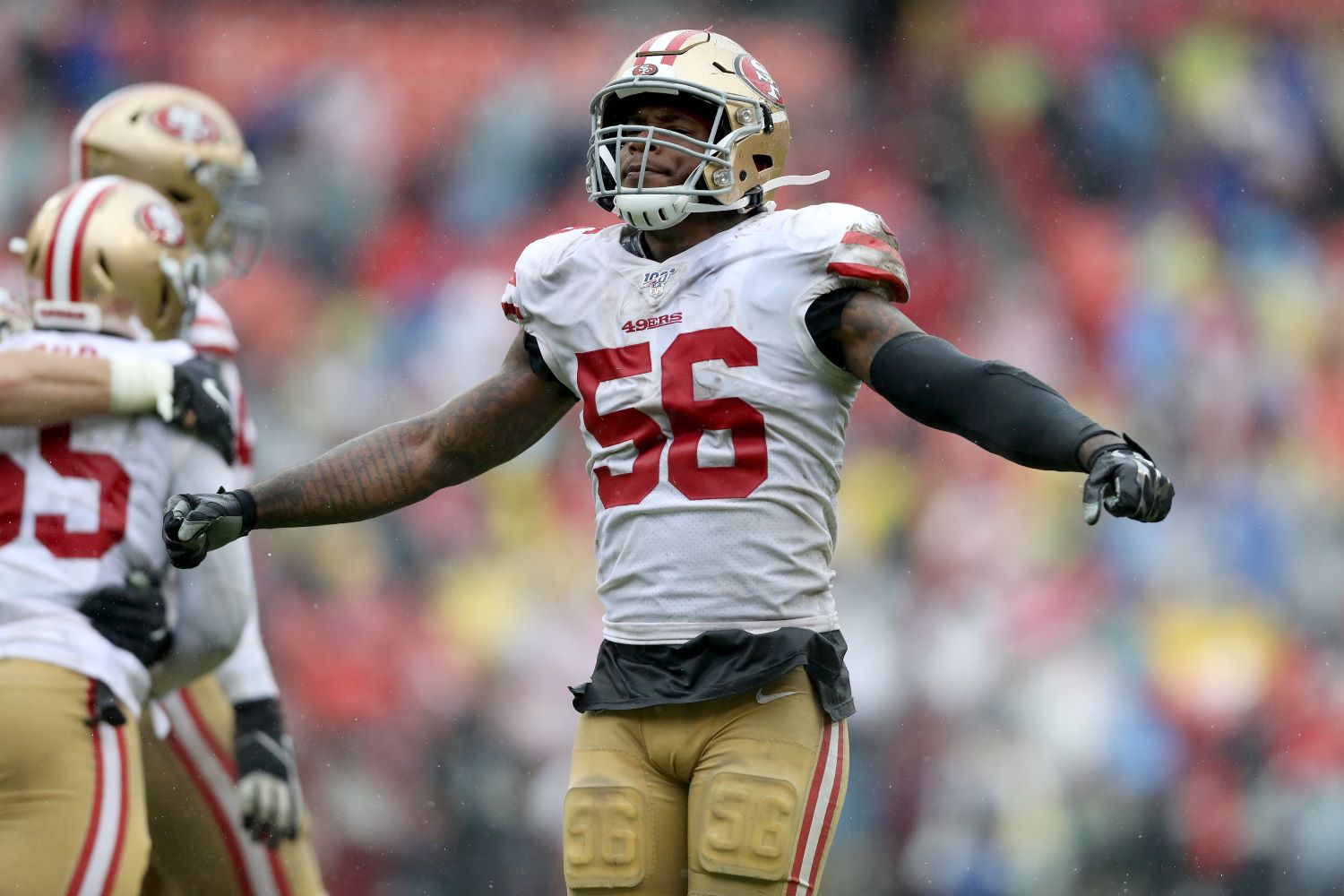 The San Francisco 49ers Just Admitted They Made a $54 Million Mistake
By trading Kwon Alexander just a year after signing him to a $54 million deal, the San Francisco 49ers just admitted they made a huge mistake.
Apparently, the San Francisco 49ers have a case of buyer's remorse. After signing former Tampa Bay Buccaneers linebacker Kwon Alexander to a $54 million free-agent contract last offseason, the team just admitted they made a massive mistake.
But while the 49ers traded away an overpaid linebacker, they have a vastly underpaid one in need of a new deal. Because unlike Alexander, Fred Warner deserves to be paid like a star.
San Francisco signed Kwon Alexander to a huge deal in 2019
Originally a seventh-round pick in the 2015 NFL draft, Kwon Alexander developed into a star with the Buccaneers. The 6-foot-1, 227-pound linebacker started 12 games as a rookie and totaled 93 tackles, three sacks, nine passes defended, two forced fumbles, and two interceptions.
In his second season, Alexander led the NFL with 108 solo tackles. He followed up by earning his first (and only) Pro Bowl selection in 2017.
However, Tampa opted not to re-sign the former LSU star. As one of the top players available in free agency, Alexander did not have to wait long to find his next NFL team.
The 49ers signed him to a four-year, $54 million contract that included $27 million guaranteed. That represented a massive raise for the former late-round pick. Alexander's rookie deal totaled just $2.76 million and included a signing bonus of just $478,322.
On paper, he seemed like a home-run signing by the 49ers. However, Alexander's lucrative free-agent contract has proven to be an expensive mistake.
The 49ers just admitted they made a $54 million mistake
In his first season in San Francisco, a torn pec limited Kwon Alexander to just eight regular-season games. Though he did return for the playoffs, the veteran recorded just three tackles and one pass defended in three postseason contests.
This year, injuries have continued to be a major issue for the veteran linebacker. A high-ankle sprain has kept Alexander sidelined since mid-October. But the next time the 26-year-old takes the field, it won't be as a member of the 49ers.
On Monday, the team admitted it made a massive mistake by bringing an abrupt end to Alexander's career in San Francisco. ESPN's Adam Schefter reported via Twitter that the 49ers traded the one-time Pro Bowler to the New Orleans Saints in exchange for a conditional fifth-rounder and a player. Tom Pelissero of the NFL Network later confirmed that the Saints will send linebacker Kiko Alonso to the 49ers as part of the deal.
Ultimately, San Francisco paid Alexander about $26 million for 13 regular-season games. He totaled just 64 tackles, 1.5 sacks, and one interception during his brief tenure.
At the very least, the 49ers found a way to unload his big-money deal. However, general manager John Lynch deserves criticism for committing such a hefty sum to a player who had played 16 games just once in his first four years in the NFL.
On the bright side, San Francisco has another linebacker on its roster who actually deserves a payday like the one Alexander scored not too long ago.
San Francisco needs to sign Fred Warner to a contract extension
Getting rid of Kwon Alexander should be viewed as a form of "addition by subtraction." The former Buccaneer simply couldn't be counted on to stay on the field. Plus, he missed far too many tackles and failed to make any splash plays in the passing game.
Fortunately for 49ers fans, the team does have a legitimate star linebacker in Fred Warner. A third-round pick in 2018, the former BYU standout has quickly become one of the team's most important players.
As a rookie, the 6-foot-3, 236-pounder racked up 124 tackles and six passes defended while starting all 16 games. Last year, Warner should have earned Pro Bowl honors after stuffing the stat sheet for the NFC champions.
This year, though, the 23-year-old has taken his game to another level. Warner has already racked up 61 tackles, two interceptions, three quarterback hits, and three passes defended through eight games. His consistent play has helped the 49ers hold teams to 21.6 points per game—good for 10th in the league.
San Francisco's breakout star will command a hefty raise sooner than later. Warner only has one year remaining on his four-year, $3.9 million rookie deal. The 49ers would be wise to lock up the playmaking machine as soon as possible. If not, his price tag will only go up as he continues to dominate on Sundays.
Ultimately, the 49ers made a $54 million mistake by signing Kwon Alexander. But it would be an even more egregious mistake to let Fred Warner get away from San Francisco.
All contract data courtesy of Spotrac. All statistics courtesy of Pro Football Reference.