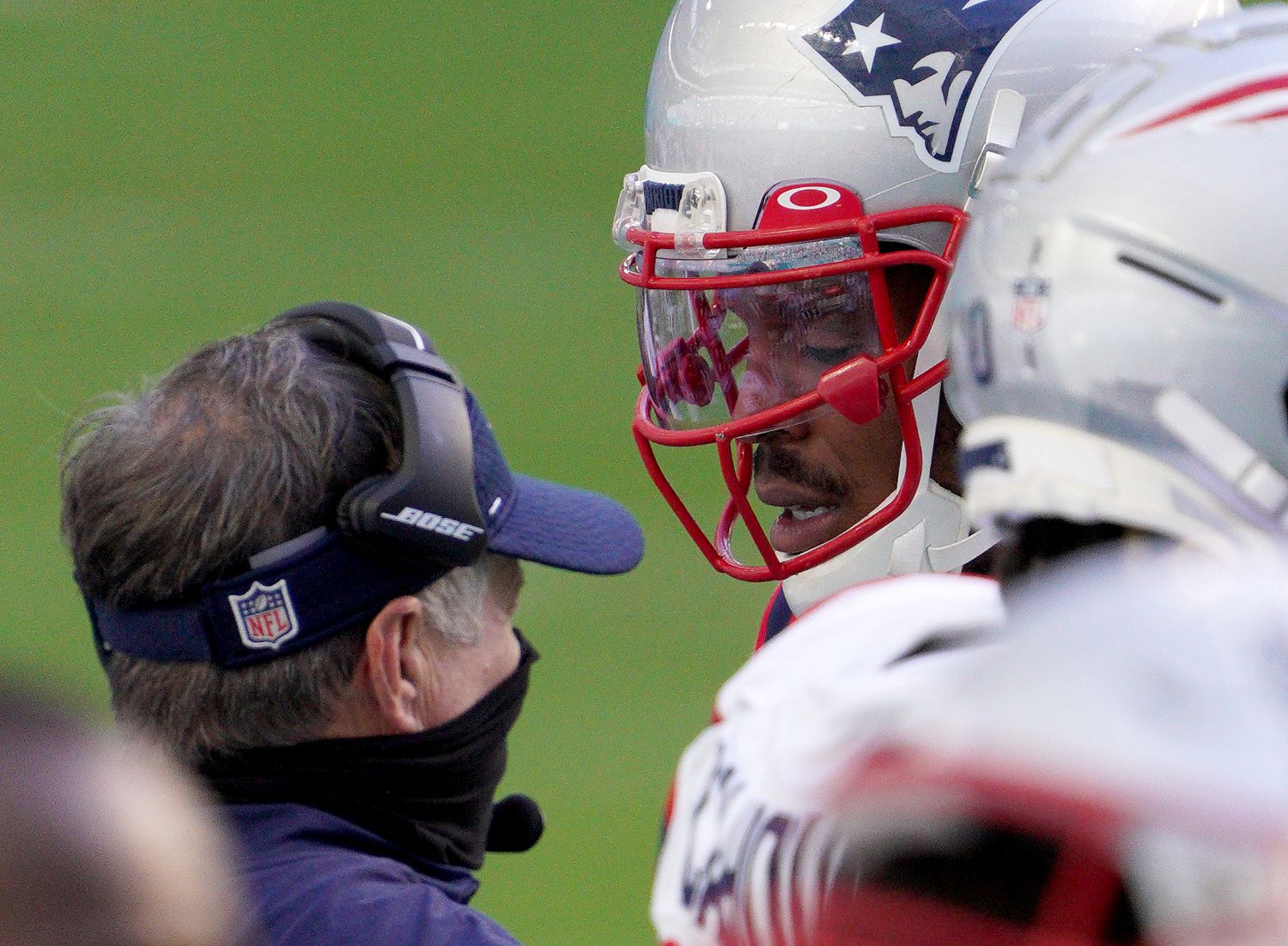 Bill Belichick is About to Hand Cam Newton a $250,000 Gift He Doesn't Deserve
Even though Cam Newton continues to struggle for the Patriots, Bill Belichick is about to give him a $250,000 gift he doesn't deserve.
Bill Belichick got what he paid for when he signed Cam Newton to a bargain-basement contract back in July. During his first and likely only season with the New England Patriots, the former No. 1 pick has fallen well short of expectations…and that's being kind.
Even with Newton struggling to move the offense and put points on the scoreboard, Belichick has refused to send him to the bench in favor of Jarrett Stidham. And by continuing to stick with the disappointing veteran, the typically-frugal head coach is about to hand out a $250,000 gift to a recipient who clearly doesn't deserve it.
The Cam Newton experiment has been a disaster in New England
Cam Newton seemingly landed in the best possible spot to resurrect his NFL career.
But as the 2020 season winds to a close, his stock is at an all-time low.
The 31-year-old quarterback has sprinkled in a few decent performances in 13 starts. However, his erratic play over the last month significantly factored into the Patriots getting eliminated from postseason contention.
Coming off an impressive performance (by his standards) in a close loss to the Houston Texans in Week 11, Newton threw for just 84 yards in a narrow victory against the Arizona Cardinals. He followed up by throwing for only 69 yards in a 45-0 shutdown win against the LA Chargers.
On Thursday Night Football, he completely fell apart against the LA Rams. The former league MVP looked thoroughly overmatched against a fast, physical defense that recorded four sacks and a pick-six in a loss that exposed New England's severe lack of overall talent.
With the Patriots' playoff hopes dangling by a thread, Newton once again delivered a dud of a performance in a 22-12 loss to the Miami Dolphins in Week 15. Brian Flores turned up the heat against his former team, which led to three sacks and just 209 passing yards from Newton.
The Patriots will miss the postseason for the first time since 2008 due largely to an anemic offense led by a quarterback who struggles to execute the basics of the position.
Newton is slated to start his 14th game with the Patriots
With essentially nothing left to play for, Bill Belichick could easily make the switch from Cam Newton to Jarrett Stidham this week.
Yet, that won't be the case.
On Saturday, ESPN's Jeremy Fowler reported via Twitter that Newton is expected to start against the Buffalo Bills on Monday Night Football. Barring a late change, the 31-year-old QB will start his 14th game in a Patriots uniform.
Considering Newton will be a free agent after the season, it seems strange that Belichick refuses to give Stidham an opportunity to prove he belongs in New England. After all, the second-year QB has attempted just 37 passes since he arrived as a fourth-round pick in 2019.
The fact Belichick continues to stick with Newton might say everything we need to know about Stidham's future in Foxborough. On the other hand, remaining firm on his commitment to the former Carolina Panthers star also has major financial implications.
Bill Belichick is about to give the disappointing QB a $250,000 gift he doesn't deserve
Missing the playoffs cost Cam Newton a sizable chunk of change.
But thanks to Bill Belichick, he's about to get a $250,000 gift he doesn't deserve.
Newton has playing-time incentives tied into his contract. If he plays 70% of the team's offensive snaps, he will collect $1.75 million. Playing at least 80% bumps that number up to a cool $2 million.
Since he missed one game due to COVID-19, Newton isn't anywhere near the 100% mark. Still, because Belichick has stuck by him, he has played 778 out of a possible 896 offensive snaps. At 86.6%, that puts Newton in a position to cash in on an even bigger bonus.
If he hits 90%, he will earn another $250,000 to bring his total playing-time incentive to $2.25 million.
Newton would need to play 100% of the snaps over the final two weeks to have a chance to crack that mark. The Patriots have averaged 64 offensive snaps per game, which puts them slightly behind pace to have enough snaps for Newton to hit the 90% threshold. Then again, New England faces a hopeless New York Jets team to close the season, which could give the offense a chance to run up the play count.
Ultimately, the fact Newton is even in a position to make an extra $250,000 over the next two weeks is absurd. For a coach who preaches about doing what's best for the team, starting the same quarterback who continues to fail to deliver makes little sense.
But thankfully for Newton and his bank account, Belichick is about to hand him a $250,000 gift he doesn't deserve.
And considering he made things right with Lawrence Guy in 2017 when he finished 0.2% away from meeting his own playing-time incentive, it might not even matter if he actually gets to 90% anyways.
All statistics courtesy of Pro Football Reference.