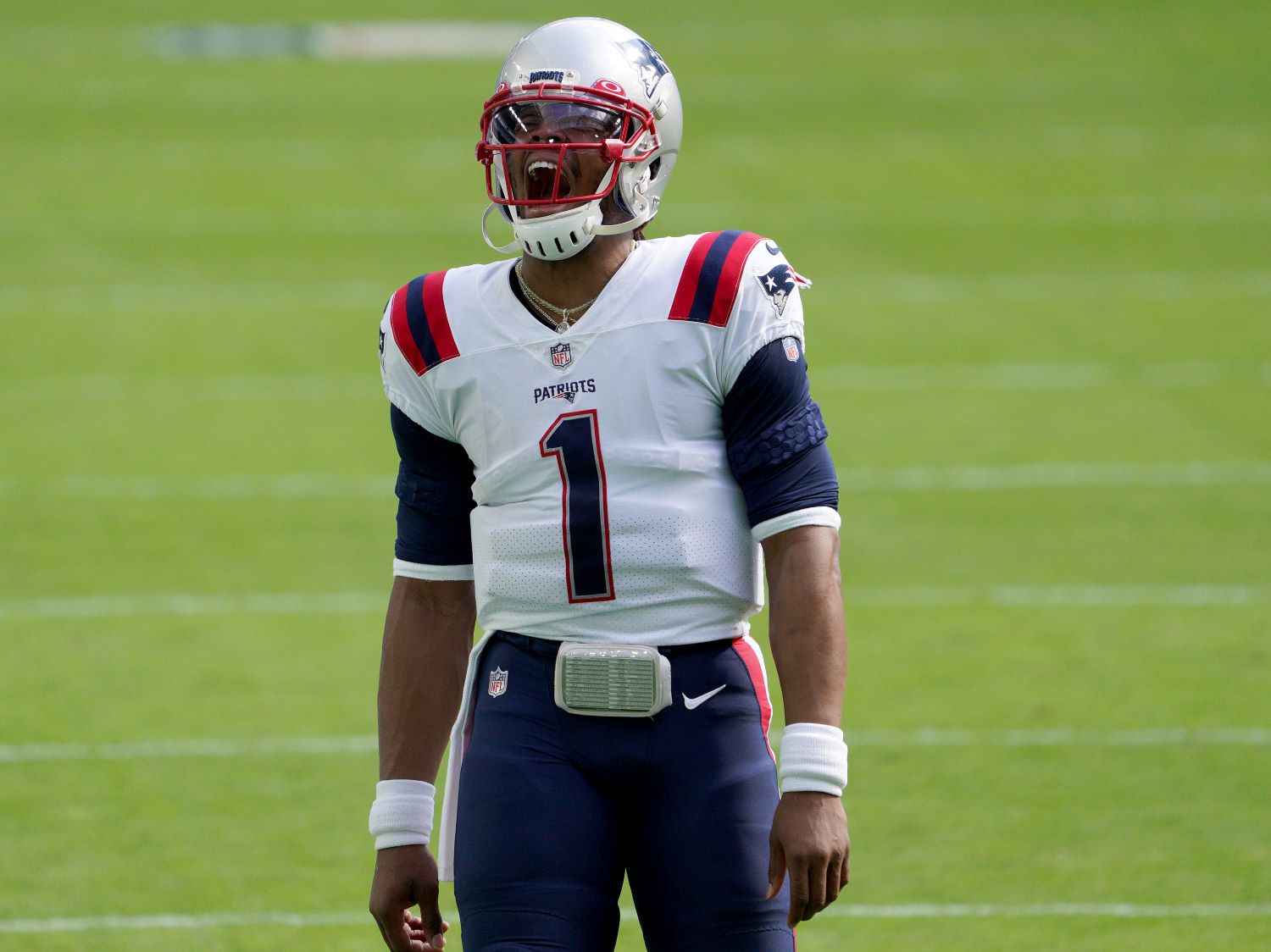 Cam Newton Gets Brutally Honest About Retirement: 'I Definitely Can't Go Out Like This'
Cam Newton has failed to revive his career with the Patriots. On Monday, the 31-year-old sent a stern message about retiring from the NFL.
When the New England Patriots signed Cam Newton to a one-year deal over the summer, it gave the former Carolina Panthers star a chance to silence his biggest critics. After all, joining forces with Bill Belichick theoretically put Newton in a position to not only rehab his value but also win a Super Bowl ring.
But with the regular season winding to a close, it's clear that Belichick's gamble didn't pay off. With the Patriots eliminated from playoff contention, the focus has shifted toward Newton's future not just in New England but the NFL entirely.
On Monday, he got brutally honest about the topic of retirement. But whether Newton wants to play or not, Belichick needs to admit he made a mistake and move in a different direction this spring.
The days of Superman are over
After becoming the No. 1 overall pick in the 2011 NFL draft, Cam Newton wasted no time showcasing the dynamic skillset that helped him win a Heisman Trophy in his only season at Auburn.
As a rookie, the 6-foot-5, 245-pound signal-caller threw for 4,051 yards and 21 touchdowns. He ran for 706 yards and punched in 14 touchdowns while earning Pro Bowl honors.
That set the stage for even more success. Newton earned his second trip to the Pro Bowl in 2013 after leading the Panthers to a 12-4 record. Two years later, Superman officially arrived.
In 2015, Newton took home the NFL MVP award after throwing a career-high 35 touchdown passes. Carolina only lost one game during the regular season. However, the Panthers lost to the Denver Broncos in Super Bowl 50 by a final score of 24-10.
But ever since that impressive season, Newton has struggled to reach that level of success again. Persistent injury woes made everyone realize that Superman was indeed human.
Although the 10th-year pro has managed to mostly stay healthy in New England, he has failed to live up to expectations. In 13 games, Newton has thrown for just 2,381 yards, five touchdowns, and 10 interceptions. Defenses no longer fear his running ability, and he has made plenty of poor decisions in his first (and perhaps only) year playing for Bill Belichick.
Cam Newton gets brutally honest about his NFL future
By losing to the Miami Dolphins on Sunday, the Patriots officially got eliminated from playoff contention. And with the regular season winding to a close, Cam Newton's tenure as the team's starting quarterback might end soon, too.
However, that doesn't mean he's ready to call it quits on playing professional football.
In fact, he sent a brutally honest message on Monday about retiring from the NFL and his future career plans.
"I still have a lot of football left. I still want to play football. I have the urge to be better" Newton said during his weekly interview on The Greg Hill Show on WEEI. "After putting out this film? Hey, c'mon now. I can't go out like this. I definitely can't go out like this."
Clearly, the 31-year-old doesn't plan on retiring in the near future. And considering the number of quarterbacks who continue to play well at an advanced age, including the legend he just replaced in New England, perhaps Newton does have "a lot of football left."
After all, it's not fair to judge his 2020 performance without mentioning his lackluster supporting cast. The Patriots simply don't have starting-caliber players at wide receiver and tight end, which left Newton with few trusted pass-catching options.
Still, his inability to read defenses, combined with his poor decision making and pocket awareness, made for an ugly 2020 season. But even if the former No. 1 pick wants to keep playing, he and the Patriots need to cut ties this offseason.
The Patriots and Newton need to move on from each other
Bill Belichick tried to steal a starting quarterback for cheap this summer when he signed Cam Newton to an incentive-laden contract. However, it's clear that the experiment failed.
Facing the most important offseason in franchise history, Belichick needs to let his blinders down and accept the cold, hard truth about Newton. Even after remaining committed to him all season, Belichick can't afford to let that happen again.
Instead, he should let Newton walk in free agency and focus his efforts on finding a legitimate franchise quarterback.
New England will have a boatload of cap space to work with, especially if the salary cap drops to the $175 million floor. That will give Belichick the financial flexibility to address his team's most critical need.
Of course, he could also go back to his draft-and-develop model to find a real successor to Tom Brady.
As for Newton?
Based on his 2020 tape, it seems unfathomable that another NFL team views him as a starting-caliber player.
Then again, all it takes is an opportunity.
Bill Belichick gave it to him this year, but Cam Newton may not be so lucky this time around.
All statistics courtesy of Pro Football Reference.