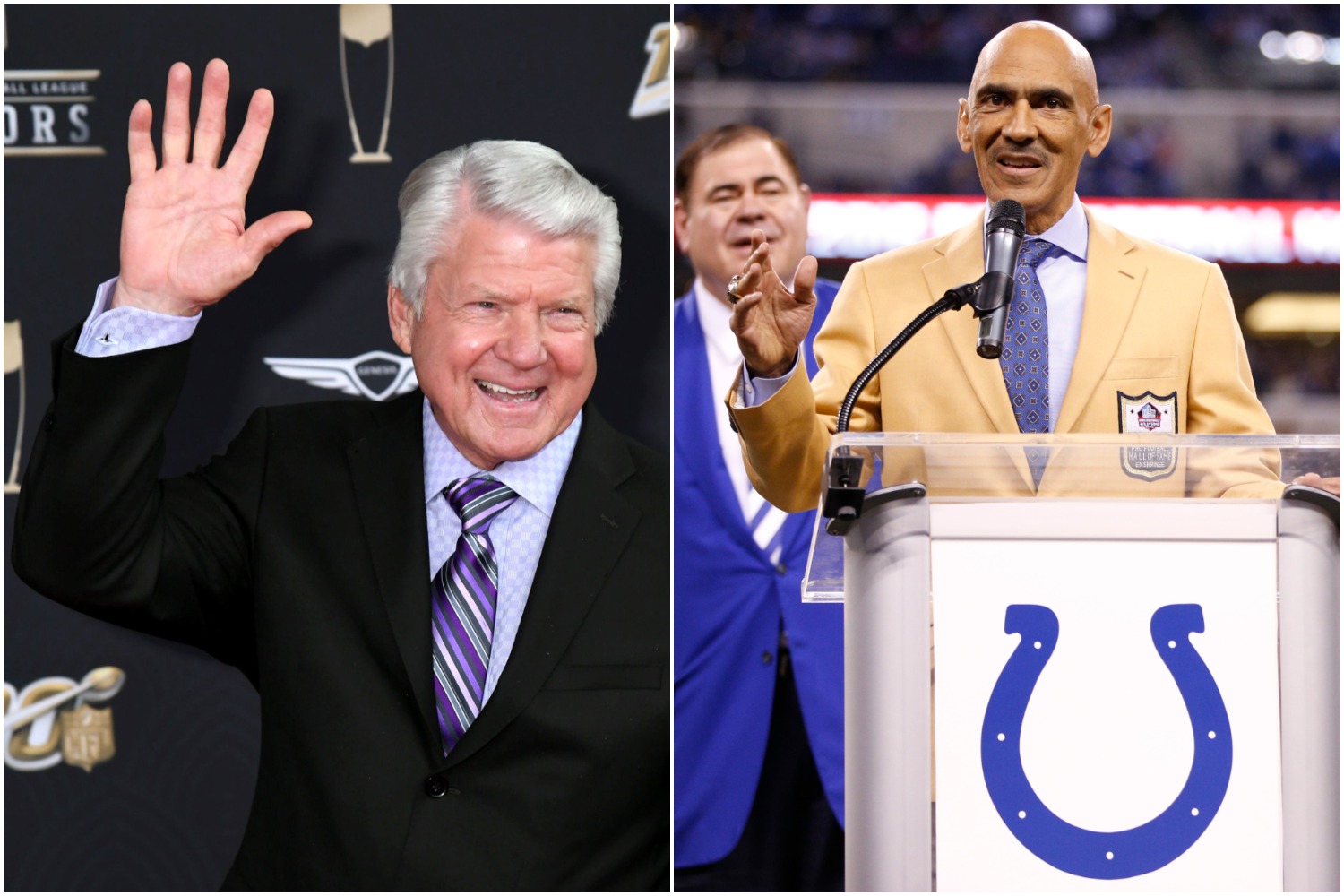 Jimmy Johnson and Tony Dungy Are Playing a Major Role in the Future of the Houston Texans
Jimmy Johnson and Tony Dungy are no strangers to NFL success. The coaching icons are now playing a major role in the future of the Texans.
With Bill O'Brien finally out of the picture, the Houston Texans must find a new general manager and a new head coach. Chairman and CEO Cal McNair certainly can't afford to make the wrong hire at either position, especially with Deshaun Watson in his prime.
And as it turns out, Jimmy Johnson and Tony Dungy will play a major role in determining the future of the Texans.
Jimmy Johnson built a Hall of Fame resume with the Cowboys
When it comes to football coaches, few can match Jimmy Johnson's resume. After working his way up the ranks, he landed the head coaching gig at Oklahoma State. However, Johnson became a household name during his time at the University of Miami.
In five years with the Hurricanes, the Texas native posted a 52-9 record. Johnson led Miami to a national title in 1987, as his team defeated Oklahoma by a final score of 20-14.
After the Hurricanes went 11-1 in 1988, Johnson took his talents to the NFL. Although his first year with the Dallas Cowboys ended with a 1-15 record, Johnson quickly turned the team around.
Following a 7-9 campaign, the Cowboys went 11-5 in Johnson's third year at the helm. In 1992, Dallas finally put it all together and captured its first Super Bowl title since 1997. Johnson's team made it back-to-back championships by defeating the Buffalo Bills by 17 points in Super Bowl 28.
Unfortunately for Cowboys fans, Jerry Jones and Johnson decided to part ways. The legendary coach finished his career with the Miami Dolphins before making the transition to television.
In January, Johnson got elected to the Pro Football Hall of Fame as a member of the Class of 2020.
Tony Dungy turned the Indianapolis Colts into Super Bowl champions
Like Jimmy Johnson, Tony Dungy can call himself a Pro Football Hall of Famer. Though he didn't achieve quite the same level of success from a championship standpoint, the former NFL defensive back beat Johnson in terms of longevity and consistency.
Dungy first made a name for himself as the head coach of the Tampa Bay Buccaneers. In six seasons with the team, he compiled a record of 54-42. Tampa became known for its fast, physical defense headlined by superstars like Warren Sapp, Derrick Brooks, John Lynch, and Ronde Barber.
However, Dungy couldn't quite get the team over the hump. And while the Bucs did win a Super Bowl title with Jon Gruden as their head coach, they never came close to replicating the consistent success they had with Dungy.
Still, he got the opportunity of a lifetime to work with Peyton Manning. The Indianapolis Colts went from being an NFL laughingstock to an annual Super Bowl contender. The Colts posted a ridiculous 85-27 record during Dungy's tenure.
And in 2006, he became the first Black head coach in NFL history to win a Super Bowl title.
The two NFL coaching icons are playing a major role in the future of the Houston Texans
Jimmy Johnson and Tony Dungy traded in their coaching gigs for television ones. While both have achieved plenty of success in that realm, they aren't fully done with football yet.
In fact, the two NFL icons are now playing a major role in the future of the Houston Texans.
According to Mark Berman of Fox 26 Houston, Cal McNair has assembled an ad-hoc committee of consultants to help Houston find its next general manager and head coach.
So who's part of the group?
Johnson and Dungy will work alongside former Texans star Andre Johnson, San Antonio Spurs CEO RC Buford, and former NFL executive Rod Graves to make recommendations to the Texans search committee. That group consists of McNair, team president Jamey Rootes, and Jed Hughes, a vice chairman for the search firm Korn Ferry.
McNair couldn't contain his excitement about the committee he has assembled.
"These guys are all so experienced and had a lot of success in the various areas they've been working," McNair said. "They all want to help and make the Texans the best we can be and it's really quite a testament that they want to do that."
He further added, "It's a relentless search for greatness is what we're after, and these guys have gotten there and we'll use some of their intuition and intelligence to help us get there as well. This search is going to be really, really exciting."
Like Sportscasting on Facebook. Follow us on Twitter @sportscasting19.