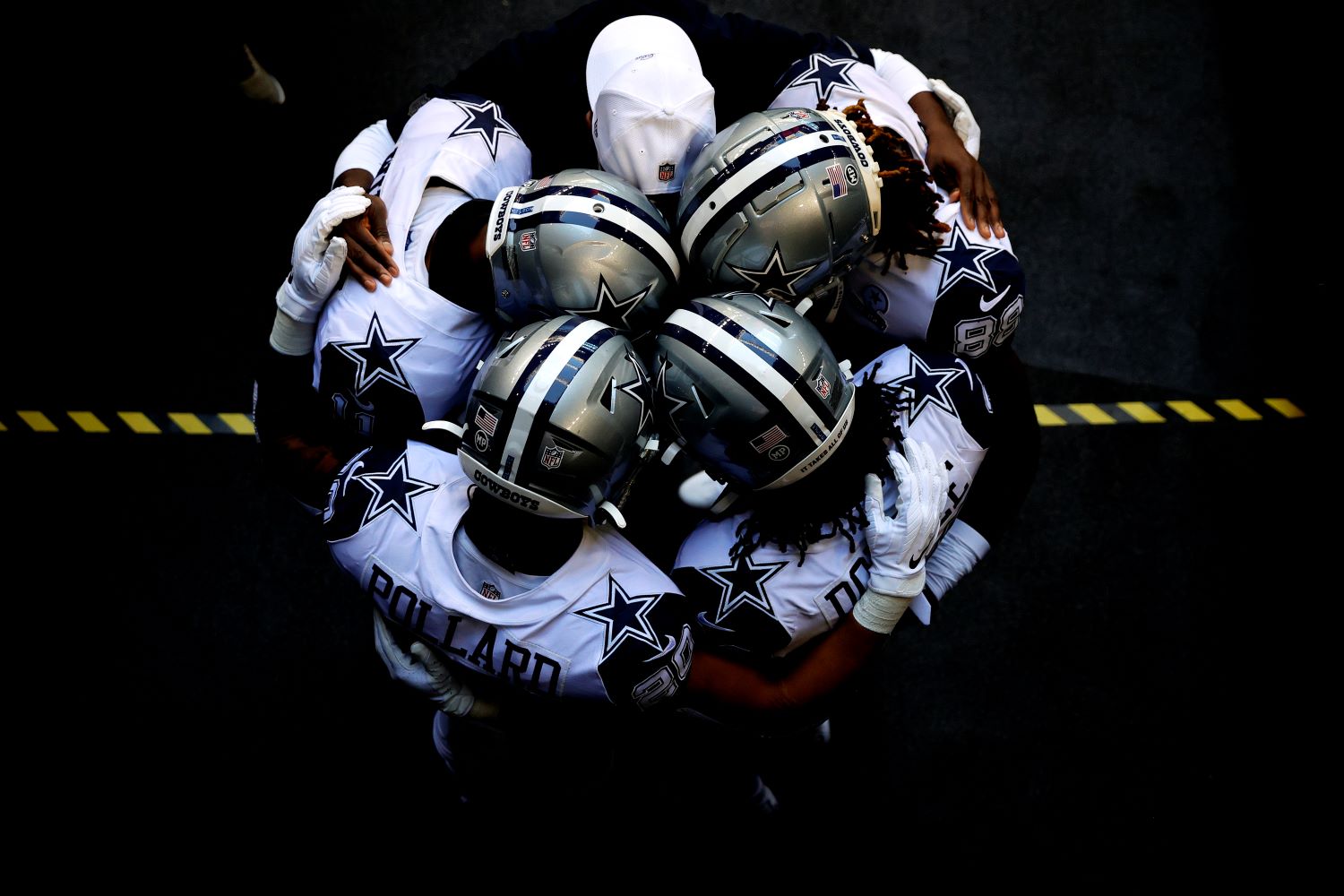 The Tragic Death of Coach Markus Paul Weighs Heavily on the Dallas Cowboys
Dallas Cowboys players spoke about the life and contributions of strength and conditioning coach Markus Paul, who died on Wednesday.
The Dallas Cowboys suffered a tragic loss the day before they took on the Washington Football Team when strength and conditioning coach Markus Paul died unexpectedly.
Following the team's eighth loss of the season, Cowboys players took the opportunity to speak about the impact he made before he passed away. And based on their comments, it's clear that the former NFL receiver touched many lives before his ended on Wednesday.
Markus Paul worked in the NFL for over 30 years
Markus Paul spent over half his life working in the NFL. After a standout career at Syracuse University, he got selected 95th overall in the 1989 NFL draft. He went on to play 70 games for the Chicago Bears before finishing his career as a member of the Tampa Bay Buccaneers.
Five years after playing his final NFL snap, Paul began working as an assistant strength and conditioning coach for the New Orleans Saints. He worked in the same role with the New England Patriots, where he won three Super Bowl rings.
After working for the New York Jets for two years, Paul moved on to a different franchise. However, he didn't have to change his work address.
The former wideout spent 11 seasons with the New York Giants as an assistant strength and conditioning coach. He added two more rings to his collection when Tom Coughlin and Eli Manning defeated Bill Belichick and Tom Brady in 2007 and 2011.
Paul then took his talents to Dallas in 2018. According to the team's official website, Mike McCarthy promoted him to strength and conditioning coordinator when he came on board earlier this year.
Dallas suffered a devastating loss on Wednesday
On Tuesday, the Cowboys announced that Markus Paul had to get rushed to a local hospital after experiencing a medical emergency.
"The organization extends its prayers and support to the Paul family, and asks for friends and followers of Markus, his family and the team to keep them in their thoughts and prayers," the team said in a statement.
However, a day later, tragedy struck in Dallas.
On Wednesday, the team announced that Paul died. According to ESPN, the longtime NFL strength and conditioning coach passed away at Plano Presbyterian Hospital surrounded by his family.
Cowboys owner Jerry Jones released a statement that showcased just how much of an impact Paul made before his unexpected death.
"The loss of a family member is a tragedy, and Markus Paul was a loved and valued member of our family. He was a pleasant and calming influence in our strength room and throughout The Star," Jones said in his statement. "His passion for his work and his enthusiasm for life earned him great respect and admiration from all our players and the entire organization. We offer our love and support to his family in this very difficult time."
Cowboys players react to the tragic death of their strength and conditioning coach
A day after losing their strength and conditioning coach, Cowboys players and coaches suffered a loss on the field. On Thanksgiving, Washington defeated Dallas by a final score of 41-16 at AT&T Stadium.
Mike McCarthy's team certainly has major issues to correct, but the attention shifted away from football after the game. Naturally, the tragic death of Markus Paul was on the mind of many Cowboys players.
Star linebacker Jaylon Smith discussed how he and his teammates worked through their emotions after learning about the loss of the beloved strength and conditioning coach.
"Just to get the opportunity to celebrate his life, his impact, everything he instilled in each individual that he touched," Smith said. "Five-time Super Bowl champ, successful player, coach, and strength coach. Just a great mentor and a servant leader. I learned a lot from him in his time here, and a lot of people got to share their stories on how he touched the individual."
In his post-game press conference, quarterback Andy Dalton—who joined the team back in May—also offered some powerful words about Paul's impact.
"The way he was as a man, the way he lived his life, I think that's what made him so special as a person," Dalton said. "You feel for the team, you feel for his family. You feel for everybody involved. Our prayers are out for everybody and especially his family during this time."
Like Sportscasting on Facebook. Follow us on Twitter @sportscasting19.