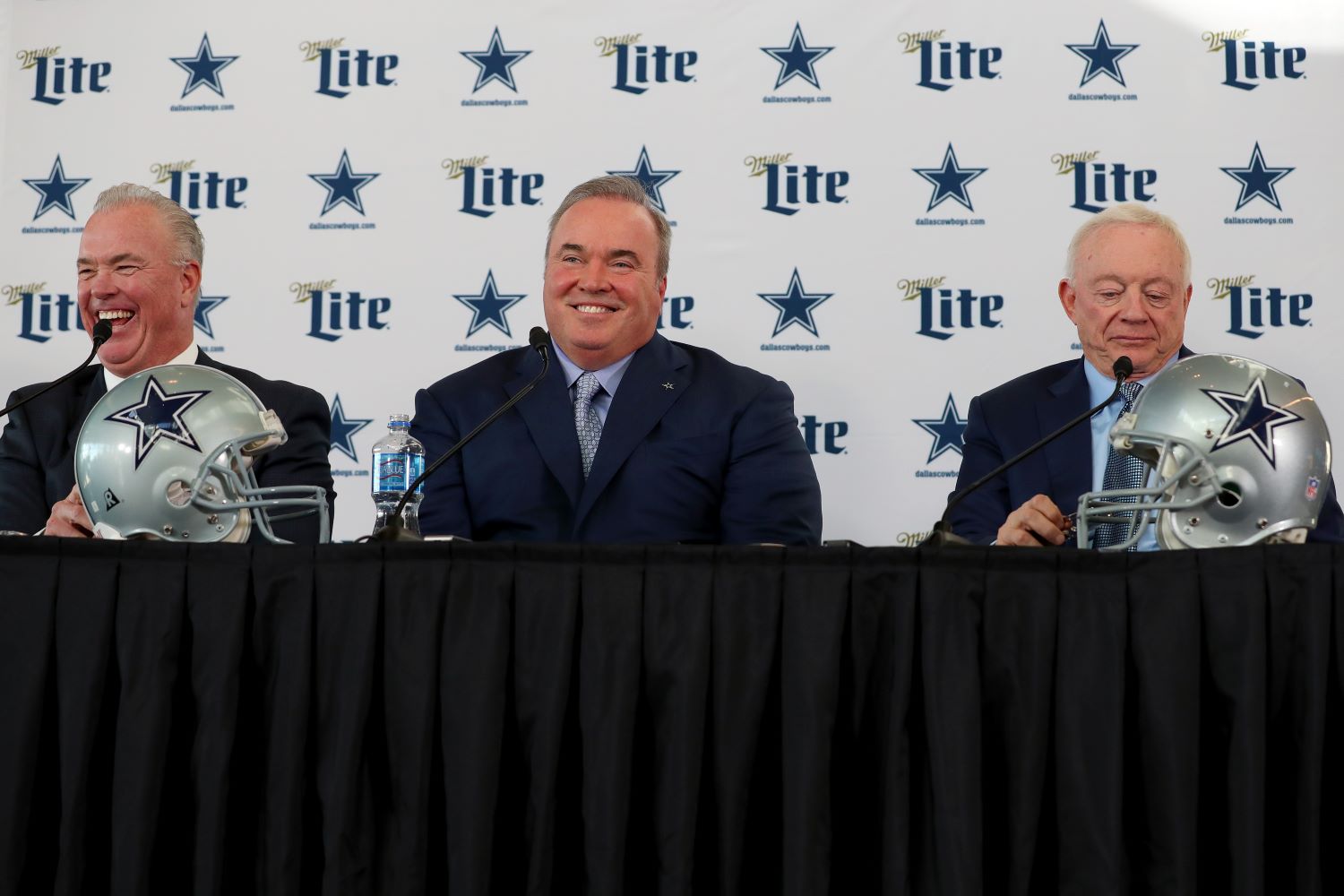 The Dallas Cowboys Have Already Determined Mike McCarthy's Fate
The Dallas Cowboys may have already determined Mike McCarthy's fate, but will Jerry Jones change his mind by the end of the season?
When Jerry Jones hired Mike McCarthy to be the next head coach of the Dallas Cowboys, it represented a new beginning for America's Team. After all, Cowboys fans endured years of disappointment during the Jason Garrett era.
However, McCarthy's first year at the helm has only brought more underwhelming results. Somehow, though, a 2-7 start has done nothing to jeopardize his job security. Because based on Stephen Jones' comments, the Cowboys have already determined McCarthy's fate.
Dallas has struggled mightily under Mike McCarthy
Before the 2020 season began, the Cowboys looked like a top Super Bowl contender. Yet, injuries have decimated a Dallas team eager to earn a playoff berth for just the fourth time since 2010.
From losing Tyron Smith and La'el Collins for the year to watching Dak Prescott snap his ankle, the Cowboys have suffered a number of critical blows to their roster. As a result, Mike McCarthy's team has been undermanned and fallen well short of expectations.
On defense, Dallas has been an absolute disaster. Although the Cowboys held the Pittsburgh Steelers to just 24 points, they still surrendered a season-high 309 passing yards in their seventh loss of the season. They have allowed a league-high 32.2 points per game through nine weeks.
On the other side of the ball, Dallas did rack up 364 total yards against Pittsburgh. Yet, Garrett Gilbert and Co. only managed to put up 19 points. Overall, the Cowboys have scored a total of 41 points in their last four games. Needless to say, it's been a horrific first half of the season for McCarthy and his staff.
The Cowboys have already determined McCarthy's fate
Hiring Mike McCarthy seemed like a solid move at the time. But given the Cowboys' struggles on both sides of the ball, it's fair to question whether Dallas made a mistake.
However, even with seven games to go, the Cowboys have already determined his fate.
While speaking to the media on Monday, executive vice president Stephen Jones touched upon McCarthy's job security. When asked whether McCarthy would be safe no matter how the rest of the 2020 season goes, Jones delivered a succinct answer that left no room for interpretation.
"Absolutely. Unequivocal," Jones said.
That vote of confidence seems odd given how poorly the Cowboys have played under McCarthy. And if Dallas continues to falter down the stretch, that could force Jerry Jones and his son to think long and hard about making a head-coaching change for the second straight year.
Will Jerry Jones change his mind by the end of the season?
Thanks to playing in the NFC East, the Cowboys aren't completely out of the playoff hunt just yet. Still, it seems unlikely that Mike McCarthy's team will experience a second-half turnaround.
If Dallas finishes the year with 11 or 12 losses, will Jerry Jones still stand by his head coach? Or will he bring a swift end to the McCarthy era?
That will be a major storyline to follow as the season progresses. After the Cowboys return from their Week 10 bye, they will face:
Week 11 – at Minnesota
Week 12 – vs. Washington
Week 13 – at Baltimore
Week 14 – at Cincinnati
Week 15 – vs. San Francisco
Week 16 – vs. Philadelphia
Week 17 – at New York Giants
While most of those teams will not make the playoffs, Dallas already lost to both Washington and Philadelphia. San Francisco, Baltimore, and Cincinnati all feature high-powered offenses that should have no trouble shredding the league's worst defense. Plus, Vikings RB Dalvin Cook should feast against a unit that has surrendered 157 rushing yards per game.
If the Cowboys continue to pile up losses, perhaps Jones will reconsider his stance on McCarthy's job. Given his age, the outspoken owner does not have time on his side.
And if he wants to bring the Lombardi Trophy back to Dallas, he may just have to change course and find a new head coach…again.
All statistics courtesy of Pro Football Reference.