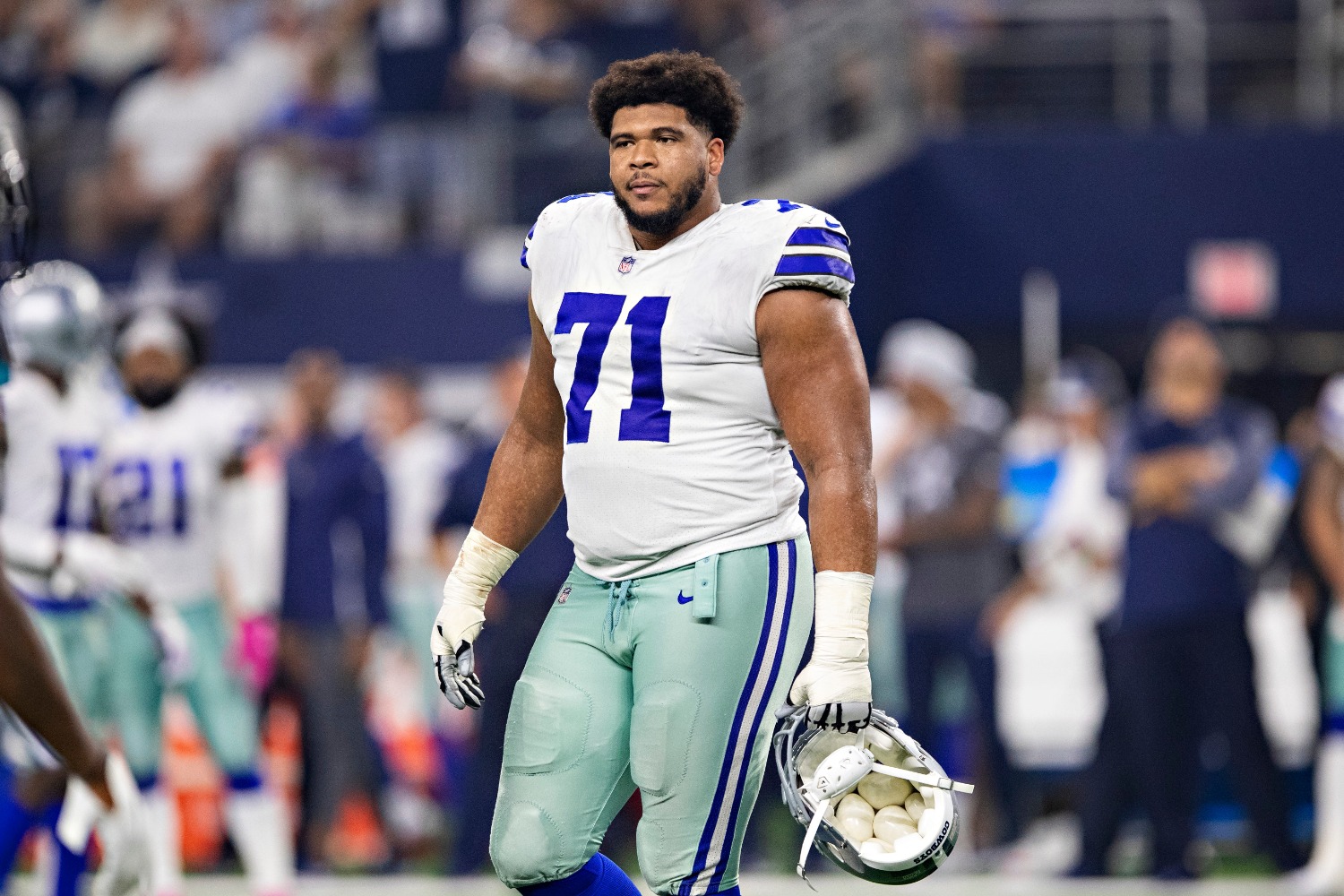 The Dallas Cowboys Just Lost Their $50 Million Star
The Dallas Cowboys just lost their $50 million star right tackle. Will Jerry Jones look to free agency or a trade to replace La'el Collins?
The 2020 NFL season continues to be a painful one for the Dallas Cowboys. Jerry Jones' team has suffered a number of brutal injuries through three weeks of the regular season. On Saturday, La'el Collins' season officially ended before it ever began. With their star right tackle in need of hip surgery, the Cowboys will have to find a permanent solution in order to keep Dak Prescott upright.
La'el Collins hasn't suited up all season
Since joining the Cowboys in 2015, La'el Collins has developed into one of the NFL's top right tackles. The 6-foot-4, 323-pound former LSU star has locked down a starting spot since 2017. Collins and six-time Pro Bowler Zack Martin form a dominant duo on the right side of the offensive line.
Last September, the Cowboys rewarded their star right lineman with a $50 million contract extension that included $35 million guaranteed. However, after missing just one game over the last three years, Collins hasn't played a single snap in 2020.
A hip ailment landed the 27-year-old on injured reserve to start the season. To make matters worse, starting left tackle Tyron Smith has missed time with a neck injury. Needless to say, it's been a tough start to the season for the Cowboys' towering tackle tandem.
Cowboys lose their $50 million star for the year
Set to take on the Cleveland Browns on Sunday afternoon, Cowboys fans got bad news about their $50 million right tackle on Saturday night. Jane Slater of the NFL Network reported via Twitter that La'el Collins will undergo surgery on Wednesday to fix his ailing hip.
Slater reported that the pain "became intolerable" despite Collins wanting to play through it. Instead, he will go under the knife and will not play a down this season.
For the Cowboys, playing without Collins isn't anything new. After all, they've had to survive without him for the first three weeks of the season. However, now that the team knows Collins won't play this year, it puts the pressure on an undrafted rookie to raise his game before he gets replaced.
Who will be the Cowboys' permanent starter at right tackle?
With La'el Collins sidelined for the season, the Cowboys need to find a permanent starting right tackle. To this point, the team has relied on undrafted free agent Terence Steele. However, the 23-year-old rookie has shown some struggles. According to Pro Football Focus, Steele ranks 68th among 71 eligible offensive tackles with a grade of 50.1. He has committed three penalties and allowed one sack on 195 offensive snaps, according to their system.
Steele certainly deserves credit for making the leap from being an undrafted free agent to a starter. However, the Cowboys may elect to go with a veteran at right tackle in order to protect Prescott.
In that case, expect Dallas to promote Jordan Mills quickly. The Cowboys just signed the 29-year-old to their practice squad a few days ago. Tipping the scales at 6-foot-5, 316 pounds, Mills brings a wealth of experience to the table. A fifth-round pick in 2013, the former Louisiana Tech standout has started 84 games, including 48 straight from 2016-2018.
Given his experience, it would make sense for the Cowboys to at least promote the veteran offensive lineman to the active roster, if not insert him as their new starting right tackle.
In that case, assuming Tyron Smith can return to action, Steele could serve as the team's swing tackle. That would allow the rookie to continue working on his technique and get further acclimated to the NFL.
But will Mike McCarthy make that change at right tackle? That remains to be seen.
For now, the only certainty is that La'el Collins' season is over before it ever began.
All statistics courtesy of Pro Football Reference.