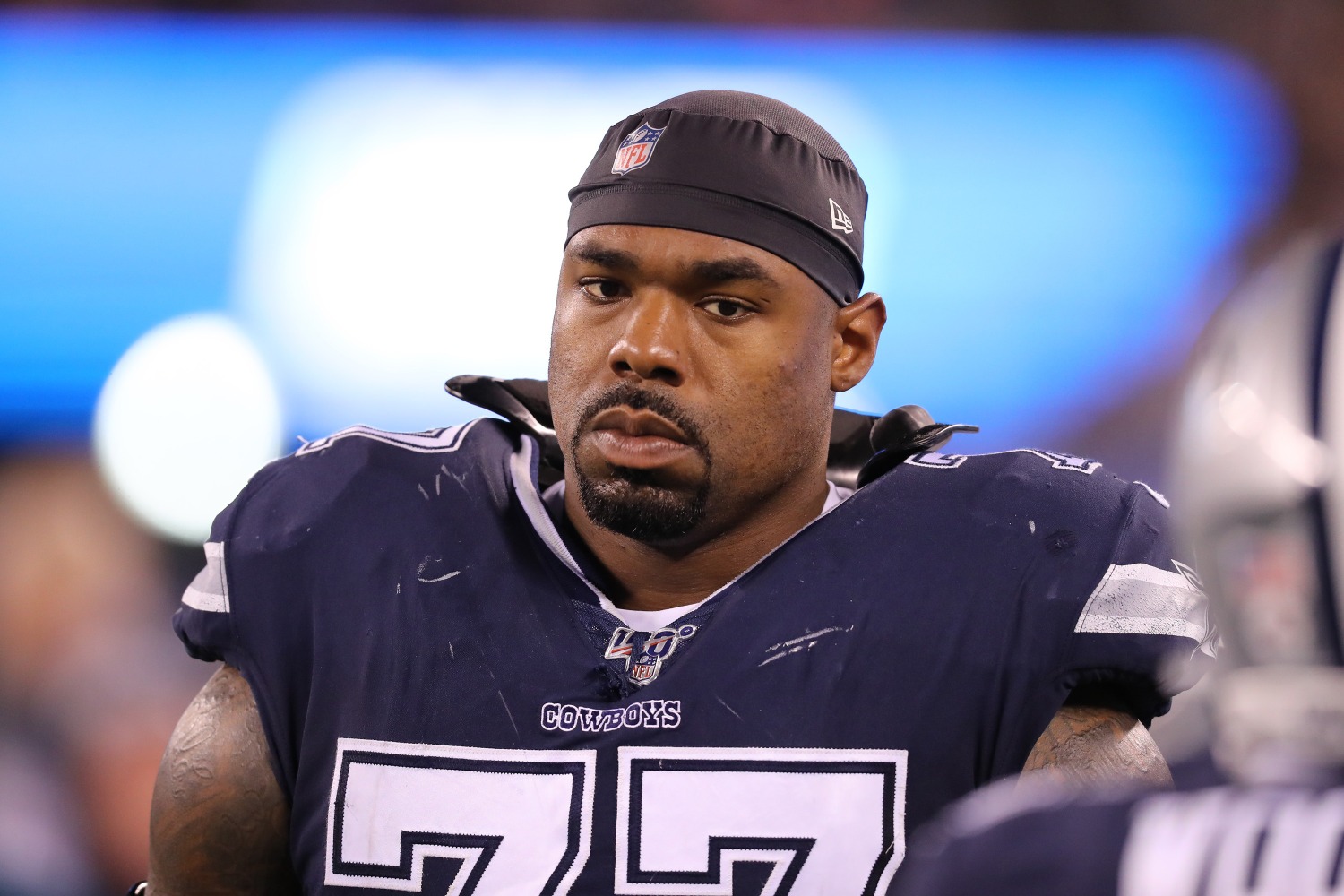 The Dallas Cowboys Just Lost Their $97 Million Star
With Tyron Smith needing neck surgery, the Dallas Cowboys have to find a permanent solution at left tackle for the remainder of the year.
Just a day after experiencing a setback with his neck injury, Tyron Smith's season officially came to an end. Now, the Dallas Cowboys must figure out who will line up at left tackle for the remainder of the year.
But finding a solution could prove difficult for Jerry Jones. After all, the Cowboys' once-dominant offensive line has been hit so hard by injuries that there may not be many healthy bodies left.
A neck injury has kept Tyron Smith sidelined
Over the last decade, Tyron Smith has carved out a reputation as one of the NFL's elite left tackles. The former USC star entered the league as a 20-year-old and wasted no time putting his skills to good use.
In just his third year in the league, Smith earned his first of seven straight Pro Bowl selections. He also got named second-team All-Pro for his breakout campaign. That offseason, the Cowboys locked up their star offensive lineman to an eight-year, $97.6 million contract extension.
The 6-foot-5, 320-pounder proceeded to earn two first-team All-Pro honors (2014 and 2016). However, durability issues have caused Smith to miss three games in each of the last four seasons. Unfortunately for Smith, he has continued to struggle to stay healthy this year.
After playing every snap in the Cowboys' season-opening loss to the Seattle Seahawks, the 29-year-old missed Dallas' next two games before returning to the lineup last Sunday. Yet, the veteran tackle missed practice this week and suffered a setback with his neck injury on Thursday.
The Cowboys lose their $97 million star for the season
With speculation swirling about Tyron Smith's health status, Mike McCarthy addressed the situation while speaking with the media on Friday. In doing so, he delivered some sobering news to Cowboys fans.
"Tyron will continue the process of going through surgery," McCarthy said. "This is a correctable situation, so he obviously will not be available the rest of the season."
The Cowboys head coach said Smith is scheduled to undergo surgery next week. His loss creates a gaping hole at one of the most important positions in football.
But for Dallas, dealing with injuries along the offensive line is nothing new. In reality, no NFL team has been hit harder by health issues up front more than the Cowboys.
Dallas is officially in crisis mode along the offensive line
With Tyron Smith done for the year, the Cowboys officially have an offensive line crisis. Entering the season, Dallas boasted one of the league's most impressive units, at least on paper. Yet, injuries have decimated the depth chart and forced McCarthy to rely on far less-accomplished players.
Besides Smith, the Cowboys already lost La'el Collins to season-ending hip surgery. His absence has left Dallas no choice but to play undrafted rookie Terence Steele at right tackle. Though the 23-year-old deserves credit for his effort, he has been a sizable downgrade from Collins.
Don't forget that Dallas also lost longtime center Travis Frederick this offseason. The 29-year-old retired due to health issues of his own. Frederick's replacement, Joe Looney, suffered a sprained MCL last Sunday and will now miss at least a few weeks as he recovers.
The Cowboys also lost Cameron Erving to a similar injury earlier this year. Dallas' swing tackle got placed on injured reserve on Sept. 16 with an MCL sprain and just returned to practice on Wednesday.
Overall, it has been a painful start to the season for a unit that once ranked as one of the league's best. And ultimately, an offensive line ravaged by injuries will get exposed as the season progresses and leave the Cowboys out of the playoff picture yet again.
All contract data courtesy of Spotrac.