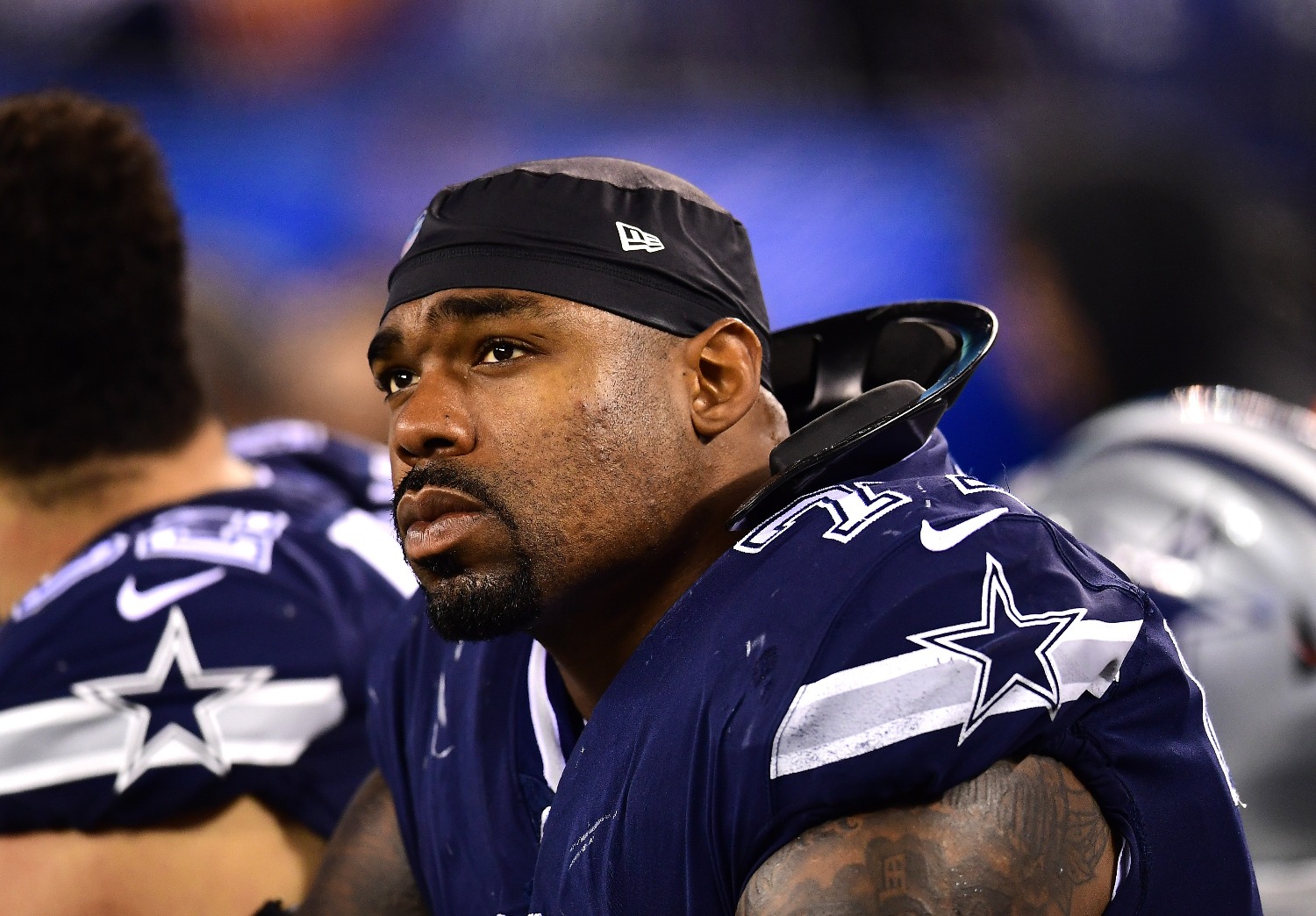 The Dallas Cowboys' $97 Million Star Just Suffered a Potential Career-Ending Setback
Tyron Smith's impressive career could come to an end after the Dallas Cowboys left tackle suffered a setback with his neck injury.
Since the Dallas Cowboys selected him ninth overall in the 2011 NFL draft, Tyron Smith has been one of the league's elite left tackles. However, the seven-time Pro Bowler could see his career come to an abrupt end before he turns 30.
With Smith suffering a setback with his neck injury, his NFL future hangs in the balance. And for the Cowboys, losing their $97 million star for the remainder of the year would essentially end any chances of the team making a second-half turnaround.
Tyron Smith has been sidelined with a neck injury
Tyron Smith entered the NFL at just 20 years old. Still, he wasted no time showcasing why the Cowboys made him a top-10 pick.
Since taking over starting left tackle duties in his second season, the 6-foot-5, 320-pounder has developed into one of the elite players at his position. In just his third year in the league, Smith earned Pro Bowl honors. Prior to the 2014 season, the Cowboys rewarded their breakout star with an eight-year, $97.6 million contract extension.
However, after starting all 16 games in four of his first five years in the NFL, injuries have caused Smith to miss three games in each of the last four seasons. And once again, health issues continue to keep the two-time first-team All-Pro out of the lineup.
After playing 100% of the offensive snaps in Week 1, Smith missed the next two games due to a neck injury. Though he played every snap in Week 4, it looks like the veteran left tackle won't be on the field again anytime soon.
The Cowboys' $97 million star suffers a costly setback
Coming off yet another disappointing defeat, the Cowboys look to get back on track against the New York Giants. However, it does not look like Tyron Smith will take part in Sunday's showdown between the two NFC East foes. In fact, he may not play again this season.
On Thursday, Mike Garafolo reported via Twitter that Smith is gathering medical opinions on his neck after he experienced a setback. According to Garafolo and Jane Slater's sources, "One option being considered is shutting down for the season."
While a final decision has yet to be made, the report certainly does not bode well for the Cowboys or their highly-paid left tackle. Dallas already lost starting right tackle La'el Collins for the rest of the season due to a hip ailment. And now, it looks like his bookend could join him on injured reserve.
Should that occur, Dallas would be left in a precarious position, as the team would likely start a pair of undrafted free agents at tackle moving forward. Needless to say, that's not the ideal scenario for a Cowboys squad sitting at 1-3 in the first year of the Mike McCarthy era.
More importantly, though, Tyron Smith's setback raises an important question: Is his career over?
Has Smith played the final down of his NFL career?
There's no doubt that a healthy Tyron Smith makes the Cowboys a better team. Yet, given his recent setback, it looks like his days as a reliable option are all but over.
At one point, Dallas could count on No. 77 lining up for every snap at his left tackle spot. More recently, though, the Cowboys have had to get used to life without their oft-injured $97 million star.
Ultimately, Smith's setback could force him to retire. Neck injuries have ended several NFL players' careers prematurely. Jermichael Finley, Nick Collins, and Kam Chancellor all had to stop playing football due to neck-related ailments. Plus, Smith just watched longtime teammate Travis Frederick retire at age 29 due to his own health problems.
At this point in his career, Tyron Smith has already made nearly $90 million and should be financially set for the rest of his life. He also earned a spot on the NFL 2010s All-Decade Team and could get inducted into the Pro Football Hall of Fame one day. Does he really want to risk long-term damage to his body to extend his career a few more years?
Only Smith knows the answer to that question, but don't be surprised if the Cowboys' star left tackle never plays another NFL down given his latest injury setback.
All contract information courtesy of Spotrac. All statistics courtesy of Pro Football Reference.